05:42 AM ET 01.05 |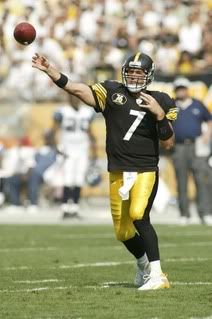 The Pittsburgh Steelers host the Jacksonville Jaguars for an AFC Wildcard Playoff this Saturday @ 8pm EST (NBC). The first time these two teams met this season was week 15. The Jaguars won the match-up by a score of 29-22... The winning TD came courtesy of Fred Taylor. During which he rushed for the most ever yards against the "Men of Steel" this year (147yrds total)... Also, Jones-Drew did his part by adding an additional 69yrds for fantasy owners nation-wide... The Number 1 Steeler Defense of the NFL left the game in utter disgust.....
Recap of Jags Offense: Very Basic... Lead by QB David Gerrard... He's big & highly accurate w/ his passes. Only has had 3 interceptions all year... Ground attack = Fred Taylor & Jones-Drew. Taylor holds 35 franchise records & is Pro-Bowl bound for the first time in his career (taking the place of the injured Steeler Top Rusher Willie Parker). Taylor was also previously nicknamed "Fragile Freddy" by Jags fans for numerous injuries early in his career... Air attack comes via Wilford & Williams.
Recap of Jags Defense: Vulnerable to the Deep Ball... Keep your eyes on Mathis (CB). He is Santonio Holmes' greatest threat... Paul Spicer (DE) is gonna try to give Tai Essex a bit of a hard time...
Jags Special Teams: Poor... Gave up 2 kickoff returns last week vs. the Texans.
Why the Steelers Will Win: 1. Roethlisberger - has experience in the Post-Season. Having his best year yet... 2. Home Field Advantage - the Steelers will NOT lose a 2nd time to the Jags @ home... 3. Gerrard - Lacks post-season experience... 4. The Majority of the Steelers are well rested... 5. The "Men of Steel" have a Game Plan (enough said)... 6. The Steelers are 2 point underdogs. This is what they feed off of...
Keys to a Steelers Win: Must get back to "Steeler Football" they are known for... The Offense Must protect Roethlisberger... The Defense Must STOP the Run & pressure Gerrard...
Get Ready For The Hardest & Most Physical Battle of the Playoffs... Sure to make football fans around the world cringe in pain just by watching...
"HERE WE GO STEELERS... HERE WE GO!!!!!" (New Poll - Check It.....)