03:15 PM ET 10.27 |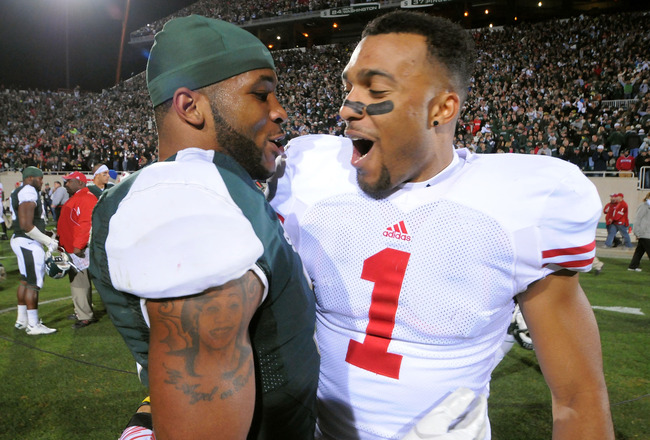 See you in December.
Mark Cunningham/Getty Images
Saturday's game between Michigan State and Wisconsin was hands down the best Big Ten football game of the year. It delivered in every way. High-powered offense led by Heisman candidate? Check. Punishing defense that has a knack for big plays? Check. Big leads, special teams plays and comebacks? Check, check, check.
So ask yourself this: why wouldn't we want to see a rematch?
Luckily these two teams are both in the drivers seat to win their respective divisions* and come the first week of December, the odds are good we will see another battle between these two titans.
Wisconsin
Despite being the team on the losing end against the Spartans Saturday night, there is still an awful lot to like about Wisconsin's chances.
On offense, the Badgers are still the best team in the league and proved that again by putting up more yards and points on Michigan State than any other team has all season.
Russell Wilson was a strong Heisman favorite for the first half of the season for a very good reason: he is capable of doing things in this offense that the old model of Badger quarterback (big, slow, "game manager" type) was not. Wilson can hand off, he can run designed-quarterback keepers and he can keep plays alive with his feet.
Wilson played his worst game as a starter-throwing two interceptions and getting an intentional grounding penalty that led to a safety-and still finished with 223 yards and two touchdowns on 66 percent passing while running for another touchdown.
Perhaps the most impressive play however was on Wisconsin's last drive when the pocket collapsed and Wilson kept his eyes downfield to find Nick Toon alone on the sideline. The instant replay showed exactly why the coverage broke down-the deep safety who was responsible for Toon, was caught watching Wilson in the backfield, thereby taking himself out of the play.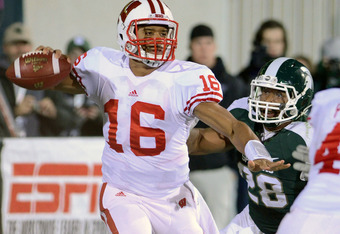 Mark Cunningham/Getty Images
When Wilson isn't running around making plays happen, he is handing it off to one of the best running backs in the Big Ten-Montee Ball. Ball is the first back to go over 100 yards on Michigan State this season, and he did it in just around three quarters of game action because of an injury. Ball's 115 yards on 18 carries and his 22-yard touchdown reception speak to just what a weapon he is.
Furthermore, Ball and Wilson are able to be so effective because of the offensive line that they operate behind. Michigan State was able to get three sacks on Wilson, but the overall rushing numbers for Wisconsin are very promising-220 yards and two touchdowns on 5.4 yards per carry.
While the Michigan State game confirmed the strength of the Wisconsin offense, it also brought up the troubling problem of the Wisconsin pass defense.
Against an accurate veteran quarterback and a deep and talented group of receivers, Wisconsin's defensive back seven was routinely picked on as Kirk Cousins rolled off 290 yards and three touchdowns on a 70 percent completion percentage. These throws mostly took advantage of Wisconsin's soft-zone coverage on third downs. Cousins on multiple occasions found his tight ends open between linebackers for first downs or on seam routes in the areas between over the top safety coverage.
Even more troubling is the yards after catch that Michigan State was able to gain. Both of Michigan State's first two passing touchdowns came on long runs after the catch. The first was BJ Cunningham breaking tackles on a 4th-and-short conversion, and the second was an underneath crossing route to Keyshawn Martin that he was able to turn up the sideline after eluding a tackle underneath.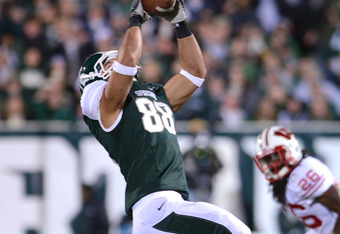 Mark Cunningham/Getty Images
Thankfully the rest of the schedule is kind to the Badgers.
On offense, it would be hard to see a unit hold Wisconsin to worse than the 30 points Michigan State did. That shifts the onus to the opposing offenses, none of which is suited to take advantage of the Badgers in the secondary. Of Wisconsin's five remaining opponents (at Ohio State, Purdue, at Minnesota, at Illinois and Penn State), as of last week, only one team ranked better than eighth in the conference in pass efficiency-Illinois.
Wisconsin should be able to score enough points on offense that any defensive problems in the back seven are irrelevant.
Michigan State
Michigan State proved it has a couple strengths of its own.
First, the Spartans confirmed an ability to make life miserable on quarterbacks. After three straight weeks of holding Braxton Miller, Denard Robinson and Russell Wilson to each other's worst game, it's apparent that the last place you want to be is lined up under center across from the Spartans.
Michigan State gets good pressure from the front four and is adept at using linebacker blitzes from all angles to cut down on a quarterback's time to read and throw. This has led to nine, seven and three sacks in the past three games.
On the other side of the ball, Kirk Cousins has staked impressive claim to the title of "best quarterback in the Big Ten." Cousins was everything that Michigan State needed him to be, and this was good because if the Spartans have one weakness, it is rushing offense.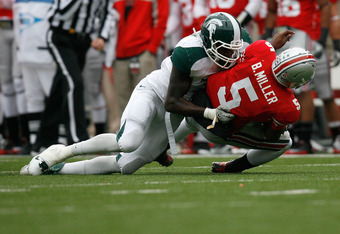 Kirk Irwin/Getty Images
LeVeon Bell had the best game for Michigan State against the Badgers, but other than a 32-yard run, he was only able to manage just over four yards per carry on the day. Meanwhile, Edwin Baker was bottled up for just 15 yards on 11 carries, and Michigan State which dropped MSU running backs' ypc average to just 3.7.
This isn't the first time Michigan State has struggled to move the ball on the ground against better defensive fronts. Notre Dame held the Spartans to 29 yards on 1.3 yards per carry, and Ohio State held them to 71 yards at 2.3 yards per carry.
The Spartans also see the schedule shape up well down the stretch.
First, tell me what these quarterbacks have in common: Taylor Martinez, MarQueis Gray and Tre Roberson. If you guessed, "they are all dual-threat quarterbacks with accuracy issues who are vulnerable to constant pressure," then pat yourself on the back. Against Nebraska, Minnesota, and Indiana, the Spartan defense should be able to make each of these quarterback's lives hell for 60 minutes.
Michigan State will drop the safeties to 10 yards, keep all three linebackers in the box and bring pressure from at least five guys on every play while running downhill at the first sign of a rush play. If one of the aforementioned quarterbacks does have time to get a pass off, it is going to be against a physical secondary looking for an opportunity to take the ball away.
But what about the other two teams, Northwestern and Iowa. Both teams have an upperclassman at quarterback who is accurate and can air it out, deal with blitzes, etc. How do the Spartans win against that? With offense.
One has to imagine that Northwestern and Iowa won't be able to shoot the lights out on a very good Spartan defense, which means to have any realistic chance both teams would need to shut down Michigan State's offense.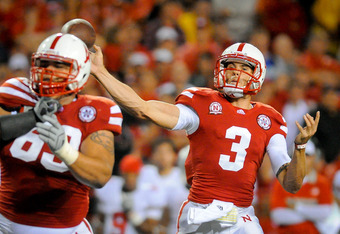 Eric Francis/Getty Images
Easier said than done. First, neither team is particularly stellar at defending the run. As of last week, Iowa was seventh in the conference at 152 yards per game allowed-one spot ahead of Michigan which gave up 213 yards rushing to the Spartans. Northwestern is even worse at 11th.
Furthermore, both these teams are in the bottom third in pass efficiency defense. As of last week, Iowa was ninth, and Northwestern was 11th. That sound you hear is BJ Cunningham laughing at the absolutely stupid amount of yards he is going to go for against these two secondaries.
So you see, last week's game between Wisconsin and Michigan State was more than likely just a preview of what is to come in the first Big Ten championship game. Both teams are anchored by an outstanding unit (Wisconsin's offense, MSU's defense), both teams are facing schedules that play into their strengths and both teams have something to play for: Michigan State for a Rose Bowl berth; Wisconsin for another shot at Michigan State.
*(Sorry Penn State fans, but when your best Big Ten win is Iowa at home, you've still got something to prove.) Courtesy of the Bleacher Report.