07:57 PM ET 12.03 |
PAQ versus PBFloyd
The truth.... PBF is very afraid of Paqmeister and with very good reasons. But this isn't about who is afraid of whom, rather IMO, my issue is that the possible fight between PQ & PBF is a fight that is to great not to happen. History is calling, PBF is 34 while PQ is 32. I'm not looking forward to 1 fight, I'm looking forward to a great rivalry, another true Trilogy in the making. Their meeting in the ring would conjure up similarities of Smoking Joe vs The GOAT Ali.
Float like a butterfly sting like a bee, the tale of the tape shows advantages and disadvantages from both sides. PBF has the physical advantage when it comes to reach and possibly speed. While PQ brings a stronger chin and a WWE Hulkamania like fighter's spirit of a whole Nation behind him.
*Professional Wrestling is a Male Soap Opera (a rehearsed male ballet), filled with larger than life athletic characters

PBF is the flamboyuant, trashtalking master of PR. Yet the man backs it up, just look at his untarnished record. PQ on the other hand, has the intangibles that speaks volumes in a different way - silence is golden. PQ's fighting style is relentless, his pace to extreme for others.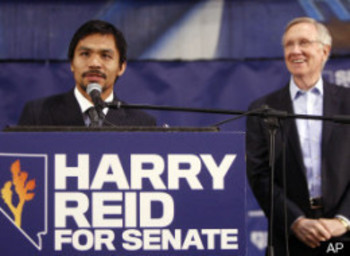 Boxing doesn't need this meeting of 2 of the World's Best P4P athletes in the same sport to happen to survive the popularity of MMA. But the Historical Sports Archives would be so much more richer if they did met in the center of the ring, not once, not just twice, but 3 times would be the charm IMO. Just like Wilt had Russell, Magic had Bird, the Steelers had the Cowboys and most recently the Pats had the Colts, PQ-PBF would be 3 for the Ages, a timeless classic.