02:18 PM ET 01.27 |
A few weeks ago I was walking through the building here and saw that someone had brought a Play Station 2 with him (They are much easier to travel with than the newer systems). The guy was playing Madden 08 so I stopped for a second to watch. The first thing that caught my attention was that this guy was playing with the Dolphins. He actually picked Miami.
As soon as I stopped to watch he made a comment to me that he had done a fantasy draft on the game so Miami could actually have a good team. Sounds good right, but then as I watched McNair throw a TD pass to his #1 WR Randle El, I had to be a little curious about this guy's football knowledge. Well maybe I should have thought about that when I saw someone playing with the Dolphins.
Anyway, this led me to thinking. Madden allows people to make what is really their fantasy teams. You get a chance to make that trade, sign that guy, and cut that guy that your stubborn GM won't listen to your endless blogs and take care of. From what I have noticed, some people like to go out and stack their teams, while others keep it a little more realistic.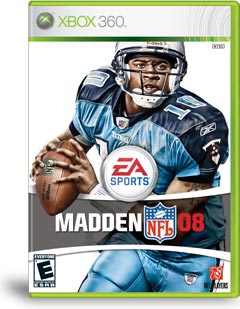 In years past I have created myself and a couple of friends on the NCAA game, and had fun seeing where they would fit in the NFL. My guy would usually end up taking over for Jake Plummer as the QB in Denver. With Cutler now taking that job no telling where I would put myself. But, this year I have been limited to the PSP version, so I don't get to import draft classes or anything, but I do have a franchise going.
Here is what I have done to make my Broncos the team to beat.
-Traded away Simeon Rice (a Bronco at the start of the season) Sam Adams and my starting FB for Derrick Johnson, and Boomer Grigsby from the Chiefs. Johnson filled the role of playmaking OLB, and I have always liked Grigsby, guess that HBO show had something to do with that pick up.
-Traded Javon Walker to the Lions for WR Roy Williams. Javon will likely be back in Denver next season due to cap issues and his recent retraction of statements. But as I saw it here are two guys that aren't exactly happy with the teams they are with, so why not.
-Traded for WR/KR Devin Hester. If you play franchise mode on Madden this guy is just TOO EASY to pick up. He is not the best WR on the game and the Bears give him up for a couple of scrubs on your team every time.
-Signed Brian Young. At 6-2 298 he isn't exactly the huge run stopper that the Broncos need. But he was the best available for me here. Also when I play the game I usually start with the DT on Defense so by my controlling the guy alone he made the Pro Bowl his first season there.
-Signed Boss Bailey. Champ's little brother fit well sharing time with Ian Gold as my Weak Side OLB, and also has made some good Special teams plays.
-Drafted a new SS. Like I said I don't get the actual draft classes, but I did use my first round pick of what would be this year's draft on a new SS for this team.
-Also beefed up the O and D line. The rest of my picks went to add depth to the O line and found a young DT that will play with rookie DT Thomas for years to come.

Sure my moves may not be too flashy, but according to the world of Madden 08 for PSP the Broncos just won a title. I'm sure that this weekend your team will be playing in the Super Bowl, if not in real life at least in your Xbox or Play Station.
I thought it would be fun to hear what you have done, or would do to fix your favorite team. So, lets hear it........