04:40 PM ET 01.30 |
Guaranteed to be lame: Fans are getting lathered up into a frenzy over Giants' receiver Plaxico Burress predicting that the Giants would win the Super Bowl by a score of 23-17 against the Patriots. First off, let's look at the number of points the Patriots have scored in each game this season: 38,38,38,34,34,48,49,52,24,56,31,27,34,20,28,38,31, and 21. Not ONCE this season have the Patriots scored under 20 points. Burress must have forgotten about week 17, when the Patriots laid 38 on the Giants in the Meadowlands.
Still, the prediction in itself is one of the most tired sports tactics out there. Let's look at a few images of others who have made this watered down quote.
Mark Messier
Rasheed Wallace
Who could forget the great Anthony Smith?
And then there is the truly bold one, Joe Namath.
Of course, we are also talking about this Joe Namath.
Standing Pat- Randy Moss had arguably the greatest individual season of a wide receiver in the history of the NFL. That has led to speculation that he will try to find greener pastures, both in terms of a new team and money, in the offseason. But Randy seems to recognize the truly great position he is in. "I'm still living a dream. I never thought I'd be a New England Patriot. I would love to finish my career as a New England Patriot. They have everything that you want in a football organization. From the top all the way to the bottom.''
If Randy needs any inspiration to stay where he is, he needs only look at this picture to see how another great fell when he made a switch.
Stay where you are Randy.
Feeling Minnesota- Maybe it was the fear that Johan Santana had the leverage, maybe they were scared that other teams were losing interest, or maybe they just don't like having arguably the best pitcher in the majors, but the Minnesota Twins' trade of Johan Santana to the Mets for the Twins would receive center fielder Carlos Gomez, pitchers Phil Humber, Kevin Mulvey, and Deolis Guerra. Many experts are saying it was the 4th best trade offer the Twins were looking at. If I'm the Twins I would have at least held out for a 4th of July celebration with Vince Coleman.
That or old pictures of former Met Kris Benson's wife, Anna.
Not Kidding with you- Is it NBA All-Star break time? Then it must be about time for a Jason Kidd trade rumor. Kidd has seen enough to know that this season's Nets team is horrible. And I have seen enough of Kidd's new moustache to know a John Holmes-esque lookalike when I see it.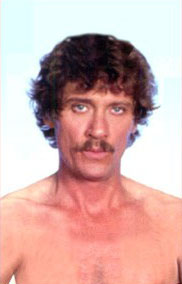 Or maybe he idolizes Snidely Whiplash.
Or the NBA great youngster, Adam Morrison.
It's a Mad World- How many people had the top 3 teams in the NBA so far being the Hornets, Celtics, and Jazz? Me neither. The Utah Jazz, particularly, are defying the logic of the skeptics in putting out a team that certainly rivals the one they had last year. Unfortunately, they don't have the ugliness or high short factor that the old Jazz teams did, so they will not win the title. You heard it here first. Of course, the old Jazz teams didn't win a title either...hmm.
Who wears short shorts?
Taking the Tiger by the Tail-
Memphis sits atop the college basketball rankings, and is stockpiled full of NBA prospects, like Chris-Dougla Roberts, Derrick Rose, and Joey Dorsey. But whether it be bad luck or maybe something in the Memphis water, there is something to a Memphis curse once the Tiger studs go to the NBA. Look and see:
Mr. 100 points in high school: Dajuan Wagner
The man who made it from Memphis to a much worse Memphis:Lorenzen Wright
And the man who we can thank for the inspiration of those awful Lebron/Miles Thirst Sprite Commercials- Anfernee Hardaway and Lil' Penny
Hardaway was one of many great players in the 90's who were struck down by an injury. Luckily we have Grant Hill, who has been a bright spot (unintentional pun) on the Phoenix Suns.
That's it for now. Classes call, but I will be back this week with more thoughts and pictures to tell the story that i can't alone.