09:51 AM ET 04.04 |
Wednesday's here and "The Stack" doesn't have too much in store as we prepare for our big baseball preview tomorrow. But with the Baylor women capping off a perfect season, Nike unveiling the new NFL uniforms and a few other things, there is stuff to talk about so let's get right to it and see what made "the stack" for today, Wednesday, April 4:
1. Baylor makes history in championship win
The Lady Bears made history last night capping off a perfect 40-0 season with an 80-61 victory of Notre Dame in the women's basketball championship game. Baylor is the first team in college basketball history, men or women, to win forty games and be undefeated in a single season. They are the seventh women's team to go undefeated in a season. Say what you want to about women's basketball, but this accomplishment shouldn't be underminded. Did people say that when UCLA's men's basketball team in 1964, '67, '72 and '73? Some people could look at UCLA's dominance in the 1960s and 70s as a reflection on the game that college basketball wasn't all that strong. There weren't that many great teams across the college basketball landscape at that time. On the men's side, Indiana back in 1976 is the last team to go an entire season undefeated. In women's basketball, Connecticut has done it a few times when they had their dominant teams, Tennessee has done it once and a few others, but no one has gone 40-0...until now.
Brittney Griner was sensational, recording a double-double with 26 points and 13 rebounds and five blocks. There is no doubting she is one of the best post players, perhaps thee best post player women's basketball has ever seen. Sure the height advantage helps, but she brings a lot of excitement and a lot to like about women's basketball. She was most outstanding player in the tournament and it's not hard to see why. She has a great work ethic and continues to improve. When her career at Baylor is done, no doubt she'll be the best player in Baylor history and maybe the best player women's college basketball has ever seen. 40-0, it's history. It's impressive, no matter how you want to look at it. The fact that no one had done it before speaks for itself. And Baylor has a great chance to go undefeated next year. It's going to be fun to see. Congrats to the Lady Bears on a stellar season, one that will go down as one of if not thee best season in sports history.
2. Nike unveils new NFL uniforms
The NFL decided it was time for a change with the uniforms. They switched from Reebok to Nike with Nike giving the first look at the new NFL uniforms yesterday. They don't look very different at all, nothing bad, nothing spectacular. They should do just fine and NFL fans will go out buying jerseys of their favorite players left and right. The team generating the most buzz though is the Seattle Seahawks, who underwent a major uniform transformation. Perhaps because they're the team closest to Nike headquarters and the Oregon uniforms Nike makes for the university are so well known is why the Seahawks new look is being talked about so much. There's a photo below. I'll let it speak for itself. Thoughts?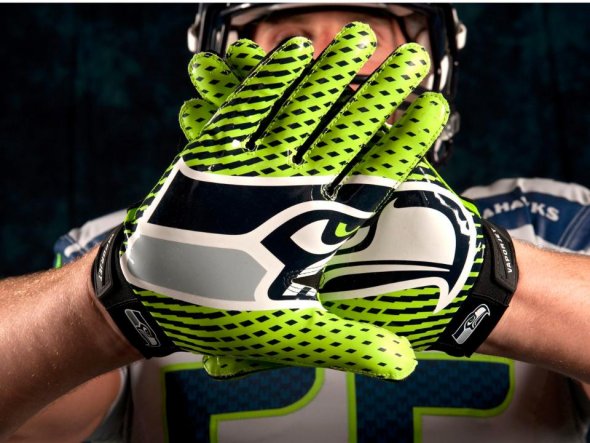 Source: Seattle Seahawks

3. Masters preview
It's almost time for a tradition unlike any other. Golf's first major of the season, the Masters, returns to Augusta, Georgia this Thursday-Sunday, April 5-8. Almost all of golf's biggest stars will be there, ready to compete for the right to put on the coveted Green Jacket Sunday evening. One star that won't be there who no doubt would have been one of the favorites is Dustin Johnson. Johnson is out with a back injury he suffered while lifting a jet ski. Not the type of injury I'm sure he wanted disclosed. For the most part, the field is wide open. There is no clear cut favorite to win the Masters, but a few of the favorites include Rory McIlroy, Phil Mickelson and Tiger Woods. How great would it be for golf if these three were all in contention on Sunday? It would make for compelling television, riveting theatre and great ratings for CBS. You can say it now and pick one of the top players in the game to win the Masters and no one would fault you for it. But there always is a name that surprises. Take last year for instance. Charles Schwartzel? Had anyone outside of the extreme golf enthusiast even heard of him before last year's Masters. Probably not, yet he won the Green Jacket. Haven't heard much from him since then. There are a few people that coul make some moves like Hunter Mahan, but in the end, I'm going to take Rory McIlroy narrowly over Tiger Woods. McIlroy was in contention all week last year and was in the last pairing I believe on Sunday when he absolutely fell apart. That was a learning experience for him and went on to obliterate the field at the US Open. Perhaps fame got the best of him after that for the rest of the season. Now that he has had an offseason to focus on getting better and dealing with that fame, expect him to come out and put up a strong showing. Then again, with my picking, I probably just put the jynx on him.
Hopefully Tiger Woods does good and is in contention on Sunday. It would be awesome for the ratings and for the sport to see Tiger Woods back. Winning a couple of weeks ago has to help him out, even if it's only slightly. It give him a win under his belt, the first win since 2009. It gives him confidence headed into the Masters. He now doesn't have to answer questions about not winning a tournament since 2009. Now it's just about the majors. Not saying that Tiger is back to being the Tiger of old, because let's face it, we'll probably never see that again. But winning breeds confidence and confidence can translate into winning. It would not be shocking at all to see Tiger win another Green Jacket on Sunday. Not at all. Either way, it should be a very compelling four days of golf. It's always fun to watch the Masters, especially on Sunday. Enjoy it.
Coming up Thursday: 2012 MLB preview
Comments and suggestions on what to write about are always welcomed and appreciated.