07:48 PM ET 04.19 |
Josh Hamilton
is hotter than a scorching late July afternoon in Dallas during the middle of a dry spell. He's hitting .440, ripping doubles and home runs all over major league ballparks, and generally making hitting a baseball appear much easier than it actually is.
So my suggestion to opposing pitchers: Quit throwing him strikes.
You see, as talented as Hamilton is -- maybe the best pure hitting ability in the game, with his pretty swing and awesome raw power -- he does have one flaw. He'll expand the strike zone.
Here is a list of the 15 best hitters in baseball since 2008, using the wOBA stat from FanGraphs.com (minimum 2,000 plate appearances). The chart includes each player's triple-slash batting line, his wOBA, plus his walk percentage and O-Swing percentage, the rate he swings at pitches out of the strike zone.
Player Numbers wOBA BB% O-Swing% Albert Pujols .322/.419/.605 .425 14.1% 26.4% Miguel Cabrera .321/.402/.570 .409 11.9% 32.7% Joey Votto .312/.407/.548 .408 13.4% 26.2% Ryan Braun .309/.370/.548 .397 7.9% 31.6% Kevin Youkilis .294/.394/.531 .397 12.2% 21.5% Matt Holliday .308/.391/.522 .395 10.9% 27.7% Prince Fielder .285/.400/.536 .395 14.6% 28.3% Lance Berkman .287/.403/.515 .392 16.0% 22.4% Josh Hamilton .314/.367/.547 .390 7.7% 37.3% Jose Bautista .262/.381/.529 .389 15.2% 22.6% Adrian Gonzalez .299/.392/.528 .388 12.8% 29.9% Alex Rodriguez .282/.373/.517 .385 11.7% 24.2% Hanley Ramirez .302/.386/.499 .384 11.2% 24.4% Joe Mauer .331/.410/.480 .384 12.0% 21.5% Mark Teixeira .276/.374/.519 .383 12.4% 24.3%
As you can see, only
Ryan Braun
has a walk rate in the vicinity of Hamilton's. His O-Swing percentage is easily the highest of the 15, and he swings at pitches out of the zone nearly 16 percent more often than
Kevin Youkilis
or
Joe Mauer
. In fact, of all hitters with at least 2,000 PAs since 2008, only
Vladimir Guerrero
,
A.J. Pierzynski
,
Alfonso Soriano
,
Delmon Young
,
Jeff Francoeur
and
Adam Jones
had a higher O-Swing percentage than Hamilton.
And as talented as Hamilton is, he does suffer when he expands the zone. You can see his various batting averages below (since 2009) on pitches in the zone and out of the zone.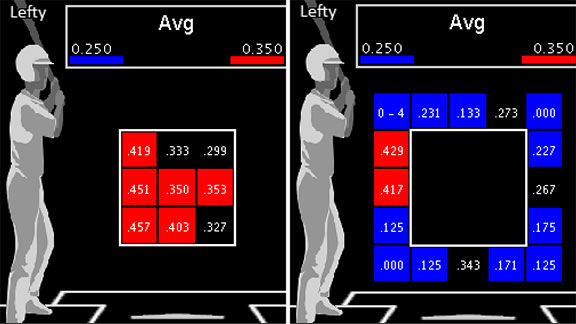 ESPN Stats & InformationJosh Hamilton's various averages in and out of the strike zone since 2009.
In 2012, Hamilton has drawn one walk in 52 plate appearances. If anything, he may be getting more aggressive. His walk rate his first season in Texas was 9.1 percent; it was down to 7.3 percent in 2011. Pitchers
are
aware of Hamilton's willingness to expand the zone -- in fact, of all hitters since 2008 with 2,000 PAs, only
Prince Fielder
and Guerrero have seen fewer pitches in the zone. So far this season, however, 47 percent of the pitches Hamilton has seen have been strikes, up from 39.6 percent a season ago. So why not keep throwing pitches off the black, or at least more of them? If he starts showing more patience and lays off those pitches, then you adjust. Until then, make him chase.
Of course, that's much easier said than done.