07:43 PM ET 02.05 |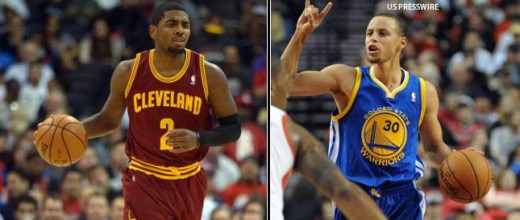 By @CJ_H_12
Steph Curry: A bright young point guard with one of the sweetest shots I have ever seen. Kyrie Irving: Another bright young point guard with one of the quickest first steps I have ever seen. Both have great futures ahead of them, but which one will have the better future? Steph is currently leading the Warriors to a 5th place spot in the west (Would be 3rd in the east), while Kyrie is 13th in the east (Would be last in west). I will be comparing them today and answering which I would rather have on my team. I will compare them by scoring, defense, rebounding, passing, and the finale. The finale will be made up of mini categories. Please feel free to comment and follow me on twitter @CJ_H_12.
Scoring: Both of them are good scorers. Steph is averaging 18.2 PPG for his career and 21 points per game in 2013. Kyrie is averaging 20.6 PPG for his career and 23.7 points per game in 2013. Kyrie has only played Curry once in his career (November 7, 2012). Kyrie scored 28 points while Curry scored 21 points. I have to give this Kyrie for now, but maybe in the future years Curry will be scoring more.
Advantage: Kyrie Irving
Defense: Neither of them are good defenders. In fact, I would be willing to say that they are both major liabilities on the defensive end. They both have quick feet and communicate great, but they cannot seem to find themselves on the defensive end. A couple times Curry can start a fast break with a strip, but he is playing poor on this side of the court. Kyrie is strong, quick, and a leader, but he can't play on the ball defense. This one goes to no one.
Advantage: Tie
Rebounding: Both of them are average rebounding point guards. They both average 4 rebounds a game and seem to like going to grab rebounds. Sometimes going to grab rebounds can be bad for a point guard. If they try to grab a rebound and miss, then there's nobody back on defense. Against each other Kyrie grabbed 6 rebounds while Curry grabbed 5. Anyways the stats are almost identical, another tie.
Advantage: Tie
Passing: This is the biggest facet of a point guard's game. If you play point, you better be able to pass. They both are averaging 5-6 assists per game for their career and 5-6 this year. They both have amazing offensive awareness and then the ability to make the pass to an open teammate. For now, I cannot pick which one is better. They are both great in this aspect.
Advantage: Tie
Finale: The finale will be made up of mini categories. These categories are GPS and MPG, shooting efficiency, leadership, the clutch factor, the more diverse player, risk factors, and who obtains the secret?
MPG/GPS: To find who give me more minutes in a season, I multiply their MPG by their GPS. Steph Curry averages 34.7 minutes per game and 77 games per season (Not counting this season or his injury last year). Remember, if I was counting his injury season, he would be significantly lower than 77 games. Kyrie Irving averaged 32.7 minutes per game and an unclear 63 games. Kyrie has only played in the lockout season and half of this year, so it's very unclear how many games he should be averaging. Both seem to be injury prone. Curry with his ankles and Kyrie with his broken finger. Kyrie seems to be much less of a threat though, so I I'll take Irving in this one.
Advantage: Kyrie Irving
Shooting Efficiency: This one easily goes to Curry. Curry averages 46.5% from the field, 44.6% from 3 pointers, and 90.1% from the free throw line. He's extremely close to the 50-40-90 club. Kyrie still puts up good numbers: 47% from the field, 40.6% from 3 pointers, and 86.2% from the free throw line. Curry easily wins this one.
Advantage: Steph Curry
Leadership: They are both young rookies who are growing into leaders and on-court leaders. They lead with their actions and with words. As I researched, I found that Curry was struggling to find that leadership mentality while Irving was almost full into his role. Many people involved in the Cavs organization have been talking about his leadership. Omri Casspi, the small forward of the Cavs, talked about his leadership. Casspi explained that he is exhibiting leadership qualities they believe that most people his age and experience level don't have. As I was researching for Curry I found articles including this:
Leadership is one area of Curry's game that Myers, the GM, wanted to see improve.
"He's embraced that," Myers said. "That's what we asked him to do in the offseason. 'We know you can shoot. We know you can play. We need you to lead.' That's a role he's taken on and done a great job with it. The players respect his talent, and they are looking for him to lead. We're really pleased, and we hope he continues to grow."
(Link: http://www.usatoday.com/story/sports/nba/warriors/2012/12/09/stephen-curry-helps-golden-state-get-off-to-a-strong-start/1757015/)
For now, I believe Irving is fitting more of the leadership roles.
Clutch Factor: Go look up on Google, "Steph Curry clutch." What comes up? Nothing comes up about Curry being clutch. Now go to Google and type in, "Kyrie Irving clutch." What comes up this time? "Kyrie Irving, best clutch player in the NBA," "Kyrie Irving, Carmelo Anthony, Chris Paul among top closers," "clutch time is Kyrie Irving time," and "Kyrie Irving gaining reputation as clutch player." Kyrie Irving has continuously lit up teams in the fourth quarter. A couple nights ago he lit up Russell Westbrook, one of the top defenders in the league, and the Thunder for 11 points in the final 2:30 of the game. A week ago, he hit a 3 pointer to put the Cavs up by 1 with 0.7 seconds left against the Raptors. So far, Kyrie has showed me, he is clutch. Curry still needs to prove it.
Advantage: Kyrie Irving
Diversity: They are both very good on the offensive side and poor on the defensive side. I'm not willing to say one is more diverse than another.
Advantage: Tie
Risk Factors: 50% of this category means, are they injury prone? Steph Curry is tremendously injury prone. His ankle is just awful. I would be optimistic if he showed signs of fully being back from his ankle injury, but it seems to never go away. Kyrie has had many injuries, but is he injury prone or just unlucky? His injuries are freak accidents: Him slapping padding and breaking his hand, he slammed his head into Dwyane Wade's knee and got a concussion, etc. For now, it seems like he is just unlucky. Let's remember what happened to Greg Oden however. We said he was unlucky too. The other 50% of this is anything. For them it's defense. Are they going to be poor defenders for the rest of their careers? I doubt it. Kyrie is strong, a growing leader, and has quick feet. Steph is a slowly growing leader, and has quick feet. I feel they both have a good chance if they develop on the defensive side. For now Curry seems to be more injury prone though. Irving gets this category.
Advantage: Kyrie Irving
The Secret (Who knows how to win): Some people, will immediately just look to the win-loss record. This is unfair. Steph Curry has David Lee, Andrew Bogut, Mark Jackson, etc. Kyrie has rookie Tyler Zeller. Yippee. Neither of them have made the playoffs either, so there is no way of deciding this.
Advantage: Tie
Winner: Kyrie Irving