06:58 PM ET 02.28 |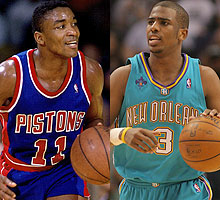 These two players have been compared for a couple of years now. I have always wondered who was better. Today I will decide this. I will compare them in categories such as: Scoring, passing, rebounding, defense, and the finale. The finale will be made up of miniature categories. Please feel free to comment and follow me on twitter @CJ_H_12.
Scoring: Both are/were very good scorers. Both average around 18-19 points a game and both had that one year where they averaged 21-22 PPG. Isiah currently averages more points a game with 19.2 PPG while Paul averages 18.6 PPG (Not a big difference). Now let's look at their offensive rating. Offensive rating is the measurement of points produced for their team if they played 100 possessions per game. Chris Paul has a career average of 122 ORtg, and Isiah has an ORtg of 106. The large gap between 122 and 106 persuades me to pick Chris Paul for this category.
Advantage: Chris Paul
Passing: Anyone who knows basketball, knows these two players are fantastic passers. Anywhere from alley-oops to bounce passes, these two are amazing. Chris Paul averages 10 APG for his career. Isiah Thomas averages 9 APG for his career. Chris averages 2 turnovers per game and Isiah averaged about 4. What's really important is their assist percentage (an estimate of the number of teammate field goals a player assisted while he was on the floor). Chris averages 46.3 AST% for his career while Isiah averages 37.4 AST%. As you can see, Chris Paul beats Isiah in all of these categories.
Advantage: Chris Paul
Rebounding: This is the statistic that might matter least to a point guard. However, these two aren't too bad in this statistic. Chris Paul averages 4.4 TRB while Isiah averaged 3.6 TRB. Out of both teams rebounds, CP3 grabs 7% of available rebounds. Isiah grabs 5% of both teams rebounds. As you can see, Chris Paul has the stats to prove he is a better rebounding guard.
Advantage: Chris Paul
Defense: This goes to the man who has 4 all-defensive awards (2 second and 2 first) over the man who has no defensive awards. Chris Paul is the man with 4 awards. CP3 also led the league 4 times, and is leading the league in steals at this moment. Isiah Thomas has nothing to show on defense. Chris Paul has a lot to show, so Chris gets this category.
Advantage: Chris Paul
Finale: For the finale, I will compare MPG/GPS, shooting efficiency, clutch factor, leadership, the more diverse player, and the secret.
MPG/GPS: This category determines who would give me more minutes in a season. To do this, you multiply minutes per game (MPG) by games per season (GPS). Chris Paul averages about 36.6 MPG and 70 games per season (Didn't count lockout season or current season). Isiah Thomas averaged about 36.3 MPG and 75 games per season. This is how many minutes they would both give me in an average season: Chris Paul: 2562 minutes per season Isiah Thomas: 2722 minutes per season. As you can see, Isiah averages 160 more minutes per season.
Advantage: Isiah Thomas
Shooting Efficiency: Both are very good shooters. Chris Paul, however, is fantastic. His free throw percentage is 85.6% compared to Isiah's 75.9%. Chris Paul's 3 point percentage is 35.9% compared to Isiah's 29%. Chris Paul's field goal percentage is 47.2% compared to Isiah's 45.2%. The final stat is their true shooting percentage. This takes into fact that 3 pointers are worth more than 2 pointers and 2 pointers are worth more than free throws. Isiah's true shooting percentage is 51.6%. Chris Paul's true shooting percentage is 57.4%. As you can see, Chris Paul kills Isiah in shooting efficiency.
Advantage: Chris Paul

Leadership: This is tough. Chris Paul is the leader of the Clippers and was the leader of the Hornets. David Lee said that Chris is a guy who you always know is on the court. He barks out orders and leads the team to victory. I found an excerpt from a 2 page article about CP3's leadership. It says, "Paul relishes the leadership role. Any team he is on is undeniably his team. The Clippers are in an interesting position of having two players who can be considered the face of the franchise. Blake Griffin has been a Clipper longer, he's more exciting, he's more marketable. The Clippers continue to include Griffin and Paul equally in all of their promotional materials, and it is Griffin whose name is called last in pregame introductions. But make no mistake about who the leader of the team is. For one thing Griffin does not have an overly demonstrative personality, so it's not in his nature to be the vocal, visible leader. But it wouldn't much matter if he did; Paul is the team leader, and it wouldn't really work any other way." The full article is right here:
http://www.clipsnation.com/2012/10/15/3510110/how-does-chris-paul-cut-through-la-leadership
Now let's talk about Isiah. Isiah was always barking out orders too. He was a guy who took control in the final minutes (Will get to that in next category). I found an excerpt from Elliot Kalb's book (Who's Better, Who's Best in Basketball). This excerpt says, "When Isiah entered the NBA, he joined a terrible Pistons team that had won only 16 and 21 games in the previous two seasons. Immediately, Detroit improved by leaps and bounds in Thomas' rookie season and won 39 games. In that 1982 season, Detroit made two in-season trades. One brought a bruising center named Bill Laimbeer (from Cleveland) and the other brought the microwave-Vinny Johnson (who got hot early; acquired for Greg Kelser). By 1984, head coach Chuck Daly was aboard. The 1985 draft was memorable for the drafting of Joe Dumars. The Pistons selected John Salley and Dennis Rodman in the 1986 draft. A team was built to topple the mighty Celtics and Lakers. There would be enough time to squeeze in a pair of NBA Championships and three Eastern Conference championships in a row before the sleeping giant in Chicago awoke. Thomas was a big part of the Bad Boys, of course. He was the captain, the unquestioned leader. He was the Most Valuable Player of the 1990 Finals, when he averaged 27.6 points, 7.0 assists, and 5.2 rebounds against Portland. In Game One, Isiah scored 16 points in the 4th quarter (finishing with 33 for the game) rallying the Pistons from ten points down with seven minutes remaining. He scored 22 points in a quarter later in those Finals."
As you can see, they are both fanaminal leaders. Neither one is a better leader than the other.
Advantage: Tie
Clutch Factor: Both of these players are great when it comes to being clutch. Chris Paul is considered, by many, the best clutch player in the NBA. Let's look at the stats. While Chris Paul was on the Hornets, the Hornets went 80-44 with games decided by 5 points or less. While Chris was on the Hornets, the Hornets raised their offensive and defensive efficiency in late one possession games (Overall offensive efficiency: 104.4 Clutch: 115.9 Overall defensive efficiency: 104 Clutch: 97.4). In 2012, the average NBA crunch time offense scores 80 points per 100 possessions. The Clippers averaged 96.8 points per 100 possessions in the crunch time. His crunch time field goal percentage is higher than Kobe Bryant, Lebron James, Dwyane Wade, Dirk Nowitzki, and Carmelo Anthony! Another important stat in late game situations is turnovers. CP3 lowered his turnover rate from 8.1 to 5.9 in the clutch. Ehran Khan talks about everything I am trying to point out here:
http://bleacherreport.com/articles/1105593-chris-paul-is-the-best-clutch-player-in-the-nba-today. Now it is time for Isiah Thomas. Isiah Thomas is just so much better in the clutch or playoffs. Here are his regular season stats compared to his playoff stats.
Regular Season: 19.2 PPG 9.3 APG 3.6 TRB 75.9% from the free throw line 29% from 3 point land 45.2% from the field.
Playoffs: 20.4 PPG 8.9 APG 4.7 TRB 76.9% from the free throw line 34.6% from 3 point land 44.1% from the field.
As you can see, his PPG is raised, he APG stays the same, his TRB rise, his free throw percentage rises, his 3 point percentage dramatically rises, and his field goal percentage slightly drops. Isiah also has the plays/games that show he is clutch. Game 6 of the 1988 NBA Finals he scored 25 points in the 3rd quarter. In the 1984 NBA playoffs, he scored 16 points in the final minute and a half to send the game into overtime. In the 1990 NBA Finals, Isiah scored the Pistons last 7 points of Game 1 to give the Pistons the win, etc. Both of these players are crunch time play makers. I can't give this to one or the other.
Advantage: Tie
Diversity: I have to give this to Chris Paul. Chris is just as good as Isiah on the defensive end and much better defensively.
Advantage: Chris Paul
Who Knows how to Win: They both know how to win. Chris is leading the Clippers to a great record in the NBA. Isiah won 2 championships. That stat is the one that convinces me to give this category to Isiah. If Chris Paul can win 2 championships, then this will be a true debate. Until then, Isiah wins this category. (Interesting Fact: Isiah won his first NBA Championship in his 8th year. This is Chris Paul's 8th year)
Conclusion: I usually put winner right here with no explanation, but I feel this deserves an explanation. I can't just put an 8 year player with no rings over an NBA legend with 2 championships without an explanation. However, I would rather have Chris Paul than Isiah Thomas. Use this situation. Let's say Isiah Thomas plays today and Chris Paul played in the 1980's with the Pistons. Do the Pistons win 2 championships? Does Chris Paul make the same mistake Isiah did in the 1987 Eastern Conference Finals Game 5? Yes and maybe. Chris is tough and could definitely lead the Pistons to 2 championships. The second one, Larry Bird is still Larry Bird. I have no idea if Larry could trick him.
Winner: Chris Paul