08:51 PM ET 03.02 |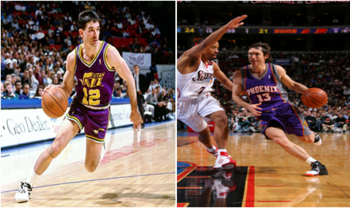 By @CJ_H_12
These two point guards played the same exact game. They ran the pick and roll to perfection, they were pass first point guards, they were small, and they were very good shooters. In fact, they even had a dominant big man (Nash had Amare and Stockton had Malone). Unfortunately, neither has been able to win an NBA Championship. Stockton made it twice, while Nash has never made it. I have always wondered how similar they are, but how not many people have debated which one is better. Today I will be debating them. I will compare them in such categories as scoring, passing, defense, rebounding, and the finale. The finale will be made up of smaller categories. Please feel free to comment and follow me on twitter @CJ_H_12.
Scoring: A lot of people would immediately pick Nash. This is wrong. Nash only averages 14 PPG. Stockton averaged 13 PPG. Nash averaged at least 17 points 4 times, while Stockton averaged at least 17 points 3 times. Here are the stats that really matter. John Stockton's offensive rating (Points produced by player per 100 possessions) is 121. Steve Nash's offensive rating is 118. John Stockton's total offensive win share (total amount of win's produced due to a players offense) is 142.8. Steve Nash's total offensive share is 112.5. However, Stockton played 19 years while Nash has only played 17. So, I had to take away Stockton's last 2 seasons offensive win shares to be fair. Stockton still beats Nash with a total of 128.2. If I needed a scorer, I would choose Stockton over Nash.
A lot of people don't believe me when I say Stockton can take over game with scoring. Maybe this video will refresh your memory:
http://www.youtube.com/watch?v=be-EEL7FfQM
Advantage: John Stockton
Passing: This is close. Nash and Stockton are both AMAZING passers. However, let's remember that when I say passing I mean being a good teammate, limiting turnovers, APG, and APG% (the percentage of teammate field goals assisted by a player). I don't mean being able to do behind the back passes or no look passes. Now they we are set, I will start. Both are great teammates so we can skip that category. John Stockton and Steve Nash limit turnovers like no one else. They both average 3 turnovers per game and average 20 turnovers per 100 possessions. Stockton easily wins in the APG and APG%. Stockton led the league in assists 9 times and APG% 15 times! Stockton is also the all time leader in assists in NBA history! Nash led the league in assists 5 times and APG% 5 times. Stockton easily wins this.
Video of Stockton passing:

http://www.youtube.com/watch?v=lAPu4nLzDbQ
Advantage: John Stockton
Defense: Everyone knows who wins this. Nash doesn't try on defense half the time, while Stockton get's physical and rugged. This is shown by Nash averaging at least 1 steal only 3 times and not having one defensive award. On the other hand, Stockton has led the league in steals twice and averaged at least one steal 19 times (He NEVER averaged less than one steal). Stockton also made all-defensive team 5 times compared to Nash never making it. By the way, John Stockton is the all time leader in steals in NBA history. Just thought I'd mention it.
Video of Stockton becoming all time steals leader:
http://www.youtube.com/watch?v=umOjGR05W7I
Advantage: John Stockton
Rebounding: This doesn't matter for them. They are both barely 6 feet tall. However, they both average 3 TRB a game.
Advantage: Tie
Finale: In the finale I will compare MPG/GPS, shooting efficiency, leadership, clutch factor, diversity, and who knows how to win.
MPG/GPS: If there is an iron horse of basketball, it's John Stockton. John Stockton, in his 19 year history, only missed 22 games. In 1998, he missed 18 games. In 1990, he missed 4 four games. The lockout season was the only other season where Stockton didn't play 82 games (He played all 50 games possible that year). That means Stockton played all 82 games 16 times. 16! Nash has been plagued with injury and averages 65 games per season. Stockton easily wins this.
Advantage: John Stockton
Shooting Efficiency: Steve Nash easily wins this. Nash averages 42.8% from 3 point land and 90.3% from the free throw line. Stockton averages 38.4% from 3 point land and 82.6% from the free throw line. However, Stockton averages 51.5% from the field while Nash averages 49.1%. Nash still wins this.
Video of Steve Nash shooting:
http://www.youtube.com/watch?v=D0Dj1D7DbSA
Advantage: Steve Nash
Leadership: I have to give this one to Nash. They are both coaches on the floor, but I have always seen Nash as the leader of the Suns. Now that he is on the Lakers, I still see him being a leader. Stockton was never a big vocal leader of the Jazz (off the court). Nash has been the vocal leader of the Suns and now Lakers for years. Alvin Gentry, the coach of the Suns while Nash was playing with them, commented on Nash's leadership. Gentry said, "It (Leadership) started in training camp," Gentry said. "He (Nash) was just determined. He said, 'We're going to get back to where we were and I'm going to see to that.' (It's) true to form with what he's been able to do our team. I've said all along I thought he had a better year this year than any of the two years he won the MVP."
Steve Nash Leadership Video (54 seconds):
http://www.youtube.com/watch?v=Yv8-HYPccfo
Advantage: Steve Nash
Clutch Factor: Stockton has to win this. He has one of the most clutch shots ever. In the 1997 Western Conference Finals Game 6, he hit a buzzer beater to send the Utah Jazz to the NBA Finals. That is clutch. Nash has some clutch shots here and there, but nowhere near the importance of Stockton's shots. Check out the video below to see what I mean:
http://www.youtube.com/watch?v=bPPV9wLFK9M
Advantage: John Stockton
Diversity: John has proven that he belongs here. He is a better scorer and passer and a better defender.
Advantage: John Stockton
Who Knows How to Win: You can't immediately say Stockton knows how to win more than Nash, because Stockton made 2 NBA Finals. Stockton had one of the greatest coaches of all time (Jerry Sloan), a great shooter (Jeff Hornacek), and oh ya, Karl Malone. Nash has had many different coaches, Amare, Richardson, and other average - good players. However, this year Nash has Kobe, Howard, Metta World Peace, Pau Gasol, etc. If Nash can't make it to the NBA Finals once in the next three years with these players, I am giving this to Stockton. Until then, there is no way I can say Stockton wins this.
Advantage: Tie
Conclusion: Stockton is a better scorer, passer, defender, iron horse, clutch player, and a more diverse player.
Winner: John Stockton
Highlights of John Stockton:
http://www.youtube.com/watch?v=myMvojT6zIc
Highlights of Steve Nash: