11:21 AM ET 03.24 |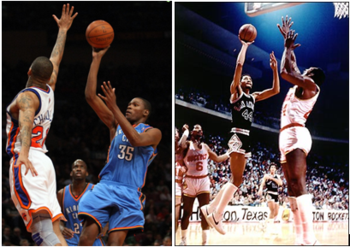 I was reading an article yesterday about Kevin Durant. It said, "Durant is smooth, quick, and silky." This immediately reminded me of the Iceman, George Gervin. George was the smoothest of the smoothest with his silky finger roll. He could score whenever he wanted, like he was playing one on one with himself. This is the same with Durant. Durant has been the scoring champion for 3 straight years, and it seems like he will win it again this year. Today I will be comparing their strengths and weaknesses. I will give a small explanation after each comparison. Please feel free to comment and follow me on twitter @CJ_H_12.
Scoring: This one is the obvious one. They are some of the best scorers of all time. Durant is the three time scoring champion (Going on 4), while Gervin won it 4 times. Durant averages 26.6 PPG for his career, and Gervin averages 25.1. Gervin was a great scorer, but is that what he was all about. Which championship was he trying to win? The scoring championship or the NBA Championship? Durant obviously goes for the NBA Championship. The most obvious proof involves Russell Westbrook. If Durant wanted to win the scoring championship more than anything, he would be feuding with Westbrook. Westbrook is a shoot first point guard and Durant seems to be okay with this. Anyways, I have to give credit to both for being great scorers.
Video of Kevin Durant scoring:
https://www.youtube.com/watch?v=4d6kHxRmCFE
Video of George Gervin scoring:
https://www.youtube.com/watch?v=hSchrXPXRyM
Clutch: The NBA came out with a commercial calling Kevin Durant "Kid Clutch." They have the right to. Durant is sick in late game situations. Remember game 1 of the Thunder vs. Mavericks series in 2012? Remember Durant hitting the impossible game winning jumper? How about the next series vs. the Lakers? Remember when he hit the game winning 3 pointer to lead the Thunder to a 3-1 advantage in the series? I could go on forever with Kevin Durant. George Gervin was also Mr. Clutch. On December 7th of 1978, the Associated Press (of the NBA) came out with an article called "Ice Man is newest Mr. Clutch." The article goes on to talk about his heroic late game acts. You don't just get the name "Ice Man" or "Mr. Clutch" for no reason.
Video of Kevin Durant clutch plays:
http://www.youtube.com/watch?v=HQMU6fKsAhg
Newspaper of George Gervin clutch plays:
http://news.google.com/newspapers?nid=1346&dat=19781207&id=sUdNAAAAIBAJ&sjid=2foDAAAAIBAJ&pg=7215,2840558
Defense: This category is their biggest struggle. Gervin was never a good defender. However, Durant is improving. His defensive rating has gone from 110 to 101. Gervin had a poor rating of 115 one year! George Gervin had the chance of becoming a good defender (6 foot 7, long arms, etc.), and so does Durant. Durant just has to work harder than Gervin. I am willing to say that Durant already is a better defender than Gervin (6 foot 9, just as fast, 35 LBS heavier, and longer arms). I can't wait to see the day when Durant is an all-around great player.
Video that shows potential of Durant defense:
http://www.youtube.com/watch?v=6gN4Bn1fFL4
Body Shape: I am not going to write much here, but I do want to point out a couple things. They play almost identical games (Except for Durant wants to win more) and are almost the same body shape. Durant is just a couple inches taller, and they are both slim for the NBA.
Conclusion: George Gervin and Kevin Durant played similar games. They were/are great scorers, clutch performers, poor defenders, and still similar body shape. I am willing to say that Durant is already better than Gervin. Think about it. Durant has already made it to the NBA Finals (Gervin never did), Durant already has just as many scoring titles, and Durant is a better defender.
Kevin Durant >George Gervin