12:18 AM ET 02.15 |
This group last year caused me to contemplate suicide, much like every other fan of the orange and blue. But we do have some very young, but promising pieces in the mix which encourages me that it is possible to have a very solid defense next year. But not without the addition of the FA's and some young blood...
The Defensive Line: My ideal line would be something to the nature of the Packers' or the Giants'. They both have excellent pieces to rotate, and that's exactly what im looking for. So here is how the d line looks before any signings.
DE: J. Engelberger, T. Crowder, E. Dumervil, J.Moss DT: A. Burton, A. Mickinley, M. Thomas
Now I think Dumervil has one starting DE role absolutely locked for years to come. So it would be excellent to sign someone else to complement his rush from the opposite end. And I have a man crush on Jared Allen unfortunately we can't have him because he has been snatched up by the Cheifs. Instead I'll get a vet in the rotation with Mike Rucker. I don't think he is elite, probably far from it but he seems to do well with another strong rusher on the other end (Peppers in Carolina). I think we can get him for relitively cheap.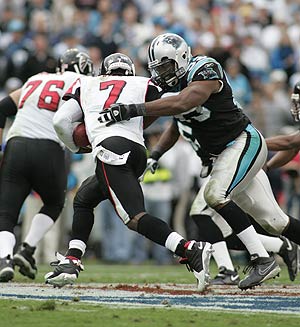 Defensive tackle was maybe our biggiest weakness all year long. Towards the end, we gave up and just threw a three man rush at the QB. There are some nice FA names out there at this position so we'll definately go for one of the bigger names. Of course there is Haynesworth and J. Smith but I want Corey Williams. He is very underated and very talented. And what better way to mimic the Packers line than to take part of it. We'll also sign Renaldo Wynn for a little more depth at this position along with taking a DT in one of the later rounds.
Linebackers: If you read my article about the offense you'll know we trade T. Henry for Barret Rudd. That moves DJ Williams to his more natural position while keeping Ian Gold at his position. Even though Gold has been playing inconsistent I feel he has proven himself and deserves another chance. J. Beck and Green give us some depth but I still make take a LB with the last picks.
Secondary: In this scenario, Lynch stays one more year to train the Safety of the future will draft. We will also resign Nick Fegurson to give us some more depth. The corner situation is a little more interesting than most may think. Soon Foxworth will be a FA and wants to be a starter somewhere, which most likely wont be Denver. That means it might be ideal to trade him now. Some teams might be interested like the Pats and Browns. But I think it may be to hard to get good value for him at this point and his depature will leave us with a hole. So for now we'll hold on to him but also draft someone to replace him in the future.
Team After Free Agency: Here is what its looking like after all our moves.
Offense:
QB: Jay Cutler, P. Ramsey
HB: Selvin Young, Chris Brown, Andre Hall (Young and Brown will share the load)
FB: C. Sapp, P. Smith
WR: 1)Brandon Marshall 2)Brandon Stokley 3)Devery Henderson Glenn Martinez
TE: D. Graham, T. Scheffler, C. Mustard
LT: J. Gross, R. Harris
LG: C. Kuper, P. Alexander
C: T. Nalen, C. Myers
RG: B. Hamilton, I. Snell
RT: E. Pears, R. Harris
Defense:
LE: E. Dumervil, J. Engelberger
RE: Mike Rucker, J. Moss, T. Crowder
RDT: C. Williams, A. Burton
LDT: A. Mckinley, R. Wynn
OLB: DJ Williams, Ian Gold, L. Green
MLB: B. Rudd, J. Beck
CB: C. Bailey, D. Bly, D. Foxworth, K. Paymah
FS: J. Lynch, N. Ferguson
SS: H. Abbdulah, C. Cox