01:53 PM ET 02.17 |
Hawks-Kings Trade:
For the first time this season, an Eastern conference team pulled off a block-buster deal, looking pretty smart in the process. The Atlanta Hawks have wound up getting Mike Bibby after the Cleveland Cavaliers, who have been chasing Mike Bibby for it seems like forever. Imagine what LeBron will be thinking when both Bibby and Kidd are trade? There is always Daniel "Boobie" Gibson, right? The Atlanta Hawks organization is not known for it's smart moves in trades, free agent signings, or drafting players, but I can say they did a great job here. The Hawks part ways with for one lottery disappointment, three expiring contracts and a future second-round pick in 2008 (Shelden Williams, Lorenzen Wright, Tyronn Lue and Anthony Johnson are the players). By trading Anthony Johnson and Tyronn Lue, the Hawks also are committing to rookie point guard Acie Law, who should receive more consistent playing time as Bibby's backup. At the same time though, there is a problem. He's always been a better scorer than at creating for teammates. Now he doesn't need the ball in his hands to score at all times, with Josh Smith, Joe Johnson, Marvin Williams, Josh Childress, and Al Horford (my pick for ROY) who are all able to create their own shot.
Atlanta also made this deal without throwing in any future first-round picks or surrendering any of its prized young talent (Anyone from Marvin Williams, Josh Childress, or Acie Law). Another piece of the rumors they didn't have to receive was Kenny Thomas's huge contract of two seasons worth $17 total. Bibby is under contract only through next season, in case it doesn't work anyway. Although, with a roster jammed with young, emerging talent, there is no way they can't get probably a 5 or 6 seed in the playoffs. There are also advantages in what Sacramento got back in the deal.
The Kings, in turn, get a try to turn Shelden Williams into a great player and address their needs for shot-blocking and athleticism on the front line, where before they had Mikki Moore and Brad Miller, who are not that athletic. They also receive in the trade some salary cap room after the season is over because Lue, Johnson, and Wright all have expiring contracts. Now this will become interesting. The Kings will pair Williams with a great passer in Miller down low in the post, push Kevin Martin into the team's franchise player, and give their confidence to point guard Beno Udrih and swingman John Salmons with Bibby gone.
NBA All-Star Saturday Night: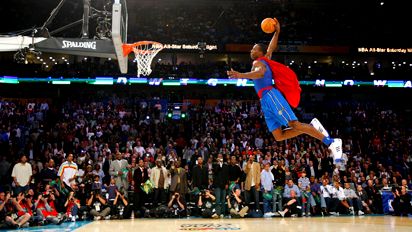 Let me start off with the Slam Dunk Contest. A celebrity panel of judges included Magic Johnson, Karl Malone, Dominique Wilkins, Julius Erving and Darryl Dawkins, who graded the players on their dunks. Then the fans could either text or go to NBA.com and vote. A result that seemed to be a no-brainer, Howard won in a landslide, receiving 78 percent of the vote.
As NBA.com desribed it, "Look, up in the sky! It's a bird. It's a plane. It's Dwight Howard -- super slam dunk champion."
David Stern and the NBA need to give Dwight Howard a thank you. This dunk contest was definitely the most creative in NBA history. Howard just saved the competition. Using a variety of props as well as teammate Jameer Nelson, red cape, and a superman shirt, Howard scored perfect 50s from judges on his first two dunks. Dwight's performance has to rank up there with anything Michael Jordan, Kobe Bryant, Vince Carter and all the other great dunkers in the NBA. Before, people seemed to think that the high risers seemed to run out of ideas. Howard became the tallest player to take the title of Slam Dunk Champ.
Another great dunk by a different player. His name is Gerald Green. Here's the dunk. After Timberwolves teammate Rashad McCants climbed up and placed a cupcake with a single candle in it on the back of the rim, Green soared in and blew out the flame before throwing down a crazy left-handed dunk.
"At first I thought he was going to take the cupcake, eat it and then dunk it," Howard said. "I thought he would have won with that."
Howard's most memorable dunk is his flying, superman throw in dunk. If you missed the dunk contest, then you need to watch it when you get a chance.
The NBA's best 3-point shooter this season, Jason Kapono, won his second straight 3-point Shootout, tying a 22-year-old record with a final round score of 25. Cleveland's Daniel Gibson, who made 11 3-pointers in Friday night's rookie challenge finished second. Kapono almost didn't get out of the first round. He was in danger of elimination as he approached the last rack in need of 6 points when the Toronto Rapter came through in the clutch by sinking five straight shots to advance (Money ball is worth two points: hit all money balls in final round).
"I'm thinking in the bathroom or something," he said. "Maybe every time I take a shower or I go in and brush my teeth I'll start my day out staring at this beautiful trophy."
Deron Williams was nearly perfect, with a time of 25.5 seconds, a new record for the six-year-old event. The Skills Challenge is an obstacle course of dribbling, passing and shooting. In the end, the Jazz point guard defeated New Orleans' franchise player Chris Paul in the final round.
I Hope All Of You Watch The Game Tonight!!!