01:12 AM ET 02.18 |
After some of the trades I made, Walker and Bell, we have plethora of draft picks to build our furture. Here's the list:
Round 1-Pick 12
Round 2-Pick 44
Round 3-Pick 84(Walker to Washington)
Round 4-Pick 98
Round 4-Pick 107
Round 4-Pick 116
Round 5-Pick 139
Round 5-Pick 145(Bell to Houston)
Round 7-Pick 203
Round 7-Pick 211
So now I get the opportunity to select ever player for the Broncos. Aren't fantasies fantastic?
Round 1-Pick 12 Without my free agent signing of Gross, I choose Ryan Clady here. Since I signed him to a long term deal, I'll look at the defense. I'm guessing Dorsey, Long, Ellis, Campbell, Gholston, and Balmer are all gone. So I pick the smart pick and go with Kenny Phillips. He can be that impact saftey for, years and years to come. Hopefully he follows the mold of his U brothers, Reed and Taylor, and becomes a top 3 safety. And in my fantasy, if you've read the defense portion, Lynch stays one more year to teach Phillips how to be truely an elite saftey.
Round 2-Pick 44 I really would have liked to get Ellis in the first round. But since even in my fantasies im a realest we'll settle for the top 2nd round DT around in Pat Sims. At 6'4 and 300 hundred pounds, expect him to compete for the starting role along side Corey Williams.
Round 3-Pick 84 I dont think we have a true number 2 starter with the depature of Javon Walker, so why not use the draft pick we recieved for him on his replacement. And I really like Lavelle Hawkins. Not only is he an above average wr prospect, but he is also a great kick returner which will fill dual need for us.
Round 4-Pick 98 Eventually we will have to replace Ian Gold as he is aging. So instead of free agent hunting when its too late, we'll grow our own. And that man is Shawn Crable out of Michigan. He's got great size at 6'5 240 and the perfect complement of speed. He should fit out system perfectly.
Round 4-Pick 107 Speaking of replacements, how bout one for Nalen? I was searching around and then I found my dream date, Steve Justice. He's 6'3 and 289 with a 5.1 forty. Some might say undersized, Broncos fans say just right.
Round 4-Pick 116 We don't have a real fullback on the roster. And we haven't had one I liked since Howard Griffith. So how bout Owen Schmitt out of West Virginia? I REALLY like this kid. I mean he may be my favorite draft pick out of the whole draft. And when he cried after the Fiesta Bowl victory he showed how much the game really meant to him. And it only made me want him more.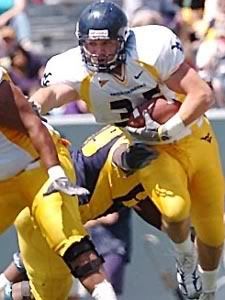 Round 5-Pick 139 I'm almost absolutely sure this man will end up be a late round steal. We've gott realize were not going to have the recently signed Chris Brown forever. And if Tashard Choice works out, imagine how long we could have the two back system of Young and Choice.
Round 5-Pick 145 Part of me wants to draft Davone Bess, but the other part remembers Ashlie Lelie. And since we already drafted Hawkins why not take a little risk. I'll take Mario Urrutia whose stats are obviously less dramatic since he's not playing in the inflated QB system in Hawaii but he seems to have the better skill set. Imagine a 6-4 Marshall on one end and a 6-5 Urrutia on the other. Can you say Hail Mary?
Round 7-Pick 203 People say the punter doesn't matter but does anybody remember the Chicago game last year. So let's get some stability with Mike Dragosavich. At at 6'5 and 210 it wouldn't hurt trying a punter sneak or two.
<--- (Its hard to find an action photo for a punter out of NDSU)
Round 7-Pick 211 I'll take Omar Haugabook with our last pick. He has very good speed and could either play WR or HB and is an average returner. He even has some experience at QB so we can keep only Jay and Patrick on our roster.
Offense:
QB: Jay Cutler, P. Ramsey, Omar Haugabook(R)
HB: Selvin Young, Chris Brown, Tashard Choice(R). Omar Haugabook(R) (Young and Brown will share the load)
FB: Owen Schimtt(R), P. Smith, A. Hall (I cut Cecil Sapp over P. Smith because of P. Smith special teams play)
WR: 1)Brandon Marshall 2)Brandon Stokley 3)Devery Henderson 4)Lavelle Hawkins(R) Glenn Martinez, Mario Urritia(R), Omar Haugabook(R)
TE: D. Graham, T. Scheffler, C. Mustard
LT: J. Gross, R. Harris
LG: C. Kuper, P. Alexander
C: T. Nalen, S. Justice(R)
RG: B. Hamilton, C. Myers
RT: E. Pears, R. Harris
Defense:
RE: M. Rucker, (Moss will most likely replace him midseason when he gets back in the groove) J. Moss, T. Crowder
RDT: C. Williams, A. Burton
LDT: Pat Sims(R), R. Wynn, A. Mckinley
LE: E. Dumervil, J. Engelberger
ROLB: DJ Williams, L. Green
MLB: B. Rudd, J. Beck
LOLB:DJ Williams, S. Crable(R)
CB: C. Bailey, D. Bly, D. Foxworth, K. Paymah
FS: J. Lynch, N. Ferguson
SS: K. Phillips(R), Hamza Abbdulah(Most likely Replacement for Lynch), Curome Cox.
ST:
K: Jason Elam
P: Mike Dragosavich(R)