01:11 PM ET 02.20 |
This legend has bragging rights to a record for an interception in 19 straight seasons when the average NFL career ends in 8-9 years. With the speed of a human bullet, he outran and out sped his fellow teammates at age 40, clocking in at 4.2 seconds for the 40 yard dash. Although he made a name for himself for being a star cornerback, he was also a celebrated punt returner, averaging for 12 yards per return. All you Bronco fans out there- you've got this man to thank for Champ Bailey's amazing skills as a cornerback because he helped mold Bailey into a likeness of himself. As a rookie, he had enough guts, stamina and incredible speed to chase down the world class and invincible sprinter Tony Dorsett out in the open field. Voted into the Pro Bowl 7 times, he was also the fastest man in the NFL for about a decade.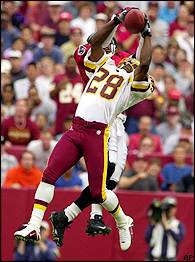 If there was any doubt of the holder of such amazing feats, you needn't have. Darrell Green is the only one who could've returned a punt for 52 yards with a broken rib, scoring the touchdown that won the game and defeating the defending champs, the Chicago Bears. I haven't personally experienced a broken rib myself, but I've heard that its effects are just a tad bit less agonizing than Chinese water torture. Imagine running at top speed, dodging hulking football players determined to tackle you onto the hard ground while witnessing excruciating pain from a broken rib, which hinders one from properly breathing. I'll bet nobody would even make it past 10 yards and yet Darrell took it all the way to the end zone for the game-winning TD.
A continuous display of such heart, loyalty, passion, and invincibility throughout his 20 year tenure with only one team is what led Darrell Green into an early induction to Canton. Rare few people actually get initiated into the Hall of Fame their first year of eligibility. Darrell Green has shown the world that his accomplishments should indeed be celebrated in the highest prestigious way possible. He is, after all, the prodigy of speed no matter how tiny he was. Even now, he's still making a huge impact on the community, serving as the President's Chairman of the Council on Service and Civic Participation and proving that an "itty bitty" guy can make an irrevocable world of difference both on and off the field.