02:58 AM ET 02.24 |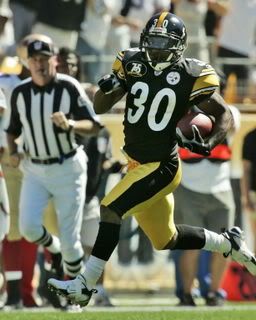 The Pittsburgh Steelers cut 3 Men of Steel today from their roster... Namely: Allen Rossum (kickoff returner), Jerame Tuman (TE), & Clint Kriewaldt (LB)...
Rossum was acquired early in the season from the Falcons & is a ten year vet. He had 38 kickoff returns (for a total of 885yrds) & 1 TD as his short time as a Steeler. Overall though, his preformance just wasn't up to par. Time for Rossum to move on.....
Tuman was a nine year vet of the NFL. Joined the Steelers as an unrestricted free agent in 2003. Was placed on the IR List after suffering a back injury early in the 2007 season... Had 7 TD's in his career, including one in 2007. He was the epitomy of what every TE in the NFL should strive to be... His departure will be sadly missed...
Kriewaldt was also a "True Man of Steel". He is a nine year vet of the NFL. Was a 2x Co-Captain of Special Teams for the Steelers. Recorded 77 tackles w/ special teams on the Steeler squad... His time here in Pittsburgh will never be forgotten.....