05:21 PM ET 09.16 |
Well you just really have to quantify this Raiders win that way. Yes, it was Terrelle Pryor's first career win as a starting QB. Yes, it was a game we were treated to a Darren McFadden appearance. Yes, the special teams and defense looked pretty good, and definitely not awful as the Raiders moved to .500 on the young season... But we still must realize this was against the Jacksonville Jaguars. The Jags are not just bad - the Jags are comically bad. Even people like us used to watching the Raiders every week look at the Jags and go "Oh my God, that is a bad football team." They may stand a very good chance that they will not win a single game this year. This was a sloppy win, that should have not even been close, but was. But it's still a W and we'll still take it.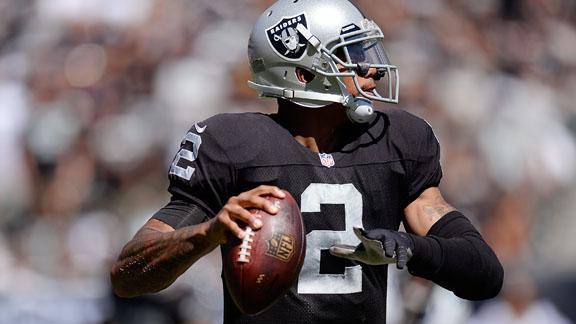 Flynndeed, our new starting QB/Hero was much more of a game manager Sunday. TP went 15 for 24 for 126 yards and ran for
only
50 more. But when the Raiders run the ball as well as they did - 226 yards total - Pryor did all he needed to do and did not turn the ball over. It seemed like DA was playing it safe in the red zone, I feel like the Raiders should have won this game more like 31-9 instead of 19-9. The Raiders definitely dominated the whole day, yet towards the end the Jags were still able to make it interesting because so many times the Raiders could only come up with 3 instead of 7.
McFadden looked great - when he got into the open field. McFadden had 4 rushes for a total of 110 yards. His other 15 carries totaled 19 yards. So that was a bit of a boom or bust. We'll have to wait and see how that plays out against a real NFL defense as opposed to whatever Jax was throwing out there on Sunday. Many positives can also be gleamed from the defensive performance. The Raiders collected 4 more sacks - giving them a total of 9 for the season (they only had 25 ALL of 2012), but a key injury was sustained by safety Tyvon Branch, looks like a broken fibula could keep him out a significant amount of time this year. Hopefully Usama Young or Phillip Adams can step up to fill Branch's place - it will be tough. But these are things every NFL team must deal with and that's why depth is so important. We all knew depth would be a questionable situation for the Raiders in 2013, and it seems early this year that will be put to the test.
Next week of course is the Denver game, and unfortunately it has to be our only Monday night game. The Donks have been running roughshod over everyone this year, and they look darn near unstoppable. Raiders will have to play a perfect game on both sides of the ball, and even then will need a good bit of luck just to stay in this game. But I believe in this team, and so should you.
GO RAIDERS!!!