10:32 PM ET 03.03 |
Anyone remember those blogs I used to do, like MONTHS ago? Those news blogs where'd I'd attempt to feature some of the hottest stories from around the sports world, and then TRY to be funny at the same time. Yeah, well, it aint BACK...but it's back, sorta.
Attention Kids: This is What Boredom Looks Like.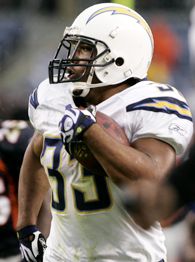 Yesterday, Michael Turner signed a six-year, $35 million contract with the Atlanta Falcons. The deal also included $15 million in guarantees. Today, Warrick Dunn was released by the Falcons. Dunn, the 33 year old veteran running back, had been part of the Falcons backfield since 2002. With Michael Turner now the main back for Atlanta, that leaves Jerious Norwood in the two-spot on the depth chart. The 24 year old Norwood had averaged six yards per-carry in 2007-2008, and had provided a solid second option for the aging Dunn. In my mind, this deal was a good one. Dunn only rushed for 720 yards last season, showcasing a dismal 3.2 yards per-carry average. Turner is young, and has shown his talents as a backup to the NFL's rushing leader, Ladanian Tomlinson. The Falcons decided to youthanize their backfield by putting Turner and Norwood together, and it was a good decision. This just begs the question, or at least two; what will become of Warrick Dunn, and what else will the Falcons do this offseason? They've shown the ability to dig into their pockets...let's just see how much deeper they're willing to go.
Staying in the NFL here, lets talk about Big Ben. No, not BigBen68, that Hall of Famer guy who is holding out on us in regards to his 68 Files of Secrecy. And no, not that tower with a clock on it in London. I'm talking about the quarterback for the Pittsburgh Steelers, who just signed an eight-year extension. The deal reportedly is worth over $102 million. Sweet fansy Moses, is right! And if that isnt enough to make you envious, and even volatile, he also got over $36 million in guarantees, and $25 million up-front in signing bonusses. Great time to be Ben Roethlisberger...
It's 15 and counting for the Houston Rockets. The last time the Rockets lost was back on January 27th, against the Utah Jazz. Back on January 27th, the Super Bowl had not been played, The Oscars had just started (and is still airing), and Derek Anderson had not been ridiculously overpayed. During the 15 game stretch, the Rockets have defeated the likes of the Warriors, Cavaliers (twice), Hornets, and Nuggets--all potential playoff teams. And to top all of this off, the last three games they've won have been without Yao Ming. Granted, all three were at home and two of them were against bargain basement teams, but they still dont have that 7'6" Sequoia tree in the paint. And dont forget, they did hold both Allen Iverson and Carmelo Anthony under 20 points in last night's blowout W over the Nuggets. How much longer can this streak go? Not sure, but I'd bet it will go at least for one more as they get the Pacers Wednesday. I dont know if it will go any further than that, as they matchup with the Mavericks in Dallas on Thursday.
It's official, the Kansas State Wildcats only have one player. Michael Beasley is a 6'10" freshman who continually dominates in the paint night after night. Pathetically enough, his 'Cats are riding a four-game losing streak, and now are out of the Top 25--and possibly the tournament. At 18-10, the Wildcats have fallen to Nebraska, Baylor, Texas, and Kansas in the past four games, and now have gone 4-6 in their last 10 games. Possibly as a consolation prize, or whatever you wanna call it, five of those losses were on the road. Not a good enough of an excuse? I dont buy it either, but I put it out there anyway. Attempting to make a point pertaining to the first sentence here, of those four games the Wildcats have now lost in a row, other than Michael Beasley, there have been only five other instances in which a Wildcat has made it to double-figures. Both Jacob Pullen and Bill Walker have done it twice, with Blake Young chipping in 10 points back against Nebraska. It doesnt help too much when Michael Beasley scores 39 points, but everyone else on the team combines for a stagnant 39, and not one reaching double-digits like in the loss to Kansas. Can a bigman get some help? The guy's gotta feel like Jordan in the early 80's, or Kobe just last season...
Getting back too the NFL, Randy Moss is still a New England Patriot. The Patriots have parted ways with Donte Stallworth, Randall Gay, Rosevelt Colvin, and Asante Samuel this offseason since the opening day of Free Agency...but were able to lock down their stud wide out in a three-year deal worth $27 million. With Randy still a Patriot, this gives Tom Brady the chance to exhale. He's gonna still have his #1 target from 2007-2008, and the Patriot offense still has a shot at being almost as good as it was. It isnt likely that Moss will have a 23 touchdown season again in 2008-2009, or his Patriots going undefeated in the regular season again, but with him now paid and happy Moss and the Patriots can look forward to yet another fantastic season.
What's going on with the best tennis player in the world? Tiger Woods a few years ago went through a rough patch on the golf course, and now Roger Federer is having his issues out on center court. Federer is riding a mini losing streak, with the most recent loss coming at the Dubai Classic at the hands of Andy Murray. Federer was knocked out of the U.S. Open by a score of: 7-6, 3-6, 4-6. The last time Federer lost a first round match like he did on Monday was at the Cincinnati Masters in 2004. Is he just rusty, or is this just a sign of a decline for him in the future? I'm not going to jump on this development too much...because hell, it is Roger Federer. He is to the tennis ranks as Tiger Woods is to golf, Michael Jordan was to the NBA, and the Beatles were to music in the 60's.
Can you wait until May 22nd to finally see "Indiana Jones and the Kingdom of the Crystal Skull"? Harrison Ford may be 65, but the anticipation for a film sequel which last installment was 19 years ago could not get any higher. The trailer has hit the web, and has received an enormous amount of praise. The Speilberg directed film is, as I said, set to be released in May...and quite honestly, I cant wait. Yeah it is just a movie, and a series I missed completely only to view as a kid in the 90's, but it's still cool. Right? Right.
Oh, and here's the trailer.
I just finished listening to The Mars Volta's "The Bedlam in Goliath" CD, and it's time for me to head too bed. Letterman is coming on in an hour or so, and school is tomorrow. Layyyyyyyyyyter.