02:19 PM ET 03.10 |
Believe it or not, there are undeniable similarities between those adolescent warehouses of hell (school) and this deceptively addicting sports-site (FanNation). I've wasted my life away on FanNation for just a little more than 4 months now, during which I took the advantage of the opportunity to exercise my anthropological skills and survey the human environment. Whilst I was on FN, feverishly studying the behavior of its community, I was also taking special notice in the on-goings of life at school. If truth be told, I was so intent upon making my mark in the acclaimed field of Human Behavior Studies that I stayed up past my regular 9:30 bedtime during school days to laboriously ponder my collected data. But I survived, and though both my left and right eyelids are now incessantly twitching, I proudly present to you the fruits of my brilliant efforts. My work will be published in 10 installments because feeding you the entire delicious apple all at once could result in a mighty bellyache. I implore y'all to hang on at the edge of your seats and patiently look out for each one. I'll do everything in my power not to disappoint. :)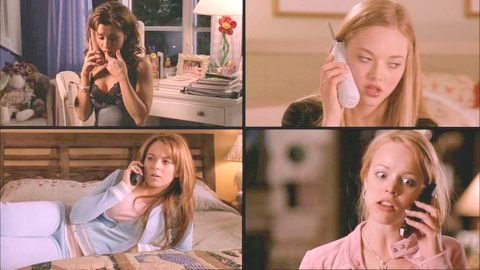 1) Cliques- Night Owls and Atroo
The formation of cliques has been a predominant human instinct since the beginning of time. Heck, even cavemen had a posse with whom they associated with in their caves. The big guys were the bullies and the leaders of the caveman community. These cavemen produced generations filled with bureaucrats, absolute monarchs, Hillary Clinton, and dictators. Of course, the smartest caveman clique invented the wheel; their descendants a couple thousand years down the road are Leonardo da Vinci, Al Gore (who, of course, invented the Internet), Sir Isaac Newton, and Albert Einstein. Consequentially, it is of no surprise that this mentality is still as widespread today as it was hundreds of thousands of years ago.
With this in mind, I deftly scoured the commons of my school. I found that the distinction between each clique and posse is distinguished chiefly by with whom you sit with in a table. A splash of pink (preferably with green) and bright colors indicates that the people in the table next to ours are the Lilly, Eliza B., and/or Vineyard Vines patronizers (in short, the hardcore preps). The huge and hulky guys sitting along the extensive table in the middle of the commons sporting prestigious letter jackets are the jocks; those sitting by the remote corner nearest the doors reading Japanese comics are the Asian wanna-be's. The gaggle of black clad kids with death chains to go along with their carefully unwashed outfits blocks the entrance to the elevator, determined to make everyone feel as miserable as they.
The main cliques on FanNation, the Night Owls and Atroo, are also as easy to differentiate from the rest of the community. According to Tracy (the Night Owl's main chick) you can tell that an FNer is an Owl because they have, "twisted senses of humor and very vivid imaginations. They also have an aversion to daylight." Of course, you can't forget their motto: "Owls Gone Wild Baby!!" Finding Atroo members around FN is effortless as well; all a curious person has to do is prowl through the site and find a whole bunch of teenagers that are quite full of themselves (although in Cardsox's case, you just have to look for a well meaning guy that's absolutely perfect in every aspect of life). In short, it's sorta like a private tree house for boys. They also feel compelled mark their "Atroo greatness" wherever they can, which kinda reminds me of how lions pee on their territory to ward off intruders. But their aloofness to the rest of us lowly non-members is what makes 'em special and an absolute exclusive group that everyone wants to join. In order to be considered elite, a group must weed out all possible candidates that might stain their reputation. If you want to be accepted into either or both groups, you have to fill out an application form or humbly ask to be included. The current members of that group must then vote whether or not you belong.
So there you have it folks... the first out of the ten part saga that explains exactly how school and education is comparable to FanNation. Next time, I'll be discussing the juicy subject of crushes. Stay tuned!