09:30 PM ET 03.13 |
I was on a break today when I had this odd feeling rush over me. CHECK A SPORTS SITE... SOMETHING HAS HAPPENED. A truly strange sensation, fanatics are highly attuned to the workings of the sports world. Even if one has failed to keep up with ANY sport for weeks on end, there will still be that nagging feeling in the recesses of the brain that there is a momentous piece of history going on. I went to si.com, for no other reason than it was the top one in the saved addresses on my boss' computer. At the top of the news stories, through all the drivel and the banter, was the news that American skiier Bode Miller had won his second World Cup overall title...
Having grown up in Jackson Hole, Wyoming, skiing has a pull and a lure that will never be impeded. I grew up on a pair of skis, our weekly elementary-school physical-education classes being a ski lesson and a few hours to play on the mountain in town. Not even the hour-long bus ride to get there could dampen the excitement of those winter days. I messed up my hip and mangled my back snowboarding one icy day when I was fourteen. The snow is in my blood...
You could see anyone on the ski hill on any day -- Jackson Hole is renowned for its challenging and expansive terrain and immaculate snows. I heard this story from a childhood buddy back in high school. He was out on the hill one day when this up-and-coming ski-racing hopeful had come up to him and asked him if he was a local. My buddy tells this skiier that he indeed is a local. The greenhorn asks my buddy if he can take him around and help him learn the mountain. My buddy agrees... but then decides later, on top of the mountain on a pristine powder day, that the snow is simply TOO good to be leading a tourist around the hill. That tourist? Bode Miller...
What any J-Holer will be able to tell you is this -- a snow day is a day to be unhindered on the hill, no matter WHO you have to meet...
But who IS Bigalke, really? After all, this is my inaugural blog for S.I.F.S., and it only seems appropriate to introduce myself...
I am what one might call a fan of obscure sports, by most American tastes. Don't get me wrong, I am as fanatical about football as the rest of you, both college -- Oregon for where I work, Wisconsin for where I was born, and Wyoming for where I grew up and almost went to school -- and professional (raised a Packer Backer, ALWAYS a Packer Backer... even got my ceremonial stock...)
But those aren't necessarily the sports that hold the most sway over my fandom. I LOVE skiing and snowboarding, as I already mentioned. I keep up on Travis Rice's career, a kid from my graduating class at Jackson Hole High School... and remember Bode not because he said he competed hungover but because my friend ditched him all those years ago...
I daresay that I see few of you up and around at 3:30 a.m. in the morning in the middle of July, watching the epic mountain stages of the Tour de France... and up that early because, naturally, as a fanatic you have to watch them LIVE... or staying glued to every minute of the cobblestones so prevalent in Paris-Roubaix. We actually just had a race here in the United States, if anyone is interested... well, I won't bore you with the details. Let's just say the defending champion of the Tour of California, American Levi Leipheimer, won't get to defend his podium spot in, as Bob Roll would say, the "Tour Day France" this year because of the team who signed him in the wake of the Discovery Channel dissolution...
Paris-Nice is ongoing through France right now, the Race to the Sun... and the longest one-day bike race, 300-kilometer (about 180 miles for the metrically-uninitiated) Milan-San Remo, is due to take place next month. Petacchi looks on form... and where is Mario Cipollini going to fit into this racing season?! Boonen went without last season in his favorite cobble classics and saw his teammate defend the rainbow jersey before proclaiming his desire to win the same races for which Tornado Tom LIVES... Intrigue on the horizon...
I love playing tennis, I love watching tennis. We had eight, nine channels on the satellite dish when I was growing up. One of them was HBO, who would beam action from the All-England Lawn Tennis and Croquet Club every summer. I had a steady diet of Wimbledon year after year, Sampras and Courier and Chang and the rest, and it was GLORIOUS.
I was raised on a seasonal (May-October) resort in the middle of Grand Teton National Park. Moose came up to our front porch and ate the jack o'lanterns every November when they would get soft after Halloween. That satellite dish was kept running by the resort for the employees. No rooms have televisions, befitting a national park setting, but they knew that employees marooned in the wintry tundra year-round needed some diversion... and it gave it to me. Nine channels, but among the ABC, CBS, and NBC (and later FOX as soon as it was born) networks all the way from Denver were ESPN, TBS (to see the National League through Ted Turner's eyes), HBO and Showtime (anyone remember that Tyson-Douglas fight?) All a budding sports fanatic needed to breed the habit... along with a hefty dose of insomnia...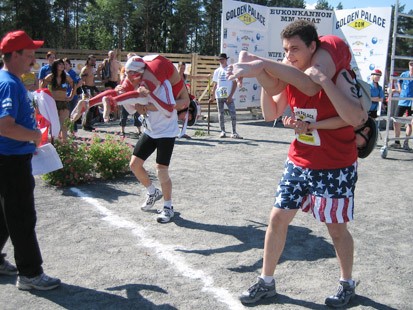 Soccer, track (AND field), swimming (swam the 100m backstroke & breaststroke myself)... these sports, in addition to cycling and tennis and skiing and hockey and... well, I guess I just simply LOVE sports... no matter the popularity or the provenance. THAT is Bigalke in a nutshell. Sports of all stripes are in my blood. I'm fiending for SOMETHING even right now... when's the World Wife-Carrying Championships on?!
Nice to be here everyone... FINALLY! Every Thursday you will get a glimpse into the inner workings of a non-traditional sports fan's thoughts... great to be here, and hope you enjoy!