10:21 AM ET 03.21 |
Friday March 21, 2008
Welcome to this weeks edition of the Friday Filler. I hop you enjoy and I encourage you to comment on this weeks filler.
NBA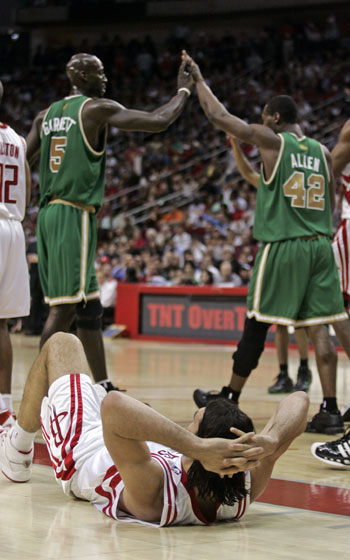 The Rockets beat Charlotte for its 21st straight win. The Lakers were next for #22. Boston snapped the streak though. The Hornets made it two in a row. They are so streaky. Chris Paul had 17 assists and Tyson Chandler had 20 rebounds as New Orleans beat the Lakers. Utah beat Boston to snap their ten game winning streak. The Wolves beat Seattle and the Clippers. Carlos Boozer dropped 41 points on New Jersey. Denver scored 168 points...in one game. That's two games worth for New York, three for Miami. Marcus Camby had a triple-double.Apparently the T-Wolves aren't to be held accountable, as they try to shift the blame on KG and Flip Saunders. Funny, that they have both achieved a great deal of success since leaving. He said KG tanked it last year. I'm sorry, but a team that allows Mark Madsen to jack up seven three-pointers doesn't have any legs to stand on. KG may not be the best 4th quarter player, but he sure as heck gives it his all each and every time out. He's too big of a person to call them out on it. Miami makes its fans sick. They score 54 points on Wednesday. What are they the Wisconsin Badgers? Oh wait, they gave up 96. Iverson had 32 in his return to Philly, but the home team had the last laugh. Dwight Howard had THREE points. Thanks a lot Dwight. It's basically a playoff week for me. Larry Harris was canned as Milwaukee's GM. Boston complete the Texas Triangle last night with a win over the Dallas Mavericks.
NHL
The Islanders G Rick DiPietro will miss the rest of the season following hip surgery. Buffalo D Teppo Numminen has rejoined the team following heart surgery. Chris Pronger was suspended 8 games.for stomping on Ryan Kesler's leg. This week's shutouts: Montreal's Jaroslav Halak vs. the Islanders, Minnesota's Niklas Backstrom vs. the Kings, Tampa's Mike Smith vs. the Rangers, Columbus' Fredrik Norrena vs. Detroit. Chicago's Nikolai Khabibulin vs. Washington. Buffalo's Thomas Vanek had a hat trick against Tampa Bay. Detroit's Henrik Zetterberg did too as he scored all of the Red Wing goals against Columbus. Minnesota D Kurtis Foster broke his leg. Richard Zednik was able to skate on Wednesday.
NFL
Atlanta got rid of a headache by trading DeAngelo Hall to the Raiders for a second round pick. I'm not even going to mention the ridiculous amount of money Oakland gave him. The 49ers signed WR Bryant Johnson to a one-year deal. Derrick Ward re-signed with NY Giants. Robert Ferguson re-signed with the Vikings. The Jets signed Bubba Franks. Carolina signed WR D.J. Hackett to a two-year, $3.5 million deal. The Eagles signed Ryan Klecko to be their new FB. The Vikings have added assistant Head Coach to Defensive Coordinator Leslie Frazier's title. The Packers signed LB Brandon Chillar. New England signed Fernando Bryant. Pittsburgh cut Cedrick Wilson. He punched his girlfriend in a restaurant. Jerk.
MLB
Dice K's wife had the baby so now he'll open the season for the Sox in Japan. Shelly Duncan and Melky Cabrera were suspended three games and Johnny Gomes was suspended two games for their roles in the brawl. Wily Mo Pena will miss a month with an oblique tear. Kaz Matsui will miss a couple weeks after having surgery to fix an ana1 fissure. I don't even want to begin to know what that is. John Lackey will miss a few weeks because of a strained triceps. The Dodgers bid farewell to Vero Beach. They've been going there 61 years, but will switch to Arizona next year. The Red Sox threatened to boycott the games in Japan if their coaches and staff didn't get the money promised to them. I thought it was a nice gesture. Joba Chamberlain will start the year off in the bullpen. Bartolo Colon got sent to the minors. St. Louis signed P Adam Wainwright to a four-year $15 million deal. Nomar will miss Opening Day with a broken hand. The Nationals sent P John Patterson packing. This isn't news, but Kerry Wood hurt his back.
NCAAB

#2 Duke barely escaped with a win again #15 Belmont. I was so hoping for the slipper to fit, but Belmont wasn't Cinderella. Kansas State beat USC without a huge game from Beasley. Think the team had heard enough it was a one-man show? #9 Texas A & M beat #8 BYU. Hey, there wasn't many upsets so I had to report it. Pre-tourney news: Arkansas beat #17 Vanderbilt in the SEC tourney. Illinois beat #16 Purdue and Minnesota beat #20 Indiana in the Big Ten tourney. St. Joe's beat #12 Xavier in the A-10 tourney. Pitt beat #24 Marquette in the Big East tourney. #2 UCLA beat #11 Stanford to win the Pac 10 title. Arkansas beat #4 Tennessee in the SEC tourney. #6 Wisconsin beat #19 Michigan State in the Big 10 tourney. Clemson beat #7 Duke in the ACC tourney. Pitt beat #9 Georgetown in the Big East tourney. UNLV beat #23 BYU to win the Mountain West tourney.
Final Thoughts
Tiger won again. He sunk a 25 foot putt to win the Arnold Palmer Invitational at Bay Hill. It was his fifth straight PGA victory and 64th overall to tie him with Ben Hogan. He's two back after day one of the CA Championship. Jeff Burton took home the prize at the Bristol Motor Speedway. Ken Harvick spun out Tony Stewart to finish second. Tony Stewart wasn't pleased.
That concludes this week's edition of the Filler. Please feel free to add any stories that I may have missed in the comment section.