02:31 PM ET 03.29 |
With our fifth installment we take a look at one of the most dangerous teams in Serie A: AS Roma. Roma have played very well in the tough Serie A this year and are looking for the upset over tough Machester United in the quarterfinal. Will they avenge their embarrasing defeat to the hands of Manchester United in last year's quarterfinals?
Roma
Strengths
The Romans support a mainly Italian lineup that has a very strong attack. Francesco Totti, Mirko Vucinic and Ludovic Giuly lead the attack, scoring a combined 22 goals. Totti, who has played his entire 15 year career with Roma, is the team captain, the fan favorite and the team inspirational leader on the field, leading the team to their 2001 Serie A win.
Behind the strong attack is another strong line in the midfield highlighted by Mancini, Daniele De Rossi, Alberto Aquilani and Simone Perotta and Rodrigo Taddei who have combined for an impressive 21 goals this season. Roma have scored 54 goals this season in Serie A, the second highest in the league behind league leaders Inter Milan.
They also have an impressive backline, led by Christian Pannuci and Phillipe Mexes, that has only given up 27 goals in Serie A, tied for third lowest in the league. Doni, Roma's goalkeeper, is considered to be one of the best in Serie A and was a big contribution to Roma's victory over Real Madrid, coming up with some amazing saves.
Perhaps the team's greatest strength is their chemistry. Seven of Roma's stars have been with the team since 2004 or earlier, and playing together so long can help the team's chemistry out greatly. Having so many great players being with a single club for such a long time is a great rarity in soccer, especially in Europe, and Roma are one of the few successful teams that have played together for such a long time. The players know where they can find each other on the playing field and can respond to each other effortlessly. Unlike most Italian teams they are very close knit and have a great chemistry on the field.
Roma are led by Francesco Totti, a Roman legend.
Weaknesses
Once again, it's hard to find any problems with the Roman side. Like Liverpool, though, their inconsistancy is a problem, especially on defense. All across the board you see games where the Roma defense shuts out their opponents or lets up a goal, but then every so often you see another game where they give up three or four goals to an average team. For example, on February 3 they lost to 13th place Siena 3-0. In October they tied 11th place Napoli 4-4. Perhaps it's a focus problem. Maybe they weren't inspired that day. I don't know. Fact of the matter is that Roma need to play tough defense if they even want to think about getting past Manchester United.
Another factor may be their age. Six of Roma's players are over 30 (five of whom are starters) and another eight players are 28 or older, meaning they are approaching their 30's. Though most of these players have been with the team for quite some time, which is a big positive, it also means they have aged considerably since their arrival, and in some cases their level of play has gone down from what it used to be. Roma may have a hard time keeping up with the quick Man U as they did last year when they fell 7-1 in the second leg against the Red Devils in the Champions League quarterfinals.
Mancini is often on target for the Italian club.
Prediction
Roma are a fantastic team, but they are not at the level of play that Manchester United is currently playing at. I expect Man U to pass the Italian giants fairly easily, as they did last year. The Manchester United vs Roma rivalry is a very competitive one, even to the point of violence in the stands last year between Manchester United fans, Roma fans and Italian Police in their game in Rome. This year's contest is sure to be a hard faught one, both on the field and in the stands.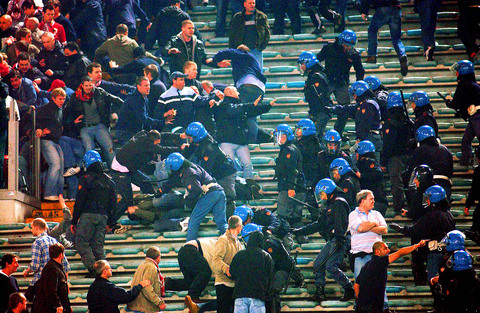 Eleven Man U fans were injured last year in clashes with Italian police and Roma fans.