05:27 AM ET 04.10 |
Apparently that brand new HD scoreboard in Kansas City didn't come with a quality drainage system, though the Yankees bats seemed to go right down it on Wednesday night. If we're going to have a Northeast team that can't hit in the cold weather, be it April or October, perhaps they may want to add a retractable roof on the new digs across the street.
Honestly though in all fairness, this was a game that only "Mr. Slip 'n Slide" former catcher Rick Dempsey could love. No there weren't any "Lake Erie Midges" out there this time, though there may have been termites.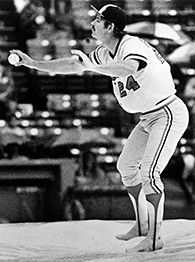 While I understand it is early and some guys are hitting .700, I still can't understand how Jason Giambi is batting .056, Robinson Cano .194 and Johnny Damon .212. And before everyone jumps on me about there being no such thing as "clutch hitting," there is such a thing as timely hitting and this group leaves a lot of people on base, 14 to be exact, scoring no runs against the Kansas City Royals!
Way to go Brian Cashman! A-Rod's not going to duplicate last year's totals, nor is Posada who is a year older. And then you are naieve enough to think that Jason Giambi is going to play first and be productive for 130-140 games a whole year older? Thus with no power in center or at first you neglect to sign either Torii Hunter or Aaron Rowand? Having Cabrera-Hunter/Rowand-Abreu in the outfield seems like a much more solid configuration to me!
And oh what you couldn't afford these guys or decided not to sign off on a Johan Santana deal because of lack of "payroll flexibility." And yet YOU sir signed our vaunted Triple-A "ace" Kei Igawa for $46 million and gave A-Rod a "hardball offer" of $300 million (yeah you guys really show him huh?) and somehow with the four-million plus migrating to the final year of Yankee Stadium and the flood rush of revenue coming in next year from the new ball park, you were having issues with "payroll flexibility?" OH COME ON PALLY!
To be fair for the record I was for getting Santana, but not for getting ripped off by the Twins in order to get him, just as they were by the Mets. But really YOUR "genious" robbed us of another year from Bernie Williams, because you said Jason Giambi couldn't play first base a year ago and so you decided to give him the boot, sign Josh Phelps who didn't even last through June and Doug Mientkiewicz who is now history. And yet now again Giambi is somehow capable of playing first and you have no true defensive first baseman off the bench. Oh and the Yankees could've used Bernie off the bench to DH when Giambi was hobbling around last October in the playoff and Matsui was having knee issues hitting into double-plays!
Bomber Bites: Can't say I blame manager Joe Girardi too much on his pitching strategy, except for when it comes to using another brilliant Brian Cashman signing, Kyle Farnsworthless. FARNSWORTHLESS SHOULD NEVER EVER EVER BE USED AGAIN PERIOD!
While Girardi said he was sure he could straighten out his old battery mate from Chicago, its too bad he couldn't coax Cashman into bringing back another one of his old Cubbie teammates, Jon Lieber. Lieber who pitched pretty decent with the Yankees in 2004, is the long-man/spot-starter for the Cubs this year (something the Yankees don't have) and is 1-1 with a 0.00 ERA pitching in two games striking out three in five innings of work.
The Yankees had won two in a row with Giambi out of the lineup, they've lost two in a row since his return. Well ain't that a co'inkie'dink!
Mr. Matsui, Johnny Gomes and Ross Gload thank you for contributing to their hit totals on this young season. I guess it always was King Kong who was more prone to scaling large buildings than Godzilla.
Memo to Cashman, I applaud your willingness to cultivate the farm system, but I'm starting to believe that the Yankees need their own version of the "football Giants" Jerry Reese.