02:00 PM ET 04.18 |
The Cleveland Browns enter 2008 riding a wave of momentum that saw them rise from a 4-12 laughing stock in 2006 to a 10-6 playoff contender in 2007. Now, with writers falling over each other to pick them as their preseason favorite to win the AFC North, Cleveland fans are more optimistic about their team than they have been in decades.
In a press release, Cleveland Owner Randy Lerner said of the opportunity to once again sucker-punch the unsuspecting fanbase: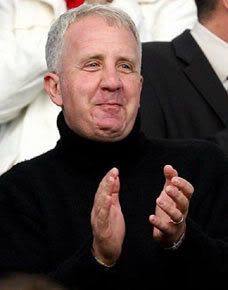 [Cleveland Owner Randy Lerner]
"We have a proud tradition of making our fans feel like they've been repeatedly kicked in the groin by a pack of mules, and we hope that this season we can deliver more unmet expectations, agonizing defeats, and a general feeling of total despair that crushes the community and drives lesser men to suicide that our franchise is know for."
The Cleveland Browns front office has barely been able to contain it's glee. Quotes have been flowing into our sources from Cleveland officials.
"I haven't felt this giddy since the real Browns were able to emotionally maul the fans in just one night by moving to Baltimore!" said GM Phil Savage.
[Art Model, or as Browns fans know him "The Great Satan"]
"This is great. A little success to brighten the spirits of the fans is the perfect set up to hammer them into the mud. This is the best opportunity since we had Earnest Byner lose the 87 Championship on a fumble at the Goal-line. It's one thing to draft pathetic losers year after year after year, but that doesn't give the same thrill that splattering high hopes on sharp jagged rocks does." Said a team scout.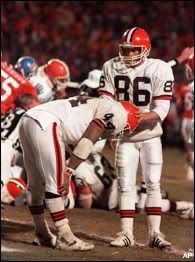 [Earnest Byner's contribution to Cleveland's misery]
This shift in strategy was revealed in the offseason with the acquisitions of talented, but ultimately, fantastically lazy Defensive Tackle Shaun Rogers (who recieved a film credit for his role as the Stay Puft Marshmallow Man in the 1984 movie Ghostbusters) and DT Corey Williams while only giving up draft picks and solid players in return.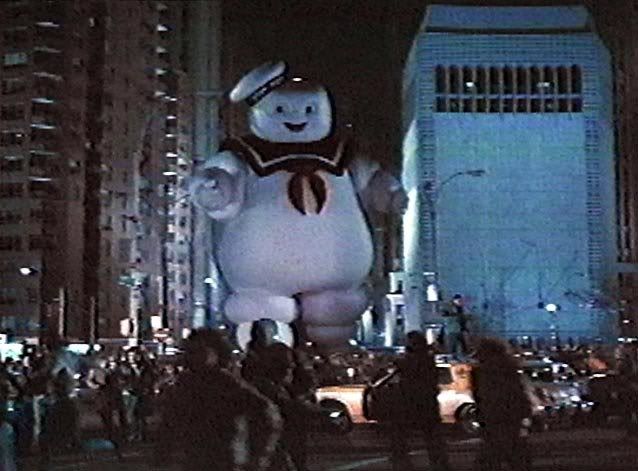 [Shaun Rogers first film Role]
Phil Savage explained those moves to the Ram report:
"That's all part of the plan. Acquire bums, and give em huge contracts, then our fans think they're good while we quietly get rid of the players that got us to ten wins. It's great! Just imagine the look on the face of that fat guy who wears the Dog mask when he realized that we're stuck with these shiftless blobs for the next 6 years! I hope we get it on camera."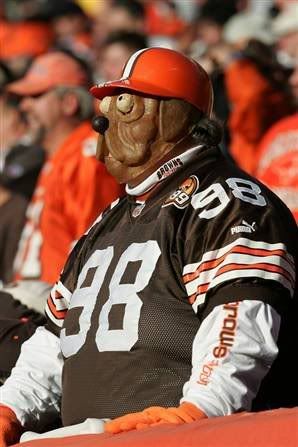 [The mask only serves to hide the tears]
Now, with a developing story, we go to Ram Report uneducated yokel live reporter Rstowe.
Rstowe: "Thanks Ram, I'm here with NFL reject Tim Couch who was recently informed that he has been placed at the top of Cleveland's QB depth chart heading into 2008. Tim, did this come as a surprise to you?"
Couch: "It sure did. I was carrying some groceries with my good arm when I got the call from Romeo Crennel."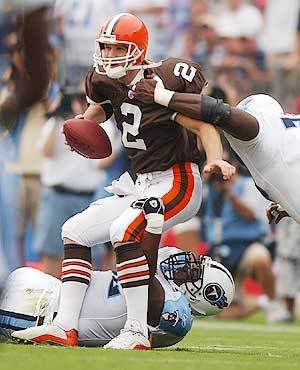 Rstowe: "So you were out shopping?"
Couch: "No, I work there. I heard that's how Kurt Warner trained so I thought I'd try it."
Rstowe: "You have quite a legacy to fulfil, It's been a while since Browns fans have felt like they've been hit in the kidneys with a baseball bat, how are you preparing to fail in the clutch like the great Bernie Kosar?"
Couch: "Well I've been playing lots of Madden, practicing throwing into the ground, looking confused, I even bought a Whizzinator to put in Derek Anderson's luggage for the first away game."
[Kosar's daddy]
Rstowe: "Thanks for your time Tim. Back to you Ram!"
Now that the Browns are sceduled to appear on 5 times on national prime-time TV, the only remaining unmerited hype for this team that hasn't won in the playoffs since Clinton's first Administration is to be named the Preseson pick to win the Super Bowl by Sports Illustrated. SI is reported to be strongly considering the Browns due to "coolness factors" and "underdog storylines."
Said Lerner: "We can fail just as spectacularly as every other team they picked. It would be an honor, and certainly as close as we'll ever get to a real Super Bowl."