03:13 PM ET 04.19 |
I'm not in the mood to have a lot of pre-chatter...and it's a mock draft...it's fairly self-explanatory.....
#1 Miami Dolphins: DE Vernon Gholston, Ohio State-Yes, this is a surprise, especially because Gholston's stock has risen mostly based on a great combine, but Vernon is as explosive as hell, which is something that Chris Long isn't. He also can play that 3-4 linebacker that now becomes useful in Miami's defense. Gholston is the best pick right there for the Dolphins.
#2 St. Louis Rams: DE Chris Long, Virginia-The defensive line of the Rams is atrocious, and that's putting it nicely. Long immediately brings a solid end to the Rams line, and can provide that sack-machine from the outside that the Rams didn't have last year, which should vastly improve that defense. They will trust Alex Barron this year, hoping that he improves....
#3 Atlanta Falcons: DT Sedrick Ellis, USC-The Falcons will go to the defensive line with this pick, because they have an awful one as well, but it will be between Ellis and Glenn Dorsey. Dorsey has way more question marks than Ellis, especially in the injury category, and they are fairly equal in talent, so the Falcons will take the "surer" thing and go with Ellis.
#4 Oakland Raiders: RB Darren McFadden, Arkansas-As much as I want to believe that Al Davis isn't that stupid...I just can't see the Raiders passing on McFadden to take Dorsey. They have a terrible defensive line, but Davis wants to make that splash (Even if he's gonna run out of cap room...) and McFadden is the player that will get the Black Hole back into the game.
#5 Kansas City Chiefs: OT Jake Long, Michigan-This pick is a gift for the Chiefs, and they don't hesitate to take Long, who is without a doubt the best lineman in the class, giving them a great tackle who can play on either side as needed. The best thing the Chiefs can do for this season is give Larry Johnson holes and Brodie Croyle time.
#6 New York Jets: DE Derrick Harvey, Florida-The Jets would've loved to have had Chris Long, Gholston, or McFadden, but they will be happy having Harvey in green and white next year. Harvey brings a pass rush to the team that only had 29 sacks last season, and whose starting ends combined for 6.5.
#7 New England Patriots: LB Keith Rivers, USC-The Patriots have only one real glaring weakness on defense, as they have found so many good CBs in late rounds, and Rivers fills a spot that the Patriots are beginning to age at with Mike Vrabel, and if Seau or Bruschi retires soon, Adalius Thomas would probably move inside, opening his spot for Rivers.
#8 Baltimore Ravens: OL Brandon Albert, Virginia-The Ravens need a tackle to replace Jonathan Ogden, and Albert is the best "tackle" prospect remaining. The problem that could come up is that he never played tackle in college, but Albert is a good enough player to slide over and make an impact as a rook.
#9 Cincinnati Bengals: DT Glenn Dorsey, LSU-The Bengals would have loved to have had Sedrick Ellis here, but Dorsey, as I have said, is just as good with injury issues. The Bengals, too, had an atrocious defense last season, 24th in points and 21st in rushing defense. Dorsey is also able to rush the passer, and he will bring another spark to that bland defense.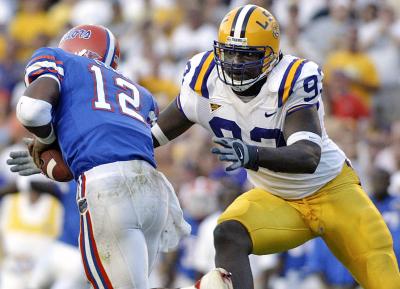 #10 New Orleans Saints: CB Leodis McKelvin, Troy-The Saints really need a defensive lineman or outside linebacker, but anyone else here would be a major stretch. They have brought several corners in this offseason, but McKelvin is the only realistic possibility here, as trades aren't allowed.
#11 Buffalo Bills: WR Limas Sweed, Texas-It's gonna be a WR here, but Sweed or Thomas is debatable. Thomas is a vertical guy who can also be a short guy, but they already have several of those with Lee Evans, Roscoe Parrish, and Josh Reed. Sweed gives them a receiver who is OVER 6 feet tall, who can stretch the field when needed, but he can also get those jump balls.
#12 Denver Broncos: OT Chris Williams, Vanderbilt-The Broncos need a left tackle, and I would have to venture that Williams has protected Cutler's weak side before, so they have some familiarity, which would make Williams's transition to the NFL easier for him, not to mention he fits into the Broncos' zone blocking system well.
#13 Carolina Panthers: OT Ryan Clady, Boise State-The Panthers need a left tackle, (Travelle Wharton???) and Clady is a great fit to step in there for the Panthers...not much more to say...
#14 Chicago Bears: RB Rashard Mendenhall, Illinois-This is an interesting pick. The Bears could go to the offensive line with Jeff Otah here, or they could grab Mendenhall, who went to Illinois. Yes, they do have Ced Benson already, but come on...even if Benson explodes this year, you have another very good running back that you can platoon him with, and honestly, how many teams don't have a two-back system and have a good running game?
#15 Detroit Lions: LB Jerod Mayo, Tennessee-Mayo has jumped significantly this offseason, and the Lions need a Tampa 2 style Linebacker. Mayo would be an improvement over Paris Lenon, who is good...Bringing in Mayo gives them a legitimate claim to having one of the best linebacking corps in he NFC North.
#16 Arizona Cardinals: CB Dominique Rodgers-Cromartie, Tennessee State-With Mendenhall gone, the Cardinals actually need to address their biggest need. Cornerback. They have absolutely nothing on the outside left with Antrel Rolle moving to safety, and I think that Rodgers-Cromartie, one kidney and all, has the most upside of all the corners in this draft.
#17 Minnesota Vikings: DE Phillip Merling, Clemson-I really hate the 17 pick, and I don't like Merling, but with Harvey gone and Quentin Groves being more of a 3-4 player, Merling is the best pick. They could go offensive line with Otah here, considering they have a very weak right side, but Merling fills an immediate need at defensive end, where Udeze won't play for 2008, even though he just went into remission...
#18 Houston Texans: OT Jeff Otah, Pitt-The Texans need a left tackle. Plain and simple, and Otah is the best remaining tackle on the board.
#19 Philadelphia Eagles: CB Mike Jenkins, South Florida-The Eagles brought in Asante Samuel, but all indications point towards the Eagles trading Lito Sheppard, opening the doors for an impact corner like Jenkins to come in and be a game changer for the Iggles, who would probably rather have Rodgers-Cromartie.
#20 Tampa Bay Buccaneers: WR Devin Thomas, Michigan State-The Bucs probably wanted Jenkins, the South Florida kid, but they need a wideout, with the ageless Joey Galloway not getting any younger and neither is Ike Hilliard, plus the consumate bust in Michael Clayton. Thomas is a great fit for the Bucs offense because he is a taller receiver who can take that slant route the distance.
#21 Washington Redskins: WR James Hardy, Indiana-This is probably a stretch, but Hardy is a great receiver, and at 6'6", he provides a great compliment to Santana Moss, who is "vertically challenged". Hardy fills that receiver need, providing Jason Campbell with a legitimate #1/2 WR.
#22 Dallas Cowboys: CB Antoine Cason, Arizona-The Cowboys had a very bad passing defense last season, and Cason fills that need of a cornerback that the Cowboys so desperately have to get. Cason is a physical corner who can play opposite Terrence Newman and be a physical playmaker.
#23 Pittsburgh Steelers: OL Sam Baker, USC-Baker is a physical lineman who can play both tackle and guard, he has great upside and at USC, he played against high-level competition in the Pac-10. Cherilus is the other option here, but the Steelers need someone that is able to play guard, and Baker is the best one of those types of players left in the draft.
#24 Tennessee Titans: WR Malcolm Kelly, Oklahoma-Yes, he has had some fairly bad workouts, but the Titans need a big wide receiver, and the two better players left in the draft, DeSean Jackson and Mario Manningham, are both under 6 feet tall. Kelly provides the best target for Vince Young.
#25 Seattle Seahawks: RB Jonathan Stewart, Oregon-The kid from Washington gets the chance to play for his home team in the pros. The Seahawks have a glaring need at running back because Shaun Alexander is...older than dirt...and Stewart is a physical runner who has great vision to hit the holes.
#26 Jacksonville Jaguars: DE Calais Campbell, Miami-The Jags need a defensive lineman, as they have few other holes in the defense, and the offesnse seems fairly set, and Campbell is the best remaining end on the board.
#27 San Diego Chargers: OT Gosder Cherilus, Boston College-Cherilus is a very good lineman, and the Chargers need a right tackle, which he is better at than the left tackle position that he played at during his senior season. Shane Olivea has not seemed to have worked out, so Cherilus fills a great need for Norv Turner.
#28 Dallas Cowboys: RB Felix Jones, Arkansas-Jerry Jones would love to have gotten the other prominent Hog running back in Darren McFadden, but he'll settle for Jones, who is a very good running back who can also return kicks for the Cowboys.
#29 San Francisco 49ers: QB Matt Ryan, Boston College-Ryan was projected to go in the top 5, with the latest pick being Baltimore at 8, and after the Ravens, there are no teams that really need a QB. The 49ers must've figured out that the Alex Smith experiment is not working out, and with Ryan being the "best" QB in the draft, I think that the 49ers take him here.
#30 Green Bay Packers: CB Aqib Talib, Kansas-The Packers need a cornerback, especially with no one there behind Woodson and Harris. Talib has the most upside of any cornerback in this class, but he is not that polished, and seems to me like one of those "boom or bust" types of players.
#31 New England Patriots: Lawyer Theodore J.. Buckland, Esq.-Ted brings the exact type of player that the Patriots organization needs. He's insignificant, so the other teams won't notice if he wants to spy on them, plus, he can handle a videocamera...
#31 New York Giants: CB Brandon Flowers, Virginia Tech-Flowers is a physical corner who can get beat, but he is still very good. They may not have a definite starter at safety, but cornerback is also a very big need, and Flowers has that tremendous upside you look for...
-SS