09:46 PM ET 04.19 |
Ryan Spilborghs is a lying cheat and he knows it.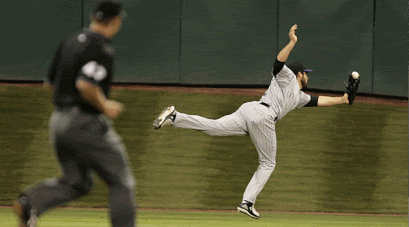 You don't hit the ground with the ball in your glove like that and NOT drop it!!! Common sense, umps!
And Astros fans are TOO nice. Any other road ballpark and Spillborghs would have been doused in beer and covered in trash before he even got back on his feet. At least he and the umps got a good, long booing...which lasted through his AB in the following half inning...but the cheers upon his out would have been EVEN louder if he'd struck out.
That's all I have to say on that topic...
...and that my condolences go out to Geoff Blum, who will always have one extra hit in our minds.
Agree? Beg to differ? Comment...
Photo Courtesy: MLB.com/Astros.com