10:36 PM ET 04.23 |
Chicago Bears
General Manager: Jerry Angelo
Coach: Lovie Smith
Trophies:
NFL Champions 8x (pre Super Bowl Era): 1921, '32, '33, '40, '41, '43, '46, '63
Super Bowl Champions: 1985
NFC Champs: 1985, 2006
Western Champs (pre-1993): 1956, 1963
History
The Bears are one of the most historic teams in NFL history, if not American history. Their fan base is one of the most loyal on Earth. Though most people don't realize, the Bears have a long, prolific and successful history. Roy Taylor of Chicagobearhistory.com explains the lore of the Bears and their impressive past much better than I can, so without further adieu...
The Early Chicago Bears, 1920-1946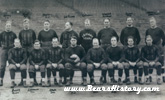 The Chicago Bears came into existence as the Decatur Staleys in 1920. Co-owners George Halas and Dutch Sternaman coached the team during that '20 season in Decatur, then moved the club to Chicago at the behest of A.E. Staley, owner of the Staley company. The following season, 1921, the Chicago Staleys won their first World Championship. The team continued on as the new National Football League fought for its survival through the decade, and in 1925 they pulled the coup of the league by signing Illinois standout Red Grange. Grange and the Bears embarked on a coast to coast "barnstorming tour" that year, introducing pro football to the masses. In 1929 Halas and Sternaman hired a new coach in Ralph Jones, who delivered another world championship in 1932. Halas again became head coach of the team in 1933, and the Bears won another title. In 1939, Halas began rebuilding the club again, drafting future stars in Sid Luckman and Bill Osmanski that year alone. The team embarked on its greatest run of championships the following year, winning titles in 1940, '41, '43 and '46. The Bears' record in this era was 223-76-33.
Monsters of the Midway, 1947-1963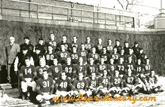 Following the 1946 Championship, the Bears would not see another for 17 years. In the words of legendary passrusher Ed Sprinkle, the team was always on the cusp of the championship but could never quite get there. Even though there were no championships earned until the last season of this era, perhaps in no other era were the Bears known as a more feared band of mauraders than at this time. Led by Halas for all but two seasons during this time, players were encouraged to give no quarter to opponents. In 1948, Chicago drafted gunslinging quarterback Bobby Layne from Texas, just two years after picking Johnny Lujack from Notre Dame. With the glut of players at the position (Luckman still was the starter), Halas decided to ship Layne to Detroit where he led the Lions to the 1957 NFL Championship. Chicago had played in the 1956 game against the New York Giants under head coach Paddy Driscoll, but lost. Halas got his final championship in 1963, when the Bears were not the flashiest team in the league, but dominated teams with their defense and offensive game management. The Bears finished this era with a record of 130-75-5.
Tragedies and Mediocrity, 1964-1981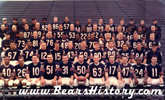 Bears' players rode high on cloud nine after the 1963 Championship, but the wind was quickly let out of their sails. Players Willie Galimore and John "Bo" Farrington were killed during the 1964 training camp when their car went off the road. That '64 season was disappointing, and despite brushes with playoff possibilities in '65 and '68, the team had disappointing seasons. In 1965, future Hall of Famers Gale Sayers and Dick Butkus were drafted, and George Halas retired for the final time following the 1967 season. In 1969, player and fan favorite Brian Piccolo was diagnosed with a rare form of cancer and would perish the following year. The careers of Sayers and Butkus, although legendary, were short when the running back retired in 1972 and the linebacker in '73. Coaches Jim Dooley and Abe Gibron floundered until new General Manager Jim Finks cleaned house and hired Jack Pardee in 1975. By '77, Pardee had the Bears in the playoffs but quit and was replaced by Neill Armstrong. The latter coaches' 1979 team made the playoffs, but after two more poor seasons was fired by George Halas, who in his final years would put his last stamp on the team he founded. 1963-1981 record: 107-149-4.
Chicago Football Renaissance, 1982-1992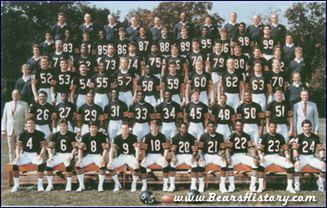 In December of 1981, 86 year-old Bears owner and founder George Halas usurped the authority of his General Manager and fired Neill Armstrong as Head Coach. Halas then hired his former nemesis, ex-player Mike Ditka, as the tenth coach in the history of the organization. One year later, Finks would tender his resignation and Halas appointed staffer Jerry Vanisi as General Manager. On his deathbed, Halas had the men in place he wished to lead the team he founded over 60 years prior to this time. Ditka and Vanisi responded by delivering a world championship to Chicago in 1985. Not only this, but their team compiled the best five-year record of any NFL team in history from 1984-1988. Remarkably, as of the fourth week of 1989 the Bears had been in first place in the NFC Central division since the middle of the 1984 campaign. The pieces of this great team began to unravel in January 1987, when new team President Michael McCaskey fired Vanisi and took more control of football operations. By the '88 season, stars such as Willie Gault and Wilber Marshall had been traded, and in '89 the team suffered its first losing season since 1982. Two more playoff years followed, but McCaskey fired Ditka following the 1992 season. Ditka's final record was 106-62.
Stumbling into a New Century, 1993-2003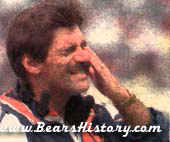 Following the protracted firing of Ditka, McCaskey hired the hottest Head Coaching candidate in Dallas defensive coordinator Dave Wannstedt. "Wanny", as he came to be called in Chicago, took the Bears to the playoffs after his second season in 1994, but the bottom fell out of the organization after that. Wannstedt was given control of personnel, and from 1994-1998 the team failed to send a single player to the Pro Bowl. After back-to-back 4-12 seasons in 1997 and '98, Wannstedt was fired by McCaskey. The team President then identified former Ditka staffer Dave McGinnis as Wanny's replacement, but alerted the media before McGinnis accepted the terms of the contract. McGinnis balked, and McCaskey's third choice in Dick Jauron was hired. Jauron took the Bears to a miracle playoff berth in 2001, but missed the playoffs in 2002 and '03. Jauron was dismissed by GM Jerry Angelo in December 2003. The team's record during this era was 75-101.
Renewed Promise, 2004-present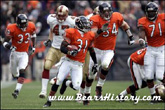 GM Angelo entered 2004 preparing to hire his first head coach. This was critical, as it would be the first time ownership, personnel and coaching would be on the same page in the Bears' organization since Wannstedt. Angelo flirted with LSU Head Coach Nick Saban, then offered the job to several college coaches in Jeff Tedford, Ralph Friedgen and Kirk Ferentz. Finally Angelo brought Pittsburgh assistant Russ Grimm and St. Louis defensive coordinator Lovie Smith in for final interviews. Smith was hired and began his career with an injury-plagued 5-11 season. In 2005, his Bears surprised a non-believing America by clinching only their second division title since 1990. In 2006 Smith did fans one better by leading the Bears to their first Super Bowl since 1985, but his team lost to the Indianapolis Colts 29-17. Smith signed a new four-year extension that commences in 2008 following the Super Bowl season, then his club posted a dissapointing (to put it lightly) 7-9 record in 2007.
By: Roy Taylor Copyright 2005
Chicago Bear Folk Lore
You may have seen the Bears in pop culture a few times before. Several Bears were featured in an awkward rap called "the Super-Bowl Shuffle" that hit the Billboard's Top 100 in 1985. The Bears risked their reputations on the line when they made the video, though, because it was filmed and released before the playoffs had even begun. Luckily the Bears won Super Bowl XX that year, and today the 85 Bears are considered one of the best teams ever.
Saturday Night Live also did several skits called "Bill Swerski's Superfan" (not a very good clip but the only one I could find), which was a talk show featuring four overweight Chicagoans drinking bear, eating and talking about the Bears and Bulls. The show often showcased ridiculous predicitons by the fans and their love for Mike Ditka, then the Bear's coach. I think it's a funny skit, but they unfortunately sound nothing like Chicagoans, contrary to popular belief.
Famous Bears
The Bears have more players in the Hall of Fame than any other team with 26, and there are also currently five other players in the HOF who have played a portion of their career in Chicago. Dan Hampton was the most recent Bear to be enshrined in 2002, and three Bears, George Halas, Red Grange and Bronco Nagurski, were enshrined in the first year in 1963.
Chicago Bears Hall of Famers (26/5)Primary Hall of Famers (26)No.PlayerPositionsNo.PlayerPositions1Paddy DriscollQB-S-K, Head Coach42Sid LuckmanQB-CB3Bronko NagurskiRB-OT-LB50Mike SingletaryLB5George McAfeeRB-S51Dick ButkusLB7George Halasfounder, owner
Head Coach, TE-DE56Bill HewittTE-DE11Link LymanOT-DT61Bill GeorgeLB13George TraftonC-DT66Clyde (Bulldog) TurnerC-DT13Joe StydaharOT-DT71George ConnorOT-LB16Ed HealeyOT-DT77Harold (Red) GrangeRB-CB16George MussoC-DT78Stan JonesOT16George BlandaQB81Doug AtkinsDE21Danny FortmannOG-DT89Mike DitkaTE, Coach34Walter PaytonRB99Dan HamptonDE40Gale SayersRB--Jim FinksGMHall of Famers with minor portion of career with Bears (5)N/AGuy ChamberlinTE-DEN/AJimmy ConzelmanQBN/AWalt KieslingOL-DLN/ABobby LayneQB82Alan PageOL-DL
*table from Wikipedia
The Bears have had a great history and are a great football team. They may not be considered by many to be one of the best ever, but they surely are a fantastic team that hold a special place in the hearts of all Chicagoans.
I'll be doing a showcase on all major Chicago teams, so expect more very soon.