08:52 PM ET 04.28 |
Hey, it's 7:52 PM ET, and you know what that means! It's me again, as I've been granted the permission to grace you with my blogmanship. (if that even makes sense) The last post was okay, even though League of Shadows apparently needed a new keyboard after seeing it. I think this one might be a tad better...
1. Supernatural Superserious - R.E.M.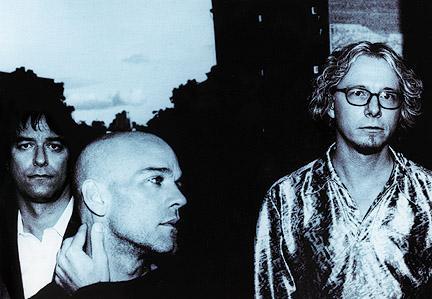 When searching for music by these alternative gods, I first went after Murmur, and then their Greatest Hits. And now, I think it's time to take a look at their most recent release, which may be saving their careers. (or so says Cardsox)
2. Nude - Radiohead
Here's an artist I'm just now seeking out. I listened too OK Computer, and found it to be a solid album. This is a track off their 2007 album In Rainbows, which is one that the band allowed its fans to choose a price on. Nice guys, eh? (not that any of you didnt already know that)
3. Vicarious - Tool
If you've been paying attention to any of my music related blogs as of late, (more so in DPS) you'd know I'm just now getting into Tool. I've gotten four of their albums, and this is one off their 2006 record 10,000 Days.
4. A Tout le Monde - Megadeth (Ft. Cristina Scabbia)
This is originally a track off the album Youthanasia. This version features a hightened pace and singer Cristina Scabbia. Megadeth's 2007 album United Abominations was surely not the band's best work, but it showed that they've got some gas left in the tank. Now in 2008, it's time their rival in the American thrash world shows they've still got it too. and yes, it does look as if Dave Mustaine is wearing lip stick. Or lip gloss... something. Whatever.
5. First Day of My Life - Bright Eyes
I got curious one day (bored too) and searched up some Bright Eyes on Youtube. This song from the 2005 album I'm Wide Awake, It's Morning aint too shabby, with a soft strumming on the acoustic. Conor Oberst is supposedly a lyrics king, sadly for him, though, his vocals are weak. His vocals work perfectly with his folk style, but I can easily twist that around by saying that his style is all that he could muster. He's got no range whatsoever, which he exhibits in this song, but regardless of my criticism... the song is touching, and the video follows suit. And I guess he's sorta like Bob Dylan, and that is not a bad thing.
Meh, I'm done.