12:07 PM ET 05.04 |
Hawks-Celtics, Game 7:
No one would have expected this series to be heading to seven games. But if you look at the series closely, the Celtics haven't been looking like the same team that won 66 games during the regular season. When the fourth quarter rolls around, Kevin Garnett's offense becomes a bit questionable. Many people believe that the Hawks aren't able to compete with Boston at home, but at this point, there are no guarantees. The biggest question is what to make of the Celtics after this series, even if they do advance. They (the Atlanta Hawks) have exploited two very key concerns about this Celtics offense:
1. KG's performance in the fourth quarter. Garnett has been heavily criticized throughout his career for disappearing in fourth quarters of close games. He couldn't win with the Timberwolves, and now this. It's not that KG doesn't make his shots in the 4th quarter, it is that he passes open shots up. In Game 6, Garnett's two turnovers came when he passed up opportunities to shoot, one where he was open 5 feet from the basket when Mike Bibby intercepts his pass. He also seems soft around Josh Smith on offense. He didn't accept the challenge to attack him even when he had five fouls. And when Pierce had fouled out, there where double teams on Allen and they couldn't produce any points.
2. Doc River's inability to choose a lineup in close games and stick with it. If I were Doc, I would choose Garnett, Pierce, Allen, Rondo, and Powe, but that is just my opinion. He needs to show more trust in Rondo as well. And get this, he used 12 players by the one-minute mark of the second quarter. He needs to look at a different approach to his roster management. Rivers rotates his players inaccurately, whith no reason for the rotation. Look at this roster management by Doc Rivers, which I found on ESPN:
"Rivers also made a truly odd move at the very end of Game 6. With 10 seconds left, he subbed Eddie House for Rondo to get more offense on the floor; then after a quick basket by Kevin Garnett, he subbed Rondo back in for defense.
Here's the weird part: Once the Celtics fouled Bibby, Rivers never put House back in for Rondo. He didn't have a timeout, but when Bibby missed the first three throw, it was clear a 3-pointer was what Boston needed, and that's House's specialty. Instead, Rondo had the ball at the end for a desperation triple that missed."
Even though I believe the Celtics will defeat the Hawks today, don't be surprised if Boston struggles late on in the playoffs.
Kobe earns first MVP:
The Lakers' players were watching Game 6 of the Houston-Utah first-round series Friday evening at a Hollywood restaurant when Bryant received an e-mail informing him he had won his first MVP. He was very excited about this special honor and thanked his teamates for all they had accomplished.
Bryant averaged 28.3 points, 6.3 rebounds, 5.4 assists and 1.84 steals in all 82 regular season game despite tearing a ligament in his right pinkie finger in February. He led his Lakers team to a Western Conference-best 57-25 record.
I believe this was a great choice for MVP. As a sports writer said earlier (I forget which one), KG was the best player in the 1st half of the season while Chris Paul dominated the 2nd half, but the consistency of the Lakers and Kobe Bryant wins it for me. He became a influential leader, which he wasn't before. I would like to congradulate him for this award.
Carlisle likely successor for Avery Johnson in Dallas:
Carlisle has flow to Dallas for two interviews by now. He seems like the clear-cut front-runner for the gig. Rick also had an introductory meeting with Mavs franchise forward Dirk Nowitzki.
Carlisle is the only one of five candidates on the Mavericks' A-list who is definitely available, as the ABC crew described yesterday. It doesn't appear that the Mavs will wait for Flip Sauders and Mike D'Antoni situations to unfold. And the only other name avaliable on the radar right now is Jeff Van Gundy. But Jeff insisted that he isn't interested in coaching this season for family reasons. Many sources say that Donnie Nelson was the #1 option to replace Avery Johnson. Nelson does not want to leave his personnel post and Cuban will not try to force Nelson to reconsider. Where Carlisle has had success in Detroit and Indiana, he is my choice if they were to hire someone. There is no way someone with this high of a basketball IQ is without a job in the NBA.
Hawks' Williams questionable for Game 7 in Boston:
Forward Marvin Williams isn't positive he will be able to go for today's game against Boston after spraining his left knee. Williams was injured during the fourth quarter of Game 6 in Atlanta.
Marvin is a big need for Atlanta today. Besides his offensive contributions, he's a key part of the Hawks' defensive package, usually assigned to Boston star Paul Pierce. Williams averaged a career-best 14.8 points a game this season.
In my opinion, Atlanta needs a healthy and effective Marvin Williams to have any shot of beating Boston in Game 7 because when Josh Childress will enter the starting lineup, they won't have a solid bench. Joe Johnson will continue to be doubled and if nobody else steps up to make shots they won't have a puncher's chance.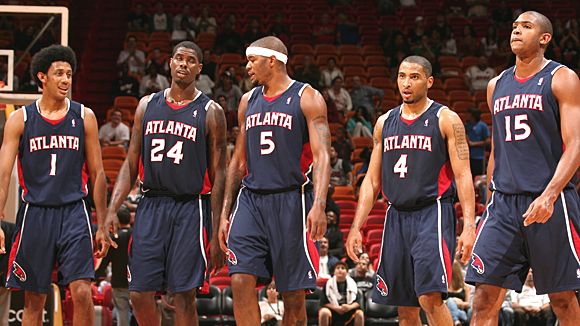 D'Antoni's future will be decided next week:
Now that many spectaters believe that the Suns and Mike D'Antoni will part ways, there are many different homes he could find quickly. Trust me, he will be unemployed for five seconds. Suns president Steve Kerr believes that in-house tensions can be diffused though.
ESPN.com also reported Friday that Chicago has emerged as the most likely landing spot for D'Antoni if he leaves Phoenix. And if D'Antoni leaves Phoenix, Avery Johnson will not be a candidate.
With all the bad coaching decisions he has made in that crucial series against the Spurs, I believe he deserves out, but I see what the Suns front office is thinking. They want D'Antoni to experiment with Shaq in Phoenix for one full season.
Songaila was suspended for Wizards' Game 6:
Wizards reserve forward Darius Songaila was suspended for Game 6 for "hitting" hitting LeBron James in the face. I believe it didn't deserve a suspension after all the hard fouls in other series previous to this one. I think it was simply just a playful slap. It's the post-season, and it's physical out there.
One of Songailia's No. 9 jerseys rested on a seat on the Wizards' sideline. Even James acknowledged Songaila's foul didn't rank among the hardest of the first five games. And in response to the suspension, Deshawn Stevenson, being the idiot he is, replies, "It just shows you he gets any call he wants."
"If it ain't LeBron James," Stevenson said, "they ain't going to look at nothing."
Lakers' Bynum will not return this season:
Andrew Bynum, who has been out since January with a knee injury, is unlikely to return during the playoffs. Bynum said the knee is no longer swelling but is painful. Bynum averaged 17.3 points and 12.2 rebounds in six games in January before he was injured. He was just getting dominate when, BAM, his knee is injured.
In my opinion, we don't need 'Drew at this point in the playoffs, although he makes the Lakers a better team. He would disrupt their current offensive chemistry. He would need to get back into basketball condition. The Lakers don't need to take a chance on a 20 year-old center who is the future of their franchise.