06:59 PM ET 05.05 |
Suns will allow D'Antoni talk to other teams:
The siganls that both Phoenix and D'Antoni wil part ways are becoming extremely considerable. Even though the Suns want D'Antoni to stay, they are allowing others teams to talk about his coaching job. D'Antoni believes he can't work under the conditions proposed by Kerr and owner Robert Sarver.
Now that the Suns believe persuading Mike D'Antoni to come back is no longer possible, they are letting him talk to teams like Chicago, who are searching for a coach, desperately. Here is how it works: if Phoenix fires or agree on a buyout for D'Antoni's contract, they will still owe him the $8.5 million over the next two years. If he decides to accept another job, thus a new salary would offset whatever the Suns owe him.
I believe he needs to go to a young, athletic team that is just building and eyeing the playoffs, possibly Atlanta, or even north of the border in Toronto. What the Suns need is a defensive minded coach who believes in acctually devolping the young players they draft, instead of trading them for cash.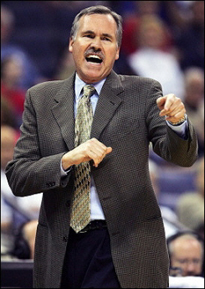 Papa John's to offer Cleveland residents 23-cent pizzas:
Papa John's gave a apoligy to Cleveland and the Cavaliers for making No. 23 LeBron James "Crybaby" t-shirts.
The apology includes selling Cleveland residents a large, one-topping pizza for 23 cents on Thursday, in honor of LeBron James' number. Papa John's will also donate $10,000 to the Cavaliers Youth Fund. The shirts started after Brendon Haywood calling LeBron a crybaby for complaining because of all the hard fouls. These shirts were worn during Game 6 when Cleveland shut out the Wizards.
I think that Papa John's should have made shirts for Arenas, where the pizzas would be free! Also, why give away these pizzas for $.23 when athletes like LeBron complain of hard fouls all the time. It's ridiculous! But man, that is some good pizza.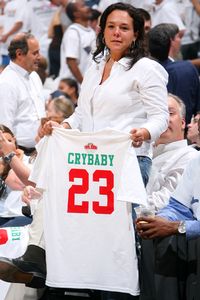 Trash-talk starts between Orlando and Detroit:
The Pistons-Magic series wasn't the most interesting before it started, but now that might change. After Game 1, players have been taking verbal attacks at each other.
It all began when Theo Ratliff fouled Rashard Lewis physically midway through the fourth quarter. Then, Jason Maxiell quickly got in Rashard Lewis' face. That's where it all started. Dwight Howard's 12 points were the fewest he scored during this postseason and his eight rebounds marked a career low in 10 playoff games, which shows that Detroit found a way to shut him down, throwing Jason Maxiell at him before sending Rasheed Wallace, Antonio McDyess and Ratliff at him. His below-average game led to Orlando scoring a season-worst 72 points.
Even though many people believe Orlando has one of the best front-courts in the NBA, nobody on the Magic team as a chance to defend both Chauncey Billups and Richard Hamilton. And you've seen what trash-tacking has done to the team that starts the mess. The award the opposing team with $.23 pizza from Papa John's.
Wizards confident about their Big 3 staying put in D.C.:
It is questionable that both Antawn Jamison and Gilbert Arenas will stay with the team, but with the sound of yesterday's statement, it looks like they will continue with the same makeup. Now that the Wizards and the Detroit Pistons are the only two teams in the Eastern Conference to make the playoffs four years running, the front office is hoping they can sigh both free agents.
Agent 0 wants back with him, even if that means seeking less money to guarentee Antawn Jamison's return as well. They want to keep the same roster as this season because they strongly believe they have a chance to do something special.
I believe that is nuts! Why try to become the No. 4 or 5 seed in the west if it means losing to Cleveland year after year. I would try to find a team willing to complete a sign-and-trade that is looking for a scorer, and possibly get back a passer/playmaker.
The story of Derrick Coleman:
Former NBA player and Syracuse star Derrick Coleman says he consists of an irregular heartbeat, but he doesn't need a heart transplant. He remains hospitalized in the Detroit area, but remains fine.
He was an excellent player, being drafted by the New Jersey Nets #1 in the draft. He even won rookie of the year that season. He is extremely overlooked and I wish him luck in the future. He reminded me a little of George Foreman.
(And yes, this is Derrick Coleman)
Pat Riley resigns; Erik Spoelstra steps in:
OK, finally, Pat Riley is finally retired, right? Remember when Stan Van Gundy coached this team so that it was a contender, then Pat Riley stepped in, won a championship, then it went all down hill from there. Don't get me wrong, he had a hall-of-fame worthy coaching career, but when you say your retired, stay retired.
Hiring Erik Spoelstra is a mistake. He has no coaching experience and hiring a coach as Avery Johnson would be great for the Miami Heat organization. Dwayne Wade isn't getting any younger either. How about this wacky idea? Hiring Charles Wade Barkley? That would be great! He is getting old and now, since the Heat have started rebuilding again, he steps down once more.
Langdon leads CSKA Moscow past Maccabi Tel Aviv:
CSKA Moscow won its sixth Euroleague championship Sunday. MVP Trajan Langdon scored 21 points in the 91-77 victory over Maccabi Tel Aviv. CSKA Moscow has now beaten Maccabi Tel Aviv two of the past three years in the finals. Now CSKA Moscow is only 2 championships behind Real Madrid, who has been victorious eight times.
Even though I don't know much about the overseas basketball, I will tell you this: The NBA is NOT the 'World' Championship as some people phrase it. It is called the NBA Championship. Believe it or not, these are not the best players in the world. There is more talent out there.
(Sergei Monya, remember him, he played for Portland)