01:50 PM ET 05.08 |
Lets start out with the Tampa Bay Bucs.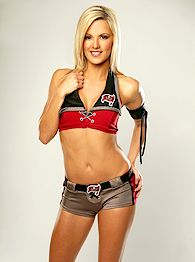 I started liking the Tampa Bay Bucs when I was about 9. Now I am 12, so it has been a while. Before that I really had no favorite football team, I just sometines watched football. Hell, I really didn't even care about it. I told myself that I needed to get a favorite football team, and I did. At first I really only liked the Bucs because of there logo, but then I started liking them because of heir players. My favorite player is Mike Alstott, even though he is retired. I have had his jersey for two years. And now, my fandom has come to what it is today.
At first my favorite team was the New York Yankees.
I guess I really only started liking the Yankees because my dad was a huge fan of them. He taught me to like the Yankees, and thats how I grew up. He told me never to like the Red Sox. Good thing I didn't choose them for my ACTUAL baseball team...
The Baltimore Orioles
The only bad thing is that I don't know a lot about them. I really need to step my fandom up and actually learn more about them.
My favorite basketball team is..... The Philidalphea 76ers.
I really don't know how I started to like the Sixers. But back when I started liking them, they had allen Iverson, so I think that was one of the reasons. I still like them probably because of thier players like Andre Iguodala.
My favorite hocley team is the Colorado Avalanche.
Yet again, my dad taught me to like this team. He has liked them all his life. L like them also because they are close to where I live and they are a good team.
My favorite golf player is.....Tiger Woods.
I have liked Tiger Woods all my life. The reason I like him is because of how generous he is. There is a book he wrote with his father called Start Something. It is really good. He isn't rude to his fans or anything.
And last, but not least, my favorite wrestler is...... BATISTA!
Whoa.... that was larger than I anticipated. I started liking Batista just the past year. I was playing as him on WWE vs. Raw 2007 and he just stuck to me as my favorite. My other favorite is...... The UnderTaker A. K. A The Dead Man
-Buc