01:28 PM ET 05.10 |
Billups' shot should not have counted:
To begin this blog, I would like to announce that Pistons G Chauncey Billups won the NBA sportsmanship award. Congradulations to him.
Now, for that ever, so-memorable buzzer-beating shot at the end of the 3rd quarter of Game 3 versus the Pistons and the Magic. With approximatley 5 seconds left in the quarter, the Pistons inbounded the ball and went down the court. Billups finally took a contested three-pointer that went in, and with review after the game, the NBA apoligized because the shot shouldn't have counted. After the shot, it was a 78-76 lead going into the 4th quarter. It wasn't the referees fault because the rules don't allow for reviewing a play to determine when the clock started.
Now whoever says that the 3-pointer didn't have an effect on the game is absolutely crazy. Instead of Detriot having a 2 point lead, Orlando would have lead the game going into the last quarter. Who knows what could have happened if the shot was ruled no good.
3 Main Rockets have operations:
Tracy McGrady had arthroscopic surgery on his left shoulder and left knee. Loose particles were removed from both the knee and the shoulder. The recovery time will take around 3 months.
Two other Houston Rockets has operations, that being forward Shane Battier and point guard Rafer Alston. Battier underwent arthroscopic surgery to remove bone spurs in his left ankle whiles Alston's surgery repaired ligament and tendon damage in his right ankle. Both will be ready for training camp in the fall.
There have been way to many surgeries in Houston. Almost all their key players have gone down one time or another during the stretch of the season.
(Tracy McGrady's team didn't get past the first round of the playoffs)
All-NBA Teams Announced/ NBA MVP Voting:
First Team
F -- Kevin Garnett, Boston
F -- LeBron James, Cleveland
C -- Dwight Howard, Orlando
G -- Kobe Bryant, L.A. Lakers
G -- Chris Paul, New Orleans
Second Team
F -- Dirk Nowitzki, Dallas
F -- Tim Duncan, San Antonio
C -- Amare Stoudemire, Phoenix
G -- Steve Nash, Phoenix
G -- Deron Williams, Utah
Third Team
F -- Carlos Boozer, Utah
F -- Paul Pierce, Boston
C -- Yao Ming, Houston
G -- Tracy McGrady, Houston
G -- Manu Ginobili, San Antonio
NBA MVP Results:
Kobe Bryant, L.A. Lakers, 1100
Chris Paul, New Orleans, 894
Kevin Garnett, Boston, 670
LeBron James, Cleveland, 438
Dwight Howard, Orlando, 60
I think they hit the selections right on the money. Even though I don't believe they should have gotten in, I'm a bit surprised that no Denver Nuggets were on any of the All-NBA teams.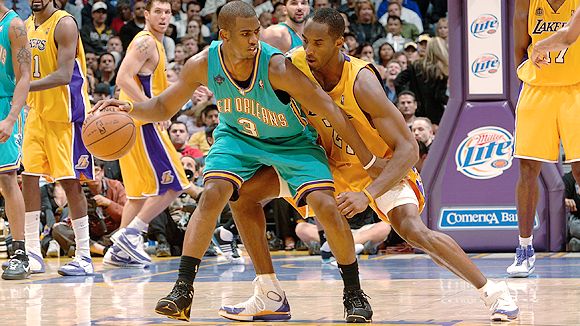 NBA Playoff Injuries:
The Pistons are very aggressively treating Billups' strained hamstring and hope he can return for Game 4 of their semifinal series in Orlando on Saturday. If not, they have Rodney Stuckey, who consists of good size and strength for a point guard, just like Chauncey Billups. Billups told us Friday he was feeling a slightly better, but still couldn't manage a fast walk.
There also occurred another Eastern Conference injury. It was the one of Cavaliers starting forward Ben Wallace, who is doubtful for Game 3 against Boston. First, it was thought that he suffered extreme dizziness. After further speculation, it was revealed that Ben Wallace had allergies and a left inner ear infection. Wallace started yet he only played less than 4 minutes in Thursday night's game before becoming dizzy and then he asked to come out.
(We all love the hair!)
GM news around the NBA:
Atlanta Hawks general manager Billy Knight is stepping down.
Former Utah Jazz player personnel director Troy Weaver is the new assistant general manager of the Seattle SuperSonics.
The New Jersey Nets promote Kiki Vandeweghe to general manage.
The Indiana Pacers promote David Morway to general manager.
This is something I don't really care for, so I can't comment on this one.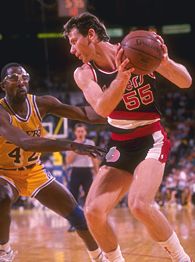 Nets' Jefferson arrested for assault in Minneapolis:
Listen to this report:
Richard Jefferson was charged with assault Wednesday for grabbing another man by the throat in a Minneapolis club earlier this year. He is accused of grabbing the victim, shoving him to a bench and choking him with both hands.
Now this tells me one thing: Jefferson is out of New Jersey, along with Vince Carter. It's one and done for Jefferson. To much violence in today's sports.
Some More Quick Notes:
Lakers' Center Andrew Bynum could possibly need surgery
Hawks' Marvin Williams suspended for 1 game next season
Bucks G Mo Williams undergoes thumb surgery
Customers wait hours for 23-cent pizzas from Papa Johns in Ohio
Carlisle, Mavs reach agreement on 4-year deal
Thanks for reading!