02:34 AM ET 05.22 |

So the context of the newest episode (shot in Boulder, CO) is a little different than previous episodes. My buddy Dave (a sports anchor working in Charlottesville, VA) and I went on a cross country road trip moving him back to LA in a 20 ft. rental truck, stopping at baseball stadiums along the way (the trip can be seen at FoulBalls.org).
We timed it to hit Boulder along the way so we could film at the Ultimate Championships, and against all odds, we made it there in time to film. Anyway, I was pretty excited for the episode, never having been to any sort of major Ultimate tournament. No matter what campus you go to in the country, you'll always find people playing, so it makes sense that the sport has gotten big enough to require a huge tournament like this one. Also, Andrew Reed (he of SI on Campus's Tailgate Report Card fame) talked up how great he thought the event would be, being a big ultimate guy. Anyhow, it didn't disappoint. Here comes the boom:

We drove a good ten and a half hours from Kansas City to Boulder in a day. This is Kansa..zzz. Sorry, what was I saying?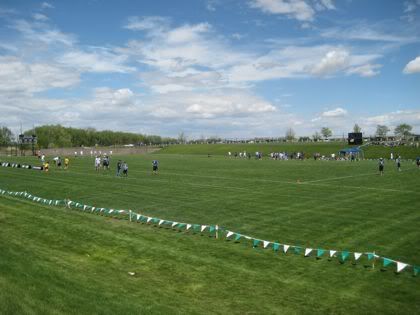 The event. It looks sort of barren here, but the place was packed. There were 32 teams from all across North America, event staff, some media, and at least one crazy lady carrying around a fish head. I say "at least" because you never really know with Boulder.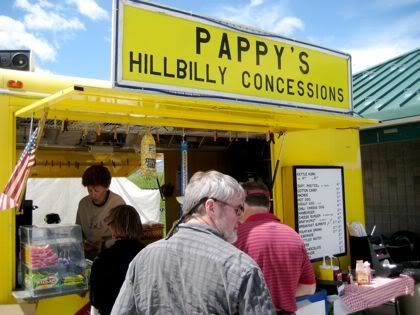 This is the lone concession stand that we saw. It's a great place to get some food if you like waiting behind six people for a half hour ordering burgers and hot dogs. We were this close to giving Pappy a piece of our minds.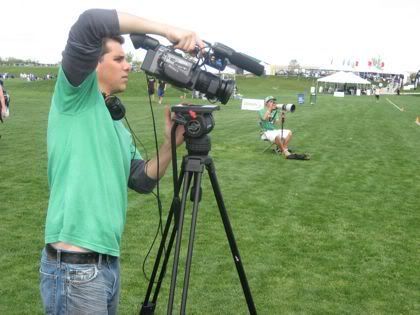 Camera Guy Dave gettin' it done. You may notice the monopod in the background, but if you wanna play with the big boys, you gotta go three.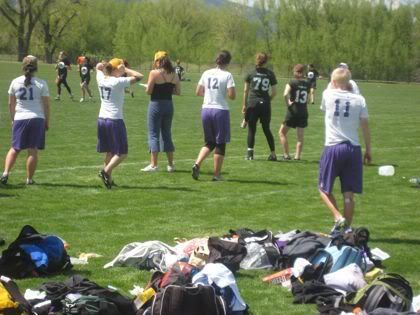 This is the Washington women's team, who graciously let me act like a dope around them and threw me a deep "huck." A lot of them wore trucker hats and probably could've easily taken me down had it come to that. Just thought you should know.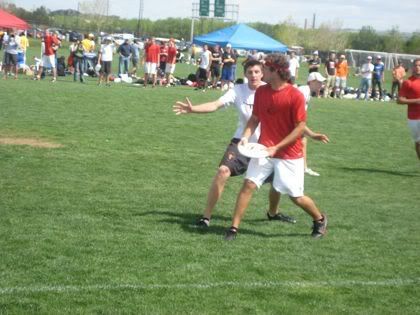 The defense here is legit, especially on a guy with such a questionable headband.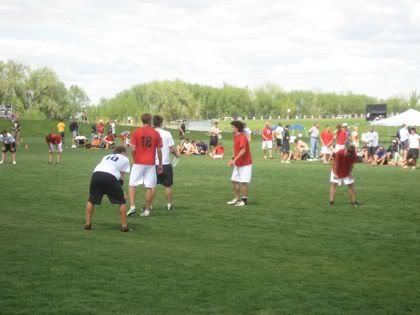 A quick breather. Honestly, if you combine watching teams go up and down the fields with relative ease, and the food I had been eating for the previous week on the road, just being there was tiring. I may have strained a quad taking this picture.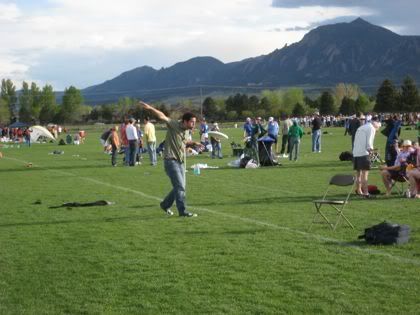 You can't teach this kind of form. Literally, you can't because sanctions will surely be brought against you by some sort of governing body for desecrating all that is held sacred about ultimate. Still, it's an awesome follow-through.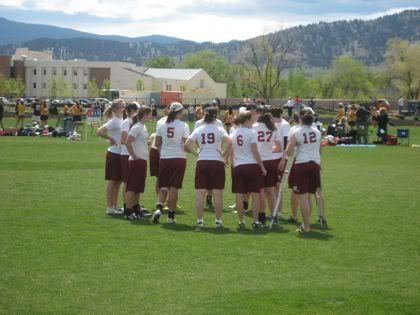 I believe this is the women's team from Ottawa. You may have seen them briefly do a cheer in the video, and trust me, them yelling "1,2,3 Ottawa!" may have been the only clear words in that chant. I think part of it has to do with socialized medicine, Roy Halladay, or both. Who knows.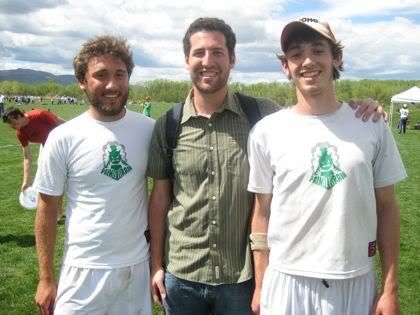 Me with Dartmouth players. The team is growing mustaches, but I won't tell you which of these guys is falling behind. In other news, Andy Bernard is angry that Cornell (you may have heard of it) didn't make it to Boulder, forcing me to take pictures with members of the D-Mouth Pain Train.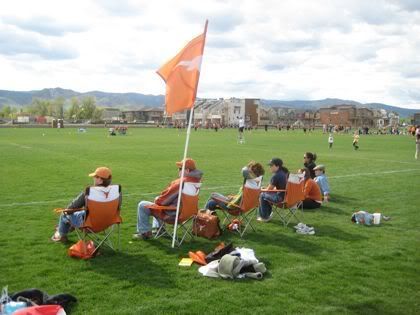 'Horns fans. No word on whether or not any Texas players got in any boating troubles later in the evening. I'll keep you posted...

This was taken on the sidelines of the "Showcase Field." A lot of people came out to watch Colorado (above), the host and home team, who ended up losing to Wisconsin in a semi-final. I have no idea why this picture is slanty, I'm almost positive it wasn't taken like this on purpose.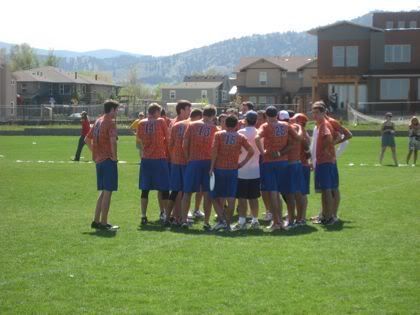 Florida. They were ranked #1 and just from watching them with my untrained eyes, you could tell they were a juggernaut. Most of them were pretty tall (above 6'2") and just blew by other teams. Also, as I found out, they pride themselves on having zero hippies on the squad, so that's something.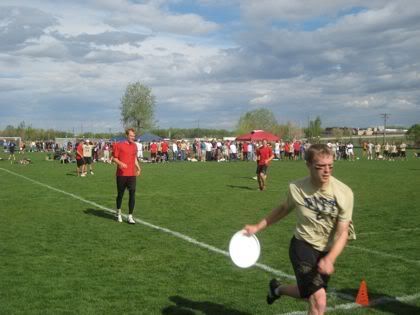 Effort. This is a guy from Pitt trying to distance himself as much as possible from a questionable (at best) pants/leggings situation.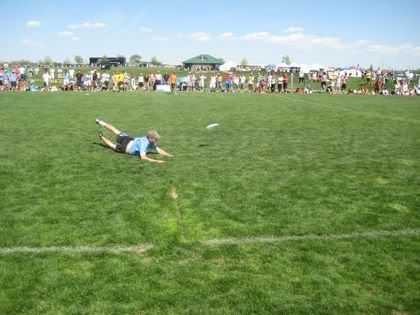 This is the picture I used for the short bit in the video. Clearly I'm lying when I called this guy unathletic, but the shot still cracks me up.

Nothing funny about this. My vertical is similar, only it's completely different.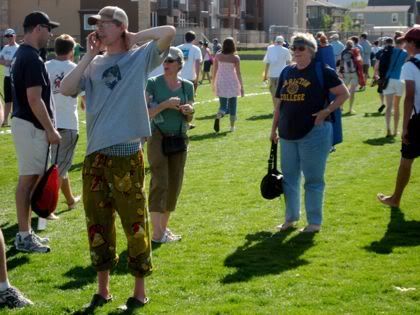 Ol' Chicken Pants. I'm incredibly thankful I didn't wear my CPs that same day. Awwwwwkward.

Have you ever asked a seemingly nice girl if you could give her a stiff-arm for the sake of slightly-amusing comedy? Didn't think so.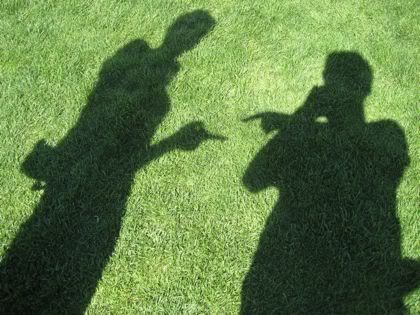 Shadow fun. Not pictured: two days of sun resulting in unsightly neck-burns.
In the end, we had a pretty good time at the tournament - there was a healthy level of competitiveness, the better teams generally won, and there was genuine enthusiasm for the sport. I'm not sure if I'd ever make a special trip to go again, but it could've been a lot worse - we could still be waiting for our food.
Winners
Open Division: Wisconsin def Florida
Women's Division: Univ of British Columbia def UC Santa Barbara
Back in a couple weeks...
--

Email:
Links:
Tour Guy Road Notes (permanent link)
The SI Tour Guy (archive of all videos, including from 2006 and the Pac-10)
SI College Football channel on Veoh
Windows Media Player 9 (for Mac)
Flip4Mac (to watch SI Video on a Mac)