12:56 PM ET 06.04 |
Last year's Heisman race was dominated by Florida standout sophomore Tim Tebow, who shattered records for overall TDs and yards for QBs. Two of last year's Heisman finalists are returning for seasons this year (Tim Tebow, QB, Florida; Chase Daniel, QB, Missouri), while the rest of the class is very strong too.
In this blog, I preview the top 5 Heisman candidates for 2008, along with players to watch for and some sleeper players. For each player in the top 5, there's a link on their name for a video of their season highlights. They're all pretty nice, and showcase the player well.
This Year's Top 5 Heisman Candidates:
Last year's Heisman winner stunned the nation with 55 total touchdowns, 32 by air, while rushing for 23. USC transfer Emmanuel Moody should cut down on some of his rushing TDs, but that should open up a new dimension of his passing game. RB/WR Percy Harvin is a great option out of the backfield or in the slot, while Tebow still will be able to make plays with his legs if he needs too. Tim should learn to share the ball more this year which will help Florida win when he's having an off game. Last year, the Gators went as Tebow went. In their four losses, Tebow's passer rating dipped below 100 three out of four times, and his highest was 115.0, not even close to his seasonal average in the 170s. Nonetheless, Tebow has the best skills to win the Heisman this year.
2. Chase Daniel, SR, QB, Missouri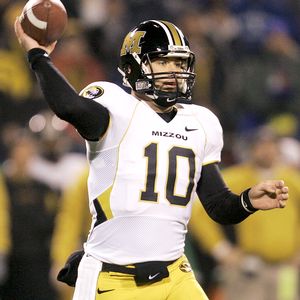 Chase Daniel was one of the nation's most surprising players in 2007, passing for over 4,000 yards and 33 TDs to only 11 picks. He led Missouri to just their 2nd ever #1 ranking in the country and played amazingly in a nationally broadcasted game against KU, winning Mizzou the Big 12 North title. With starting RB Tony Temple in the NFL, the offense will circle even more around Daniel. He has a strong arm and can scramble under pressure. His speed isn't as potent as Tebow's, but it can crush defenses. He has a very strong WR core, with freshman stud Jeremy Maclin, who led the nation in all purpose yards last year, Tommie Saunders, who has some of the best hands in Divison-I, and TE Chase Coffman, probably a Top 5 TE in the country. One thing he needs to improve on is his play in the biggest games. In two games against OU last year, Mizzou's only losses, he had only one TD, while getting picked off 3 times and sacked 5 times. This year's schedule is a bit easier, but he still will have to play well in the big games if he wants to win Heisman.
3. Pat White, SR, QB, West Virginia
The Pat White-Steve Slaton combo is over, with RB Steve Slaton bolting for the NFL. Coach Rich Rodriguez is also gone, and in his offensive scheme, White flourished. However, White has a decent array of receivers to work with, though the losses of top WR Darius Reynaud and RB Steve Sdlaton (the team's two leading players in receiving yards) will be missed. West Virginia is Pat White's team now, and he's the star on a national title contender. White also has great speed, rushing for 1335 yards and 14 TDs in '07. The Fiesta Bowl victory over OU should be something to build off of, and White is set to prove he can do it himself.
4. Knowshon Moreno, SOPH, RB, Georgia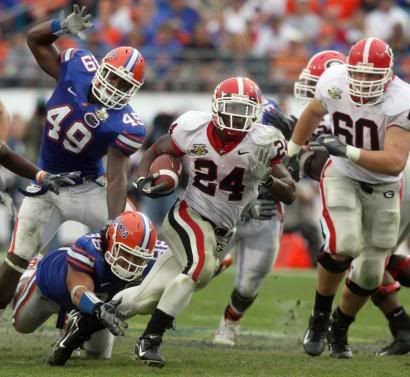 Georgia's freshman RB turned heads last year, who surprised the nation after the starting RB was lost to injury. Moreno's breathtaking speed and flashy moves gave him 1,334 rushing yards and 14 TDs as a freshman in '07, and he even drew comparisons to former Georgia legend Hershel Walker. When you get those sort of comparisons, you're bound for greatness. QB Matthew Stafford is returning and defenses will have to watch out for the dual threat of Stafford-Moreno. With Georgia most likely a preseason #1 team, Moreno will draw a lot of attention from the national media, and be the top RBs in the SEC this season.
5. Sam Bradford, SOPH, QB, Oklahoma-The video isn't that good. There weren't many I could find though.
He was largely ignored as a freshman playing on a star loaded team last year, but the nation's most efficient passer, Sam Bradford, will be stepping into the limelight this year hoping to lead OU to, if not a national title, at least a Fiesta Bowl win. Star WR Malcom Kelly is in the NFL, but he still has a great RB behind him in DeMarco Murray and WR Juaquin Iglesias nearly reached 1,000 receiving yards in 2007. And, its OU. They always have a strong recruiting class. Expect for at least a couple surprises this year. The offensive line is strong again, which helped Bradford greatly as a freshman. He was only sacked 9 times the entire season, which led to his 36 TDs and 3,121 yards.
Players To Watch For:
Graham Harrell, QB, Texas Tech; Todd Reesing, QB, Kansas; Colt McCoy, QB, Texas; Todd Boeckman, QB, Ohio State; Chris "Beanie" Wells, RB, Ohio State; LeSean McCoy, RB, Pittsburgh; Demarco Murray, RB, Oklahoma, Jeremy Maclin, WR, Missouri; Michael Crabtree, WR, Texas Tech; Mark Sanchez OR Mitch Mustain, QB, Southern Cal, Willie Tuitama, QB, Arizona; P.J. Hill, RB, Wisconsin; Max Hall, QB, BYU
And Keep These in Mind:
Rudy Carpenter, QB, Arizona State; Arain Foster, RB, Tennessee; Percy Harvin, RB/WR, Florida; Joe McKnight, RB, USC; Zac Robinson, QB, Oklahoma State; Juice Williams, QB, Illinois; Matthew Stafford, QB, Georgia
THE RACE FOR THE STIFF-ARM TROPHY IS ON!!!