01:43 PM ET 06.04 |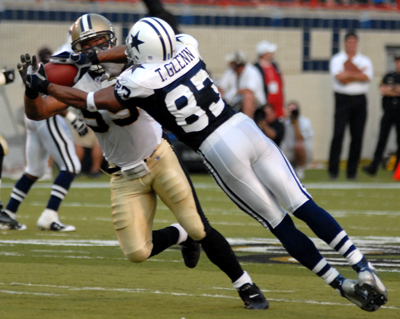 Jerry Jones and the Dallas Cowboys are gearing up for another Super Bowl run once again, and as always, not all the pieces are falling into place. This time it's WR Terry Glenn. Glenn has reportedly been asked to sign an injury settelment that would take affect if he re-injures his right knee. The settelment would pay out $500,000 to Glenn instead of his $1.74 million base contract if he is unable to play. Considering Glenn was paid over $5 million last year for 4 plays, that number doesn't seem so insufficient. On top of that, Glenn failed a physical after the season and still hasn't passed it because of problems with the right knee that was operated on twice last season. Glenn has thus far refused to sign the injury settelment, stating, "I really want to play,", and, "I thought the team had confidence in what I was doing in the off-season program that I can make it through the season. But with this contract, there might not be that much faith at all." Glenn's refusal to sign the injury settelment has forced Jerry Jones to keep him out of OTA's thus far. There is no reason to have Glenn out there practicing with the team and risk re-injuring his problematic knee. The risk is too great right now. Glenn passed on microfracture surgery last year in hopes of returning late in the season, but team doctors still stress that Glenn will need microfracture surgery on that right knee eventually. Instead of microfracture surgery, Glenn has opted to strengthen his knee in the offseason in hopes of playing this year. It's up in the air right now if Glenn will even see the field this season.
Terry Glenn fired his agent recently and is handling all negotiations by himself. Somebody should tell Glenn he doesn't have any negotiating room. He is coming off two knee surgeries from last year and will probably need microfracture surgery soon. Nobody knows if that right knee will hold up one play, one game or one year. If he does go ahead and re-injure that knee his career will likely be over. The recovery time for microfracture surgery is minimum one year, if at all. With Glenn entering his 14th season this year, surgery would be hard to come back from. This is the reason why Jerry Jones wants Glenn to sign the injury settelment. What's the alternative for Glenn? If he doesn't sign, he will probably get released. Good luck finding a team that will sign a 34 year old receiver with a bum knee, for $1.74 million no less.
It seems to me that Terry Glenn is between a rock and a hard place. He has no other option if he wants to play this year. The Dallas Cowboys are loaded with talent and ready to make a Super Bowl run, So Glenn, get with the program and sign that settelment!