04:28 PM ET 06.05 |
Since the group voting for the 20 Best Albums Of All Time idea evaporated into nothing, I thought I'd say my top 20 favorite albums. If anyone else feels like making this, feel free too. This is in order ( my top 3 favorite bands each have 2 albums in the top 10 and all 5 of my favorite groups have 2 albums on this list altogether) and with each album you'll get the album cover, a brief description of why the album works, and the 3 key songs on the record. The key songs are the ones that are most important and reflect the album the most.
First, what makes a classic album? What makes a collection of songs stand above all the rest? Many things actually contribute to a great overall work. Obviously the quality of songs but also production, order of tracks, atmosphere, length, and of course the cover. Great albums are a lost art form because of the creation of the mp3 player and downloading songs off the computer. Record sales are down because of that and the fact artists now just make one catchy song and fill the rest of their slots with worthless fillers. They're very little things better than putting in an album or turning on a record and just experiencing the whole thing straight through in all it's glory. In this list, there is everything from psychedelic concept journeys to commercial breakthroughs and everything in between. To kick this shindig off, the greatest rock opera in history:
20. Tommy-The Who
I was stuck between Quadrophenia and this movie put to sound for number 20. While the individual songs on Quadrophenia kick the crap out of the songs on this rock opera, Tommy is a better overall listening experience as a full and satisfying album. Take the Beatles, make them louder and more druggy, and you have The Who's Tommy. Pete Townshend was never great with bare bone lyrics but he was a marvelous story teller and it shows with neon lights here. Unlike other rock operas like "The Wall" or "The Lamb Lies Down On Broadway", Tommy rarely has a dull or boring moment. While packed to the brim with 24 tracks, things rarely get over bloated here. The 10 minute instrumental "Underture" seems to be there just to showcase the group's talent, but other than that the actual storyline flows beautifully. Controversial because of the subject matter (a deaf, dumb, and blind boy who's great at pinball/experiences strange encounters/gets raped by his family), the album still feels new today.
Key Tracks: Overture, Pinball Wizard, We're Not Gonna Take It
19. Fair Warning-Van Halen
Maybe the most underrated album of the 80's, Van Halen goes darker and deeper in Fair Warning. Now don't get me wrong, I'm not saying this makes you think because it still doesn't, but Halen supplied a dark undertone here that they never would again. With that said, this contains everything you want in a Van Halen record. David Lee Roth's incoherent, ridiculous rants making him sound like a homeless drunk on the side of the road (One break comin' up!!!), Eddie's lightening quick licks, and the often under appreciated rhythm section doing their thing and helping carry the songs. The reason why this album got lost in the gigantic spot light the group had in the 80's was because no hits came off of this album. This had no "Jump" or "Runnin' With The Devil", but that doesn't keep this album down. "Mean Streets" is one of Halen's all time best and I love the horrifying, warped guitar sound in the creepy "Sunday Afternoon In The Park". Even with the ending being a let down, this is Van Halen's high water mark.
Key Tracks: Mean Streets, So Is This Love?, Hear About It Later
18. 90125-Yes
Yes did with this album what Springsteen did with Born To Run. At the change of the decade, this group looked dead. Some minor changes later and a redefined tighter sound led to this monster of an album. You can call it a sell out, but Yes was trying everything to stay relevant in the 80's and this worked beautifully. These 9 nine songs are over-flooding with hooks, special effects, and un-expected outbursts of loud noises. The opening "Owner Of A Lonely Heart" always gets all the credit, but it's everything after that makes the whole experience memorable. The touching ballad "Our Song", the extremely catchy "It Can Happen", the inter-crossing vocals in "Leave It", the cascading chorus in "Hold On", and the mystical epic that ends the album in "Hearts". While "Cinema" won the Grammy for Best Instrumental when this came out and "Changes" fits like a glove in the overall theme, the highlight for me is "City Of Love". It's a bottle rocket of a song. By far the heaviest song Yes ever did and their most underrated in my opinion.
Key Tracks: Owner Of A Lonely Heart, City Of Love, Leave It
17. Amused To Death-Roger Waters
Let me first say this: I have 2 Pink Floyd albums, this Waters album, and a Gilmour album on here. But please, don't include the 2 solo albums in the Pink Floyd camp because they're not Pink Floyd. They're 2 totally different artists with really 2 totally different styles. Just wanted to make that clear. Now to the actual selection. Amused To Death is a tough work to wrap your mind around. This is the kind of thing you have to listen to from beginning to end without any distractions to fully appreciate. A thought-provoking album about how the idiot box we call television brainwashes the human race and might lead to our demise (hence the title of the album). This is an incredibly dense album packed with hidden massages and double edged swords. There are moments where the album starts to get lost in it's own world and doses off, but then only to interest you again a few seconds later. This is Roger's best solo work and one of the most important concept albums out there. But once again, don't expect an easy listen.
Key Tracks: The Bravery Of Being Out Of Range, It's A Miracle, Amused To Death
16. London Calling-The Clash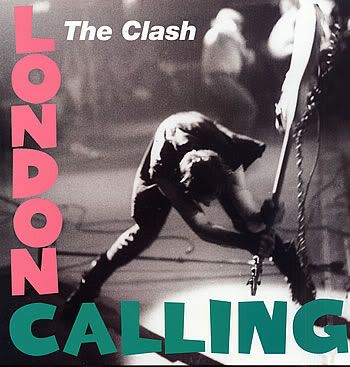 This is like a bucket of candy: Every piece brings something new to the table packed with energy and freshness. The Clash did something here that no punk band ever did before or since: Create a non-pretentious collection of songs to the point where you can't wait to hear what the next nugget brings. One song doesn't sound the same in this group of 19; everything from by the numbers punk, reggae, groove, jazz, blues, pop, and even the occasional anthem. A perfect example of "less is more", the songs are incredibly simple and easy on the ears but that's what makes it so infectious. Some of these songs have meaning, such as the thumping title track and the melancholy "Lost In The Supermarket". But you don't have to like punk to be satisfied here. Tracks such as "Brand New Cadillac" and "Wrong 'Em Boyo" is clearly the sound of a band just having pure fun but even then the band is tasteful (see the great piano opening in "The Card Cheat" and the awesome sing-a-long that is "Death Or Glory"). And of course, "Train In Vain".
Key Tracks: London Calling, Death Or Glory, Train In Vain
15. Master Of Puppets-Metallica
The "Sgt. Pepper" of metal albums, Metallica hit the creative jackpot with this masterpiece of venting music. Much more than songs to break the speed limit by, there's plenty of depth and meaning to be found here. More so than any other heavy metal record and more influential than any. Everything from the inspired break in the middle of the title track to the incredibly unique standpoints every song presents, metal albums aren't supposed to be this complex. The first half of this record is basically perfect from the explosion that is "Battery" to one of my personal favorites "Welcome Home". Metallica establishes quickly that they mean serious business here. The 2nd half is almost just as good except for "Leper Messiah" (I always felt "Fight Fire With Fire" would've fit much better in the 6th spot) and "Damage Inc." gets a bit repetitive (although you gotta love that droopy beginning). But it gets picked up by the fierce "Disposable Heroes" and Metallica's best instrumental "Orion". Even if you're not a huge metal head, this is a must listen.
Key Tracks: Battery, Master Of Puppets, Orion
14. About Face-David Gilmour
Gilmour is really the complete opposite of Waters. While Waters is much better when it comes to lyrics, Gilmour is better musically. Which is the reason why both of them working together worked so brilliantly at the height of their Pink Floyd careers. Gilmour's 2nd solo album "About Face" is a smorgasbord of sleek, riveting tunes laced with accessible twists and turns coupled with those killer guitar riffs by Dave. There are many great moments in here with nothing even close to a bad track coming up. From the driving, unstoppable force "Until We Sleep", to the heartbreaking song about John Lennon's death "Murder", the light-hearted "Love On The Air", the volatile "All Lovers Are Deranged", the dark closer "Near The End" and everything in-between this is a quite fulfilling listen. I can see why many people don't like "Blue Light" because of the disco-like feel and the cluttered sound, but I like it. "You Know I'm Right" is a direct shot at Waters and "Let's Get Metaphysical" just explodes out of nowhere. Such an underrated record.
Key Tracks: Until We Sleep, Murder, All Lovers Are Deranged
13. Superunknown-Soundgarden
It's a shame "Nevermind" got all the attention. Don't get me wrong; it's a very solid album. But if you're looking for an album that best defines the grudge movement, this is the best in my mind. While this is a very long album, the length is mostly justified because not many notes fall flat on here. Besides of the completely pointless 2:14 that is "Half", every song packs a punch and stays with you long after the track ends. This album really hits its stride at the 2nd song "My Wave". From there to "The Day I Tried To Live" is already spectacular but it's not even over yet. The sludgy, beastly "4th of July" and the longest song on the album "Just Like Suicide" pick the album back up near the end. The thing that separates this album from all other grudge albums is the depth of the material. You can tell every song apart from one another and it all flows so well. "Black Hole Sun" is a masterpiece, "Spoonman" is a wonderfully odd tune about a street performer, and "Limo Wreck" is just disturbing. This is real rock hot off the frying pan.
Key Tracks: Black Hole Sun, Head Down, 4th Of July
12. Bat Out Of Hell-Meat Loaf
Combine Bruce Springsteen and Jack Black and you have Meat Loaf. Mix Quentin Tarantino and Pete Townshend and you have Jim Steinman. Jim and Meat together make one hell of a combination; proven by "Bat Out of Hell". Overly exaggerated arena rock and proud of it, everything on this album is taken to the extreme. Hell, even the album cover is ridiculous. But this is why the album is so damn entertaining. Those who criticize this album for being too stupid and too pretentious are completely missing the point. You can not take this album seriously. Jim Steinman was a comedy writer and Meat Loaf was a play performer. The funny thing here is this album is actually making fun of the very principles of rock & roll. It's all a joke. I can see Jim and Meat in the studio playing back the tape while Jim says "Imagine if anyone actually buys this?!" This is a rock album that pokes fun at everything involving rock & roll, yet it's become one of the best selling rock records of all time. Figure that one out. Must have a good sense of humor to enjoy this.
Key Tracks: Bat Out Of Hell, Paradise By The Dashboard Light, For Crying Out Loud
11. Breakfast In America-Supertramp
1979 was a milestone year for rock. London Calling, The Wall, In Through The Out Door, The Cars, and many other now legendary albums saw the light of day in that year. But out of all those albums, this is the best one to come out in my mind. The first of 2 Supertramp albums on this list, this is the one that made them international superstars. While this was Supertramp trying to cash in big through the mass media, they still didn't lose their creative flair. From the absolutely brilliant cover art to the electrifying prog-rock classic "Child Of Vision", this is an energetic set of songs that still sounds fresh today with the blaring horns, the soaring piano riffs, and that oh-so-tasteful guitar popping in and out. A social commentary on pop culture and the ways of America, this is the smartest pop rock album ever made. Spawning four colossal sized hits (The Logical Song, Goodbye Stranger, the title track, and Take The Long Way Home), you heard this album on every radio station in America at the time. More coming up from this underrated bunch.
Key Tracks: The Logical Song, Take The Long Way Home, Child Of Vision
10. The Stranger-Billy Joel
Mr. Joel has made many classic songs, but he's never been known for his classic albums. He's made some very solid ones, but none that jump out at you. Except this one. The only Billy Joel record without a true filler, this is one of the few whole albums that I can listen to anytime and any day. The production is top notch here and his lyrics are improved (although he's always had a very hard time with lyrics). Joel also shows more bite here as evidenced by the first 2 tracks; the sing-a-long anthem "Movin' Out" and the surprisingly dark title track. You have to love the lonely whistling in the beginning that starts of f the song only to return on the last 2 minutes of the album. It's really a simple by the numbers piano album, but there's an instant likeability here that keeps me wanting more. "Scenes From An Italian Restaurant" is Joel's most diverse lick ever and no doubt one of his greatest creations. And of course the love ballads don't hurt either. Soft stuff is good once in a while. Joel makes me somewhat proud to come from Long Island.
Key Tracks: The Stranger, Scenes From An Italian Restaurant, Only The Good Die Young
9. Physical Graffiti-Led Zeppelin
When this first came out, it got mixed reviews which is understandable. It's a bloated album that sometimes seems too full of itself. But upon repeated listens, you begin to realize that this was the last gasp of genius that Led Zeppelin had. My favorite double album ever, this is the place where Zeppelin showed their musical strength and versatility the most. This was before Page and Bonham lost sight of what was most important and before Plant got in that car accident. This was the mature Led Zeppelin casting a shadow over the rest of rock. From the drop-kicking opening riff of "Custard Pie", you get the gist of where this tower of rock is going. Everything sounds full and dense throughout, yet it doesn't feel stiff. They're quite a few moments here (including the 11 minute epic "In My Time Of Dying") where you get the feeling that Zeppelin was just jamming for the fun of it and the actual song just magically formed without any effort. And that's how you figure out how superior Zeppelin was to everyone else at the time.
Key Tracks: In My Time Of Dying, Trampled Under Foot, Kashmir
8. Animals-Pink Floyd
I've already said basically everything that needs to be said about this on my review of this masterwork. But the great thing is they're still many more things to be said. The truly scary thing here is this was made at a time when the band itself started to slowly self-destruct. Waters head was growing at a dangerous rate, Gilmour was getting frustrated, Rick Wright's soul and spirit was getting crushed like it was in an unstoppable vice, and Nick Mason (who was the only member ever to be with Pink Floyd throughout the whole existence of the band) was the innocent bystander just watching it all unfold right in front of him. Yet besides of all the hatred and turmoil, they still could create music that makes you speechless. And when you think about it, the extreme emotion among the group actually helped here. You can smell the cold tension in the production, but that makes the album more memorable. Waters' voice seems to be whining sometimes. I used to hate this thing, but "Animals" is like fine wine. It gets better with age.
7. Strange Days-The Doors
I don't know if anyone could tell, but I kinda like The Doors. And it's not just because of the trouble-making lead signer. The chilling keyboards, the underrated guitar work by Robby Krieger, and overall song writing this group had is remarkable. While The Doors were dark most of the time, this record in particular sounds hopeless and dreadful. Why do you think they titled it "Strange Days"? If "The End" is the theme song of the Apocalypse, this album would be the introduction. Made during the height of the hippie/"Make Love, Not War" revolution, the Doors represented a dark and evil sound when every other group was spreading happiness. The dire title rack, the creepy stalker vibe in "You Lost Little Girl", the sad anti-war tune that is "Love Me Two Times", the chaotic "Horse Latitudes" the bone-chilling "Moonlight Drive", and another of Morrison's epics "When The Music's Over". The genius thing about this album was the realistic feel. While everyone wanted to sing about peace and love, this was how it really was.
Key Tracks: People Are Strange, Moonlight Drive, When The Music's Over
6. Led Zeppelin IV-Led Zeppelin
If Physical Graffiti was the tower, this was the ground from which that tower lied upon. The first record to not include any headline or wording, you found out quickly that it didn't need one because you can tell this album apart pretty easily. The only clear-cut filler on here is "Four Sticks", but even that isn't a waste because it has it's own style that separates it from the rest. As does the other 7 tracks presented here. It's a pretty simple album on the surface. Only 8 tracks, each side starting with 2 rockers followed by a more mellow track and then completed with an epic. Zeppelin tackled everything they could get their hands on here. Riff rock (Black Dog), Folk (The Battle Of Evermore), Blues (When The Levee Breaks), by the numbers rock (Rock & Roll), a ballad (Going To California), and the most famous rock song ever (take a guess). Even if "Stairway..." is an overrated song, it's a beautiful work that contains maybe the greatest guitar solo ever. One of the albums everyone must own, "IV" is a milestone in rock.
Key Tracks: Black Dog, Stairway To Heaven, When The Levee Breaks
5. Who's Next-The Who
The quintessential rock album, everyone has heard at least a portion of this even if they never listen to music. Everyone on Earth has heard that infamous synthesizer riff from "Baba O' Riley" or Roger Daltey screaming his lungs out on "Won't Get Fooled Again". In 1971, Pete just had a mental breakdown after failing to complete the Lighthouse project and the band had no clue where to go. So instead of making another opera, they just decided to kick back and release this collection of songs. Little did they know this album would become somewhat the very definition of rock & roll. "Riley" is the ultimate karaoke, fist-pumping anthem, "Bargain" is severely underrated when talking about The Who's best (as is "The Song Is Over"), "Behind Blue Eyes" contains one of the greatest bridges in rock history, and "Won't Get Fooled Again" is the sound of a group of letting everything hit the fan and just going all out. And it's a great sound indeed. This album would have been better if they included "Pure And Easy" and "Naked Eye".
Key Tracks: Baba O' Riley, Behind Blue Eyes, Won't Get Fooled Again
4. Crime Of The Century-Supertramp
The most underrated rock album ever (I'm going to keep saying it until it gets the attention it deserves), Crime Of The Century rivals Pink Floyd's best work. It rivals anyone's best work. A concept album telling 3 inter-connected short stories, this was Supertramp reaching their creative peak. This shows why Supertramp was one of the smartest rock bands ever. They implanted real, deep messages in their songs and made every one unique while still making it appeal to everyone. They knew how to made contagious music while sacrificing none of the heart. There's such an alarming undertone here yet the music itself sometimes sounds cheery and upbeat (Take "Dreamer" for example). So many moments stand out; from the haunting harmonica solo that begins the journey to the musical masterpiece that is the title track. The last song is worth the price of the album alone. Very few things in life have grabbed me more than the title track. A treat for the ears and mind, they don't make albums like this anymore. And that's a damn shame.
Key Tracks: School, Hide In Your Shell, Crime Of The Century
3. Born To Run-Bruce Springsteen
Pegged as the "working class hero", Springsteen had to do something to get that reputation. Many things contributed to that title, but this is the move that started it all. "The Boss" was in heavy debt, not knowing what else to do if his music career didn't take off soon enough, and his back was against the wall. So in a hail mary attempt if you will, he morphed this album together. Springsteen packed all the raw emotion, all the fire, and all the blood from his veins and put it into this record. And the result is a truly exhilarating listen. This album feels like it's only 5 minutes long when in fact it's obviously a lot longer. It goes fast and has every instrument and every note on high volume. The propulsive title track is the most famous cut here, but "Jungleland" is when this album sets a new high. It has everything you can ask for in a rock song. The ear shattering guitar, Springsteen's classic grunting, the piano that sounds like it's on ecstasy, and the roaring dinosaur that is the 3+ minute saxophone solo. Believe it or not, the whole album is just as good.
Key Tracks: Thunder Road, Born To Run, Jungleland
2. The Doors-The Doors
Obscure, murky, morbid, grisly, macabre, and stimulating. So many words help explain this complex group that was way ahead of their time. Then again, perhaps I don't need words. I could just use their debut album. It's scary how fresh this album sounds. Jim's voice was never quite as passionate and as vivifying as this, the sound is incredibly sharp and tight like a wound up toy, and the immense artistic energy this then young group had at the time just seeps out of the speakers. This record is a captivating and haunting masterpiece. "Light My Fire" shows the sheer power the keyboard had and Krieger's song writing skills, "The Crystal Ship" and the underrated "End Of The Night" shows the deep psychological side of the band, "Take It As It Comes" and ""Twentieth Century Fox" supply the hooks, and "The End" speaks for itself. The Doors would never quite be this good on an overall album again, but the mystique would never go. This work made the listener do what the opener said: Break on through to the other side with The Doors.
Key Tracks: Break On Through, Light My Fire, The End
1. Dark Side Of The Moon-Pink Floyd
There's nothing to say here that hasn't already been said trillions of times about this album. With that said, it's incredibly hard to truly dissect this album and cover every nook and cranny. I don't think you can. The reason why this album is a musical achievement is because it has no clear message. Anyone can come up with their own meaning from this. It has a bizarre effect on you. Even though about half of this work is oddball instrumental tracks, it all blends so well. It's spacey and laid back, yet dynamic and chaotic. The general thought behind this album is it talks about the main principles and properties of life: Death, time, money, thoughts, the afterlife, sex, drugs, and even simple oxygen intake. So because of the subject matter, you'd expect it to be much more complex and gargantuan. But that's the genius of it. The album is extremely simple and let's you, the specific listener, do whatever you want to it. Everyone, even those who don't enjoy rock, can feel something when experiencing this. If the meaning of life was the objective of this album, then Pink Floyd did some job. Creating an almost spiritual journey and letting the music take you where it wants. No guidelines, no set song structure or set tracks, no beginning or end, no order or normality, and no concrete reason as to why. Music is supposed to make you think and have an everlasting effect on you. As for me, I can't think of an album that has done that any better to me than this.
Key Tracks: Time, Money, Eclipse.