12:37 PM ET 06.06 |
My life practically revolves around sports over the summer. I swim every morning from 6:30-8:45 AM. This was the first NHL Finals I actually watched in a long time. The NBA Finals got off to a great start last night. Of course, it's the dog days of summer for baseball players as the daily grind continues. My Cardinals are leading the wild card race in the NL as we try to pursue the Cubs (who finally lost Wednesday, at last!) for first in the Central Division. Let's get right to the blog...
1. Hockeytown, USA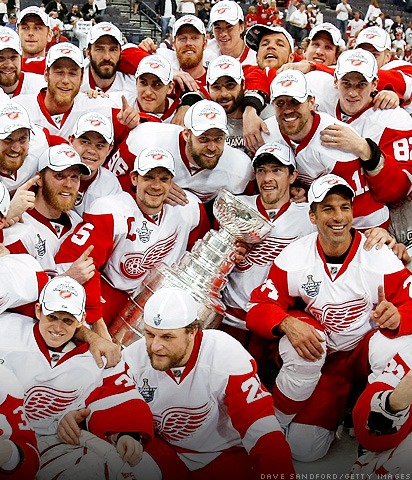 The Detroit Red Wings claimed their 4th Stanley cup since 1997 and their first in 6 years, defeating the Pittsburgh Penguins 3-2 in Game 6 and winning the series 4-2. Detroit Left Wing Henrik Zetterberg was awarded the Con Smythe trophy as the MVP of the Finals. A case obviously could've been made for Red Wing goaltender Chris Osgood, who gave the Detroit an early 2-0 lead in the series by shutting out the Pens in two straight games. However, Zetterberg played amazingly on both sides of the ice. On defense, he helped lock down on Pittsburgh star Sidney Crosby so he couldn't get much started, and on offense, his 27 points and 13 goals in the playoffs tied for the league lead. Zetterberg played a very important role on the penalty kill, while his assist that eventually led to Brian Rafalski's early goal in Game 6 set the tone that Detroit would be on top for that game. Later, his goal that just eeked past Penguin goaltender Marc-Andre Fleury proved to be the game winner, enough to get past Pittsburgh's desperate rally in the end. Marian Hossa's last second attempt to tip the puck in right on the goal line went straight parallel to the line, only inches away from tying the game and sending it into OT.
Though Zetterberg was the star of the series, credit also goes to his linemate, Center Pavel Datsyuk, who, with Zetterberg, helped Detroit throughout the season and the playoffs to success. They were key to Detroit's amazing success on the power play, because the Wing's puck movement was much quicker than Pitt's defense. It seemed that for Detroit's aging group of vets, this would be like a final hurrah, but with the new youth and talent with Datsyuk and Zetterberg, this team will be very fun to watch in coming years, even myself being a St. Louis Blues fan.
Detroit maintained control over Pittsburgh the entire game. They outshot the Pens' 30-22 overall and kept the pressure on the Pitt defense in every period. They kept possession of the puck while forcing turnovers, losing the puck only twice to the Pens' 14. They also won 35 of 58 face offs.
2. Piercin' the Lakers
The first game of the NBA Finals was last night. Going into the series, there was much hyped surrounding the revival of one of the greatest rivalries of all time. It was Bird vs. Magic, aka the Celtics vs. the Lakers.
How the heck did that matchup occur?
Maybe you remember the 1991 Playoffs, Game 5. After a hard hit, Larry Bird fell to the floor face first, and was taken to the locker room. Later in the game, Bird came back and led the Celtics to a win. Paul Pierce must've thought he was Larry Bird last night. After teammate Kendrick Perkins fell on to Pierce, Pierce said he heard "his knee pop". Throughout the time out, Pierce winced in pain and later was wheel chaired off the court into the locker room. With 5:22 left in the 3rd, Pierce came back out of the locker room, and after he showed coach Doc Rivers he was fine, checked into the game.
Pierce hit two straight threes to put Boston up 75-71 over the favored Lakers. The Celtics outscored the Lakers 52-37 in the second half to end up winning 98-88. Pierce score 15 of his 22 points in the 3rd, sparking the Celtics' dramatic comeback. His teammate Kevin Garnett also played a huge role in the game, scoring 24 points and grabbing 13 boards. Ray Allen added 19 and Rajon Rondo stepped up for 15 points. Overall, it was a great win for the Celtics, who now lead the Finals series 1-0 over LA. Kobe Bryant was disappointing by his standards, going 9 for 26, missing all his 3s, and scoring only 24 points. Kobe will have to carry the Lakers is he wants to win a championship without Shaq and be mentioned with the greats.
3. Triple Brown
I have never been a big horse racing fan. Even when the biggest race in thoroughbred racing, the Kentucky Derby was on, I didn't watch it live. I also missed the Preakness Stakes. When I heard Big Brown had won yet again, I decided to watch the replay, and just hearing what the jockey has been saying about forcing Big Brown to go slower has been amazing. Brown was holding onto a close lead in the Preakness, and while the other horses were tiring to stay near him, he was just cruising. A nudge by his rider, Kent Desormeaux, and Brown shot off and left everyone in the dust.
Comparing Brown's Derby and Preakness time to the past Triple Crown winners, he has had the second fastest Derby time (to the legend horse Secretariat) and Preakness time (to a tie for first among Secretariat, Affirmed, and Seattle Slew). Big Brown, who is named for the shipping company UPS, has won each of the past races by a dominating average of 5 lengths.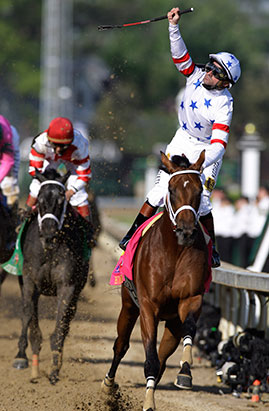 I predict the three year old colt to remain undefeated at Belmont. The Run for the Carnations is the longest race of the three legs of the Triple Crown, and that's why it's last. Brown's trainer, Rick Dutrow, has been really cocky in his talk, saying Brown could be ahead by 40 yards at the start, coming out of the #1 post with his bursting speed. It would be great for Brown to win. Brown's biggest threat is Japanese owned horse Casino Drive, who's undefeated, but also look for previous Belmont winner Rags to Riches. It would be the first Triple Crown winner in 30 years since Affirmed, and a feel good story after the euthanization of Eight Belles on the track of the Kentucky Derby. I will be watching the Belmont Stakes, thanks to this amazing horse, Big Brown, and possibly, Triple Brown.
Rags to Riches, on the far left, became the first filly to win the Belmont Stakes since 1905 last year, 2007. She will be racing this weekend too against Big Brown.
4. Another Fight in Baseball
We had yet another fight in baseball yesterday. It started this past Wednesday, when Red Sox OF Coco Crisp went into 2nd base very hard while stealing a base, hitting Tampa Bay Rays player Akinori Iwamura. It angered Rays manager Joe Maddon, and rightfully so, so he talked to Coco after the game. Coco said this about the incident:
"I don't know if he could hear what I was saying, but basically I was saying I did that on my own, don't punish anyone else on the team. Don't get Petey (Dustin Pedroia), don't get (Julio) Lugo, don't get AC (Alex Cora) sliding hard at second base. Get me with a pitch. If you want to retaliate with somebody, I'm the man."
He was pretty much asking to get drilled. On Thursday, the Rays filled the request. James Shields hit Crisp on the thigh leading off the 2nd. It wasn't that bad of a hit, yet Crisp exploded, charging the mound and attempting to get the pitcher, Shields.
Check out the fight HERE.
WHY DO BASEBALL PLAYERS FIGHT? Let me tell you guys this, right now: You don't know how to fight. You suck. You play baseball; you're not a hockey player, where you actually can fight. Your bench-clearing baseball fights are not only a waste of time but a large, clumsy, mash pit. And YOU SAID YOU WOULD GET HIT!! So what are you doing charging the mound? You asked for it, and they gave it to you. Take the pain, don't be a wuss, and go to first base. And when you tried to fight, you got you're a-s-s handed to you by the Rays.
James Shields, have you ever heard of a feint? You don't just go right in with a punch. That's why you totally missed. The biggest blow Coco Crisp made was a punch that just skimmed Shields' shoulder. If you're going to fight, at least make it entertaining. Maybe you should take a baseball bat out there, you can obviously hit a baseball going 90 mph. And Crisp, you just got taken out by Dioner Navarro. It is a joke. I'd rather watch Barney get in a cat fight with BJ. At least they have some sort of coordination and aim.
Look at the wimp running away from the middle of the fight that he started.
In the end, Crisp, Gomes, and Shields were ejected. Jon Lester hit two of the Rays' key players, Carl Crawford and Akinori Iwamura. The next time the two teams play, Joe Maddon should call for Manny Ramirez, David Ortiz, Kevin Youkilis, and Jason Varitek all to be hit.
5. Nadal Goes for 4th French Open Win
This isn't even Bigalke's blog, but for some reason, I'm talking about tennis. I really have no clue why I chose it as one of my topics this year, but Nadal has won the French open 3 straight times and if he wins this time, he will be only the first player since Bjorn Borg in 1981 to win 4 straight.
Nadal defeated 3 seed Novak Djokovic 6-4 6-2, 7-6 (3). Nadal, who has been dominant thusfar in the Open, nearly lost a match to Djokovic, but protected his #2 world ranking form the #3 Serb. On the clay that he is dominant on, Nadal made Djokovic move around and never get comfortable. Winning the first two sets, Djokovic came back in the 3rd set and nearly defeated Nadal, sending the set to a tiebreaker. However, Nadal started strong leading 6-0 and never looked back. He made some huge serves and made an improbable hit for a point on a drop shot by Djokovic that was almost certainly a point. It was so amazing even Djokovic politely clapped.
Nadal will face either unseeded Gale Monfils or current #1 Roger Federer, who have yet to play their semifinal matchup. Nadal is so good on the clay here though I don't think it matters who wins. Nadal will win the French Open again. Federer has motivation to win too though, because the French Open is the only Grand Slam event he hasn't won.