04:18 PM ET 06.06 |
You ask yourself, who is the Super Squirrel? What the hell is a Super Squirrel? Why the hell would someone name themself Super Squirrel? But you aren't prepared for the devastation that awaits you in those answers, for the truth is, the Super Squirrel is a legend in his own mind, and only his own mind, and could probably be considered mentally insane...yet, the Super Squirrel knows his sports...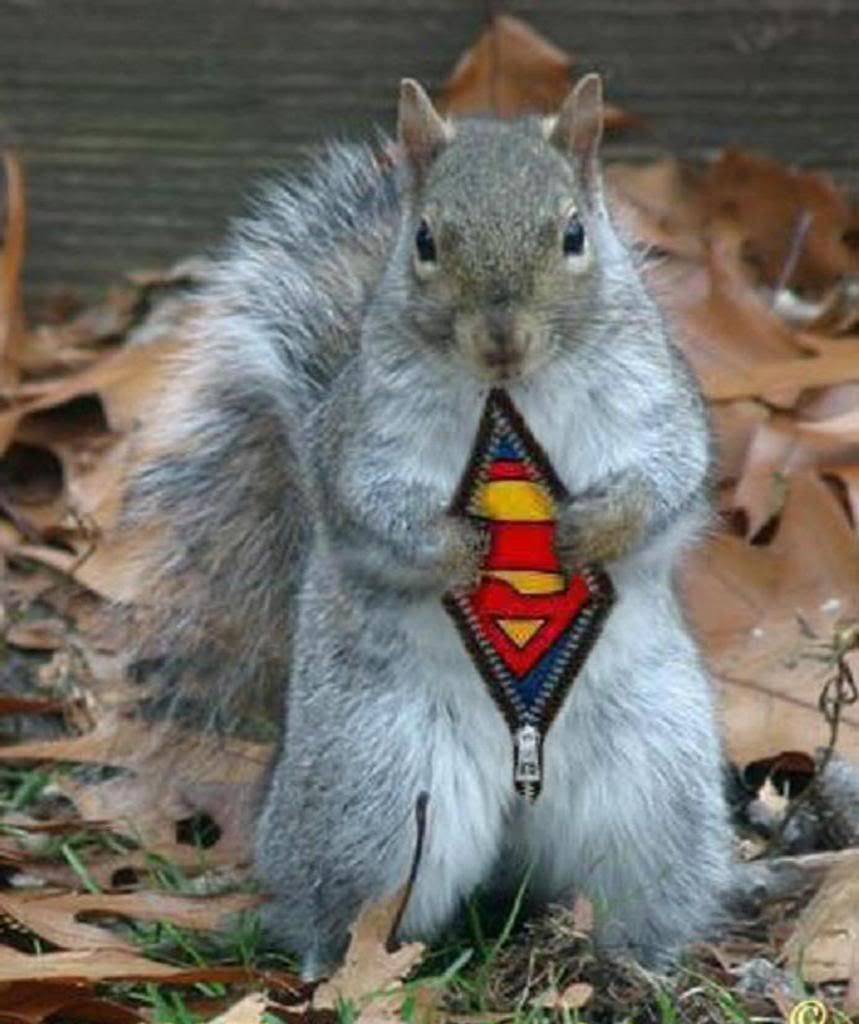 Favorite Team: Minnesota Golden Gophers


The glory. The passion. The 1-11 football seasons. (Ugh....) The Gophers are my favorite team, mostly due to the fact that we win completely random sports and we have one of the oldest basketball arenas in the country. When the Barn is rockin', you've got no shot...(Unless of course you are Wisconsin or Michigan State...) The trials and hardships of being a Gopher fan are what make being a Gopher fan fun...You never know what the hell to expect...
Honorable Mention: Minnesota Wild, St. Paul Saints, Minnesota Twins, Pittsburgh Penguins

Favorite Athlete: Roger Federer




Federer exhibits dominance in every aspect of the game...(except five-set clay court matches against Rafa Nadal) He's my favorite athlete because he's just so damn good at tennis, and it;s incredibly fun to watch Federer dominate the competition. Plus, he's Swiss, which gives him an automatic advantage in my book....

Honorable Mention: Justin Morneau, Evgeni Malkin, Gianluigi Buffon

Favorite Movie: Airplane!




I love comedies, and this is one of the most classic comedies in cinema history. Every time I watch this movie, I find something new that makes it funnier than the last time that I saw it...

Honorable Mention: Spaceballs, Young Frankenstein, Robin Hood Men in Tights (Hey, I like Mel Brooks movies...) Snakes on a Plane, Zoolander

Favorite Music Artists: Foo Fighters, The Rolling Stones




Whoa....two dramatically different styles here...the modern semi-heavy rock style of the Foo Fighters and The Stones...To be honest, I just got turned on to the Stones fairly recently, when I found a Hot Rocks CD in my closet, and put it in and liked what I heard...The Foo Fighters have always been one of my favorites, but I absolutely hate their music videos...just way too many Dave Grohls...They're freaking everywhere....

Honorable Mention: CCR, The Beatles, Lynyrd Skynyrd, Alice In Chains
Favorite TV Show: LOST


What can I say about LOST? Other than that the show is freaking amazing, the plot twists just keep you coming back for more, and they have some of the best characters in all of television, I don't think I can find anything else to say...

Honorable Mention: Scrubs, 24, How I Met Your Mother, Futurama
Favorite Video Game: NCAA Football 08
Hey...I like sports video games, and NCAA Football 08 is very fun...also, it's the newest in the series and has very good graphics...
Honorable Mention: Call of Duty (****, so I don't like it that much...), 007 Nightfire, NFL Blitz 98
Favorite Sport to Play: Tennis
This was a very close race in this category, considering I play lik 15 different sports, but tennis became my favorite after playing on my high school's JV squad this spring. It's something that I can actually beat people at, so it's fun to play...
Honorable Mention: Basketball, Soccer, Baseball, Golf, Hockey
Favorite Month: March
It's my brithday month, and also, it's when all the **** snow melts and I can go out and play the sports mentioned above....
Honorable Mention: June, August
Favorite Sporting Event: U.S. Pond Hockey Championships
Oh God...what to say about this...Everything from the "celebrity" division to the trophy (A giant gold shovel), this event completely encompasses the hockey culture of the northern United States, and is just incredibly funny...
Honorable Mention: Little League World Series, College World Series, Minnesota State High School Hockey Tournament
Favorite Blog on FanNation: Daily Sports Specials
By far the most unique styles of blogging on FanNation, Daily Sports Specials has it all, and is written by the best bloggers on FanNation
Honorable Mention: It's 888 Miles to Chicago, Josh and Dan's Friday Debates, Dan TM's blog
Favorite Blog on the Internet: None
I don't read Internet blogs....
Music Portion-Top 25 Songs (And yes, this is gonna be way different than my "Sounds"
25. Indiana Jones-John Williams
24. Don't Stop Believin-Journey
23. Hell's Bell's-AC/DC
22. Johnny B. Goode-Chuck Berry
21. Life is a Highway-Tom Cochrane
20. Pictures of You-The Last Goodnight
19. Have You Ever Seen The Rain-CCR
18. Man In The Box-Alice In Chains
17. 100 Years-Five For Fighting
16. Hard To Handle-The Black Crowes
15. Takin' It To The Streets-The Doobie Brothers
14. La Grange-ZZ Top
13. Superman-Five For Fighting
12. Hemmorhage (In My Hands)-Fuel
11. My Hero-Foo Fighters
10. Simple Man-Lynyrd Skynyrd
9. 9 Crimes-Damien Rice
8. Be Yourself-Audioslave
7. Enter Sandman-Metallica
6. Sympathy For The Devil-The Rolling Stones
5. Baba O'Riley-The Who
4. See The World-Gomez
3. Hallelujah-Leonard Cohen (Rufus Wainwright Cover)
2. Learn To Fly-Foo Fighters
1. Imagine-John Lennon