05:58 PM ET 06.12 |
Well, it has been a few weeks since the last edition of BS7, now that I'm home and back into the swing of things I'm working on finding more time to get everything together. That said we are back for this week at least, and better than ever. Enough of all this talk, let's just get to it.
#1- RB Unemployment Line
Thanks to a large amount of teams in the NFL leaning towards the two Running Back system added with an overflow of talent at the position the number of Running Backs waiting for a phone call is growing by the minute. You have the questionable character guys in Travis Henry and Cedric Benson, or the injury prone Shaun Alexander and Kevin Jones. Even the reliable backups like Ron Dayne and Mike Anderson are sitting at home waiting for the phone to ring.
It would seem that paying top dollar for a Running Back anymore is completely useless. After all guys like Selvin Young and Darius Walker were undrafted rookies a year ago. Young racking up 729 yards and averaging 5.2 yards per carry, Walker only put up 264 yards in limited time but still showed some promise with his 4.6 yards per carry. Meanwhile former first round picks Alexander had 716 yards (13 less yards than Young on 67 MORE carries) putting up only 3.5 yards per carry, and Benson put up 674 yards with only 3.4 yards per carry.
The biggest issue here is that guys like Alexander want to cash in as Free Agents, as I see it there are maybe and I mean MAYBE three Running Backs out there that deserve to cash in. Outside of Tomlinson, Peterson, and the jury is out if Larry Johnson can return to form, I really don't think any RB in the NFL is irreplaceable. Time will tell if these guys find new homes, but until they can give a discount on their asking prices and realize that they really are nothing too special I wouldn't hold your breath.
#2- Simpson, Dickerson, Sanders, Davis, Lewis, YOUNG????
While it is no secret that I am a Broncos fan. I will support my team until the bitter end (and the past few seasons it has been QUITE bitter). But this week when I heard Selvin Young predict a 2,000 yard season in 2008 all I could really do is laugh. Here is a guy that doesn't even have 1,000 yards in his CAREER! Now he wants to say that he will enter the elite company of the 2,000 yard rushers?
If any second year player should be calling for a 2,000 yard season it should be Adrian Peterson. I mean Peterson put up 1,341 yards with only 6 games all year that he saw 20+ carries. Add to that the Vikings passing game looks to be shaky at best. The only issue with AP is that he shares time with Taylor and he seems to ALWAYS have something bothering him.
Back to Young, the word around Denver is that he did bulk up a bit on the offseason which should help. But by help I would expect no more than about 1,200 yards from Young this season. I don't know what it is about the Running Backs from Texas, they just don't seem to have a concept of reality. Either way Selvin, good on you for setting your goals high, just don't be devastated when it doesn't happen.
#3- 400?
Anytime that you get to the middle of June and someone is still hitting over .400 you HAVE to start to wonder if this guy can keep it up. In the case of Chipper Jones there are really two questions. Of course you wonder if he can keep this pace, but you also wonder if he can stay in the lineup the rest of the season.
If you are wondering how much of a stretch this would be, realize that not only is Chipper hitting WELL above .400 right now with his .420 average, but he has pretty much ALWAYS been a solid average guy. From the middle of June through the end of the season last year Chipper hit .354. Asking him to basically hit .380 this year may be a lot to ask, but it isn't exactly impossible.
Truth is that if I were to have to bet one way or another I wouldn't exactly put my life savings on him keeping this pace. This guy has hit over .300 nine times in his career, and over .320 four times, but .400 is a different ballgame all together. The fact that he has changed his approach from the right side and worked to become more of an average guy than a slugger from that side will help. Time will tell if this can become a reality, and while we all may keep an eye on the box scores for now I'm not getting too excited just yet. If he is over .400 in August then we can talk.
#4- This is NOT the old Pistons and Celtics
Every year sports fans cheer for teams with two things in mind, number one is "I want MY team to win" and number two is "I hope these guys pull off an upset." It is almost like an unwritten law of sports. Most everyone across the country wanted to see the Giants take the Pats down, everyone outside of the state of Oklahoma loved every trick play Boise State pulled out a few years ago. And we all secretly wanted George Mason to keep going once they hit the Final Four.
Which brings me to this season's NBA Finals. We have the number one seed playing the other number one seed. So who to cheer for? I mean both teams have won a TON of titles. On the one hand you have the Celtics who have Garnett, Allen and Peirce, all good guys that sort of "should" get a title at some point. But then I have to think about it this way, do we REALLY want another team from Boston winning a title? Really? So then what? Do I cheer for the Lakers here? The team who's best player wanted to play for the Bulls when the season started. And both teams sent away garbage to pick up top players in the game.
As I watched game two I actually hoped that there was some way to see both teams lose, but since that isn't an option I guess I'll just sit back and watch the games with no real vested interest in either team. Not to mention the opportunity for the networks to build this up as if there is a huge rivalry here. Sorry but just because you get Magic Johnson and Larry Bird to throw a jersey on (which at their age really was a bad idea) doesn't make this the rivalry that it was. Sorry guys, but I'm about sick of hearing how these two used to go at it back in the day. The chances of these two meeting up every year is pretty slim.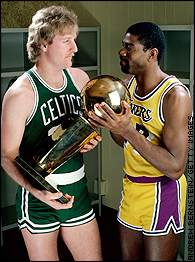 All I can hope for at this point is for a close series, maybe a few closer games, and less shots of Bird and Johnson.
#5- Can we get that pick back?
If you put ANY faith into Truth & Rumors (which I REALLY don't) you HAVE to be cracking up at this trade rumor between the Nuggets and the Pistons. Detroit is trying to give up about half of their team in an effort to land Carmelo Anthony. What next, try to make a move to get Wade as well. I guess they have decided that the guy could help their team, but why on Earth did they pass on him when they had the chance to get him FOR FREE!
Like I said I'm not putting all too much faith into something this is just on T&R, but it still makes me laugh. Truth is that I can't see the Pistons dumping Billups, Prince and Wallace for anyone. By the time this trade is finished these two franchises will have just swapped entire teams. I know the Pistons were let down by not making the Finals this year, but RELAX things will be alright.
#6- Thanks for getting us to the Playoffs, now pack your stuff.
The growing trend in the NBA is "Win it all or pack your stuff". This has become apparent in the cases of the Suns, Mavs, and Pistons. Three teams that have had a GREAT deal of success under their now former head coaches. I know that these teams may not have lived up to expectations this season, but to fire the guys? Come on.
I really can't see any of these three guys deserving of their fates. The Mavs and Suns traded for over the hill stars and expected to all of the sudden walk away with a title? And the Pistons, well you have been the class of the East for about the past five seasons, now you want to go another direction? The only direction I see from here MAY be down.
It would seem that this is a growing epidemic in all sports. Just blame the coach. Don't get me wrong, a coach has quite a bit to do with the success of a team. But it is getting to the point that coaches are more expendable than players, and that is NEVER good. I mean why listen to a hardnosed coach knowing that you will be around long after this guy is gone. Firing coaches at the drop of a dime really hurts the stability of a team. I really think that owners, and fans alike need to realize that you in fact CAN NOT WIN THEM ALL.
#7- A Tip of the Cap to Ken Griffey Jr.
With all of the scandal, steroids, and negative press and tainted records it is nice to see someone actually hit a milestone legitimately. This past week Ken Griffey Jr. hit number 600 in front of about 14,000 fans in a football stadium. Not exactly the fanfare that would be expected for such an accomplishment, but that should take NOTHING away from what this guy had done.
At one point Griffey was not only the best power hitter in the game, but arguably the best defensive player in the game as well. I remember watching the press conference as he joined the Reds honestly thinking that they would have just become an instant contender. Unfortunately injury after injury made that signing the beginning of the end. There is no telling what this guy could have accomplished had he stayed healthy, or just imagine if he had cheated with the others (not that we would ever want to see that) but Barry Bonds couldn't hold Griffey's jock.
While there is the fear that Griffey's career will be marked with "what if" let's take this time to recognize that this future Hall of Famer is once again in elite company.