12:44 PM ET 06.14 |
Slow Ride - Foghat
The first time I heard this song was when I was watching Dazed and Confused (the movie). The movie has a killer soundtrack, and don't expect this to be the only song I use...you'll see.
Behind Blue Eyes - The Who
This is a live version of the song, but it's still pretty solid. It's my opinion that Roger Daltrey is one of the top rock vocalists of all time, and this song gives a good showing of his (and The Who's) range.
Beelzeboss (The Final Showdown) - Tenacious D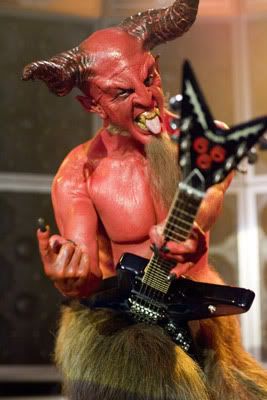 Yeah, it isn't Classic Rock and (technically) isn't even a real song, but it's still funny as heck. This scene is hilarious, and has great music anyways. The Devil is played by Dave Grohl, too...which is nice. (WARNING: Lots of swearing and sexual references).
The Trial - Pink Floyd
I'll be 100% honest, the song is good but it's the video (taken from the movie based on the album) that really freaks me out. I could try to explain it, but again...not worth it (this too has some NSFW stuff).
No More Mr Nice Guy - Alice Cooper
This is the other song from Dazed and Confused. The video I uploaded isn't of the best quality, but it is more realisitic than any other video I could find, and has some good footage.
White Room - Cream
Yeah, way back in Clapton's younger days, before he hit it solo. This is more than likely their best song, and no one knows what the hell it's about.