01:05 AM ET 06.18 |
Hello, and welcome to part two of my quest to rate the best and worst uniforms in the history of sports. I, your humble host, am here to lead you through the good, the bad, and the ugly of sports uniforms. My last blog was the best MLB uniforms ever. Today is the worst of baseball's uniforms. Here they are, as brought to you by me, the top 10 worst MLB uniforms of all-time. Here we are, we'll start with #10.
10. Houston Astros: 1980s-1993
Boy, what an ugly uniform. What could possible possess a team to put an orange rainbow on their jersey? The hats and logo was fine, but the uniform was loaded with about 10 shades of orange. It is not good.
9. Pittsburgh Pirates Alternate-Present
Let me ask you a question: what are the Pirates colors? Black and yellow, right? Where did they get this horrendous shade of red for their jersey? This is one best kept on the shelf.
8. Chicago Cubs-1942
The Cubs have a consistently good uniform. But for one year, they decided to switch things up a bit. And made powder blue uniforms. Why? Some teams can pull off powder blue, but these Cubs could not.
7. Chicago White Sox-1982-1990
Again, another team that had a great uniform for years, and then threw it all out the window. Changing a color scheme that had been around for 80 years is generally not smart, and for these odd shades of red, blue, and whatever, were not the way to go. I hated them.
6. San Diego Padres-Present Alternate
We now have the award for worst shade of a color in a uniform. San Diego is on a beach, so why not make a sand colored uniform? The uniform ended up looking like vomit, and not even the camoflauge alternates could save them.
5. Pittsburgh Pirates-1970s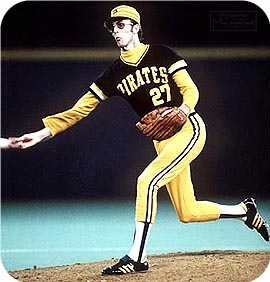 Okay, I don't like the black top, or the yellow pants, but this team wins the award for worst hat ever. It was strangely squared shaped, and it was a mix up of stripes and solids and too many strong colors. Not good.
4. San Diego Padres-1970s and 80s
This color scheme just doesn't make sense to me. Brown and yellow? UGGGHH. When you think of colors that go well together, brown and yellow are not what comes to mind. And in an era with many horrendous uniforms, the Padres were one of the worst.
3. 1916 Brooklyn Dodgers
Way back in 1916, the Dodgers decided to experiment with something new: a checkerboard pattern. WHY? They looked like walking tic-tac-toe boards, and the colors weren't even that bad. There is no excuse for checkerboards.
2. 1970s Cleveland Indians Alternates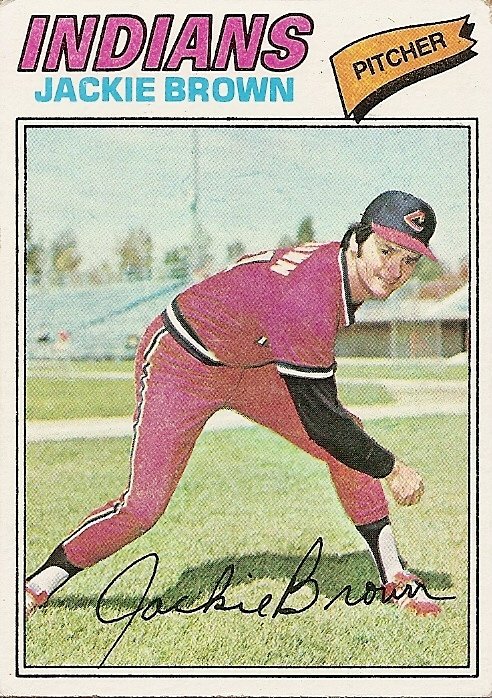 We have to give tribute to the "Blood Clots". All one color only really works for white and gray, not red. Red pants, red jerseys, red socks, too much red! The dubious nickname of the "Blood Clots" was not very flattering. A major disspointment from my favorite team.
And now, the worst MLB uniform of all-time. Drumroll please...................
1. 1976 Chicago White Sox-Shorts Alternate
First off, we'll cover the horrendous color scheme. They were very bland with plain lettering, and a giant blac collar over a white uniform was disastrous. And there "white sox" looked like something an old lady would wear. But to really consider the reason why these are the worst uniforms ever, one word: shorts. Yes, for one game, the White Sox wore shorts. And these were not baggy NBA shorts or short baggy old school shorts, they were more like short capris. I have no idea how anyone could ever think this was a good idea, but it was not a shock when they were scrapped after just one game.
Well there you go. Please, leave your favorites in the comments section, I'd like to see what you think.