03:53 AM ET 06.18 |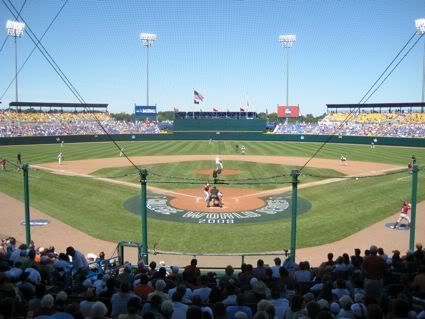 If I owned a calendar, I would've circled this past weekend, as I've always been curious about the College World Series, but have never really had a reason to go until now. We were there Friday-Monday, saw a lot of baseball, saw a little bit of downtown Omaha, and walked through a lot of parking lot. The biggest surprise for me was seeing all of the tailgating. I had no idea what to expect outside of Rosenblatt Stadium, so people outside, grilling and drinking coozied beverages made my job easier. The only school that really stood out (you may have already noticed in the episode) was LSU. There were pockets of fans from every school (maybe a combined 14 between Stanford and Fresno St.), locals, people who just like college baseball, but LSU had, by far, the most impressive contingent.
Anyway, the CWS is one of those events that everybody should hit at some point - it lasts around 10 days, you can tailgate, sit outside all day, and downtown Omaha is actually a pretty easy place to have a good time. They're building a new stadium downtown that's supposed to be done in around three years, so if you've been wanting to see Rosenblatt, now would be the time. Anyway, I snapped a few photos around the games and lots, let's get sarcastic: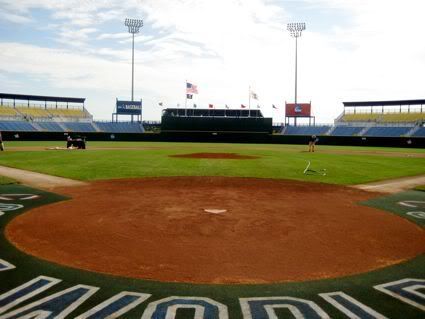 From the field. This was taken right after we made that little silent movie. The grounds crew rightfully looked at us like we were completely insane. Oh well.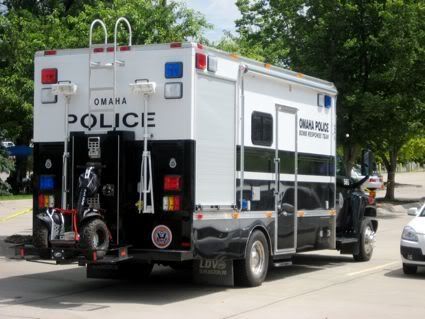 I suppose this is the bomb squad truck. Inside the stadium, we saw an officer occasionally walk by strapped with all sorts of guns and shields. I suspect Karl Ravich made some sort of Persons of Interest list. Just a guess.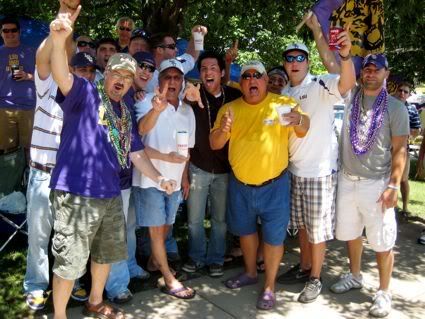 The guy to my left owns a famous restaurant in New Orleans and was featured on the Food Network. Did he feed us? Uh, yea...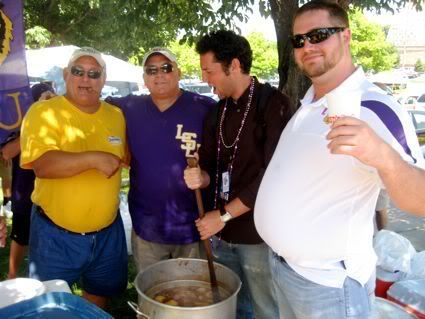 Me stirring a giant cauldron, while a Tiger fan shoots out his gut. Yea, I have no idea either.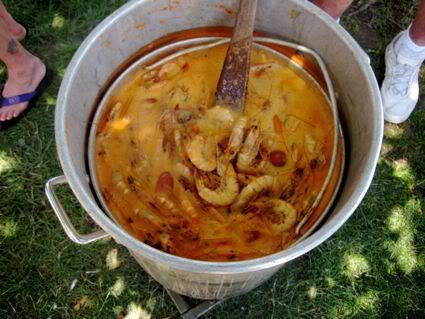 Close-up.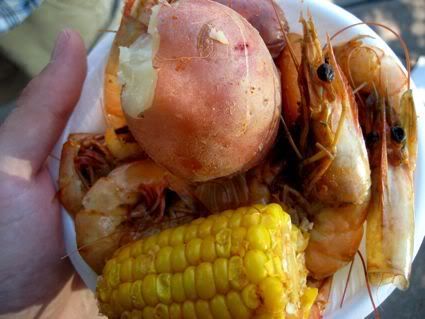 Finished product. I've peeled shrimp before, but this was my first time decapitating them, then peeling, then stripping down the feelers. I consider my status to be slightly below intermediate, but still respectable.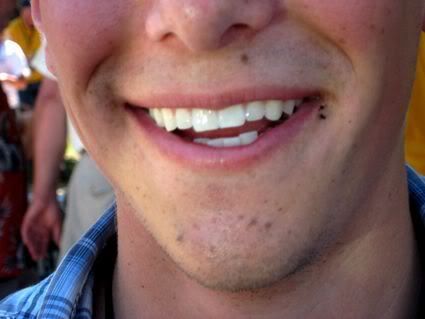 Only one of us got shrimp feces on the corner of our mouths, and it wasn't me. Good job, Dave.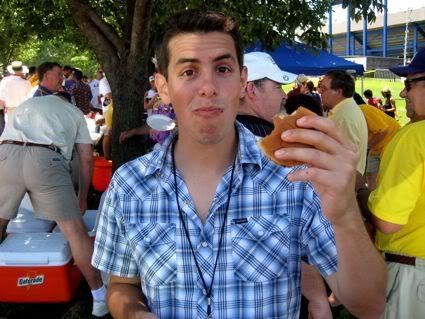 Speaking of which, Dave is my first camera guy to voluntarily eat a burger made from ground rodent meat. If I ever have a job that requires me to have an intern, I'd make them eat nutria burgers every day for my personal satisfaction. Gross and hilarious.

They have various activities set up around the grounds to entertain little kids...

...and bigger kids. You've gotta admit, whatever I lack in my vertical, I make up for in my Hornacek-esque form.

Camera Guy Dave looks quite realistic as a basketball player before some 10 yr old eliminates him from a game of knockout. We both embarassed the segment pretty thoroughly on this court.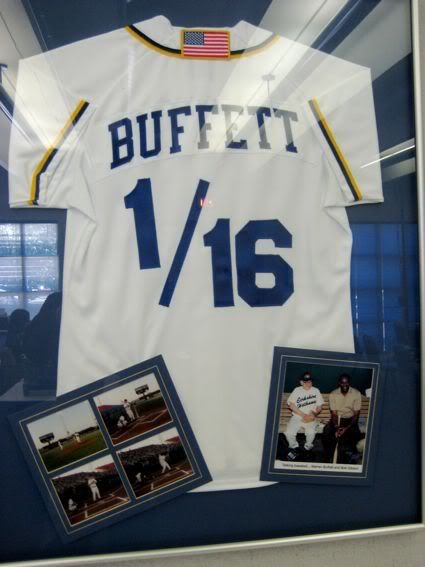 This was in the hall of fame room. Warren Buffett still lives in Nebraska, loves the Cornhuskers, and even got a novelty jersey for all of his troubles of making tens of billions of dollars. I have no idea why he's "1/16," my guess is that somebody important thought it'd be hilarious to make fun of the most powerful man in the state. Good job.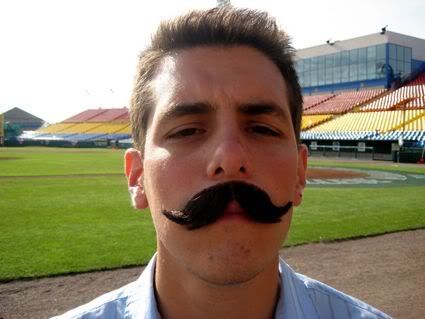 The 'stache was a pain. As you can see, Dave's beard isn't as full as mine (see Frozen Four ep), so he didn't have to deal with the eventual crusting of the glue that lasted all day. That said, any time you can wear a ridiculous turn-of-the-century mustache, you should.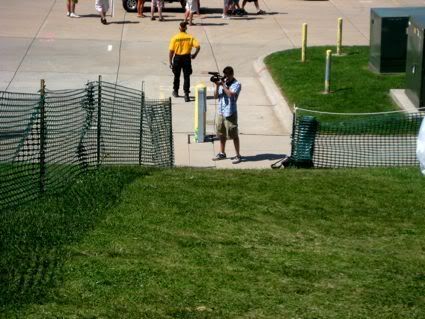 I ran down this hill for no reason on camera, but couldn't squeeze it into the episode. It was me, Charles Barkley, Pat Sajak, and most of the Cornhusker cheerleading team sprinting down this hill outside of the stadium for no good reason, but I couldn't bump the return of Cooler Scooting out. Sorry.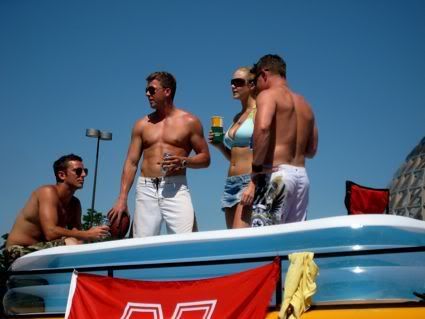 Partying on top of a bus. I'm told there are dudes in this shot.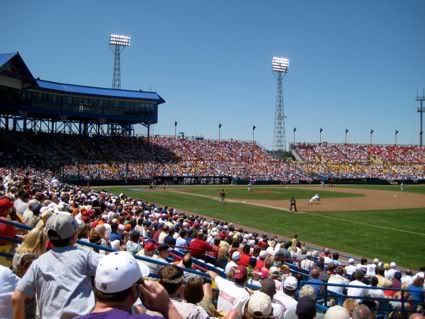 Our view. For one of the games, we sat with a bunch of Stanford fans doing the whole, "atta kid, atta kid" followed by some "whaddya say, whaddya say" grunts. Clearly, from this distance, the Cardinal players were touched by the support.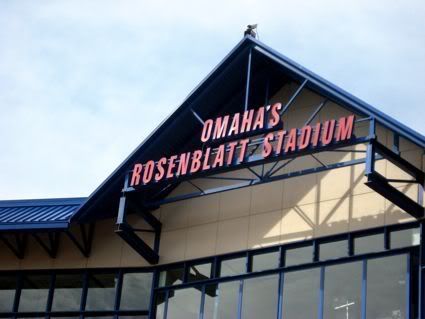 A good time. You can cook out, get burnt, and watch baseball. Also, an added bonus is all the "Ping!" sounds you could ever want. So there's that.
Back in a couple weeks...
--

Email:
Links:
Tour Guy Road Notes (permanent link)
The SI Tour Guy (archive of all videos, including from 2006 and the Pac-10)
SI College Football channel on Veoh
Windows Media Player 9 (for Mac)
Flip4Mac (to watch SI Video on a Mac)