10:30 AM ET 06.23 |

For those of you who haven't heard, comedian George Carlin passed away from heart failure on Sunday. He was 71 years old.
Carlin was known for his off-color humor, but was, more often than on, dead on with his satirical take on society. Rstowe and I would like to pay a little tribute to this funny man. And so we bring you...
7 things you can (sort of) never say on FN. These "are the ones that'll infect your soul, curve your spine, and keep the country from winning the war." The twist is, that these 7 things, under the right circumstances, are no problem. They only become the tools of the devil when they're typed in specific ways.
1.C0ck
This term has gone from being a feathered animal to a lewd cuss of the highest order. What once was a crowing bird is now a dirty word.


Except in Gamecocks
Or cocky
Or cocksure

But don't try to say **** spaniel...


Sorry Fluffy. Your breed is too foul for the Internet.
2. ****
Asshat, assmonkey, jackass, jerkass...all acceptable. Just don't try to say **** on its own. Is it just me, or is that ****-backwards?
3. Gay
This synonym for happy turns unforgivably vulgar once paired with certain parts of speech. Luckily for Randall Gay, proper names aren't included.


Funny thing- censorship encourages contractions:
You're gay
versus
You ****
(The second is "you are")
Hey...that's super. As long as I use shortened forms, I can insult anyone I want. Woo hoo!
4. Blow
Chapter 3 in the pronouns-are-evil series. Blow is no problem on its own. But when I involve me, it's a whole different story.
Blow
versus
****

Whoops. Now I have to go all the way up the keyboard to the number 0 so I can express myself.
Bl0w me. That's better.
This comes into play when you want to emphasize the impressiveness of a sports feat, as in "that defense bl0ws me away". Oh zero...what would we do without you?
5. Bltch
Remember our **** spaniel friend, Fluffy? She happens to be a ****. But I have to say bltch instead (that's an "L") because that term no longer only means female dog. What is it with animal words being co-opted for crass usage? Is this the legacy we've given our jungle friends?
!


Fortunately, there's an antidote...-ing cleans things up for us. So I can say bitching, just not ****. Any questions?
6. Hltler
Those who do not learn from history are doomed to repeat it. Not on FN, baby! There's no repeating this German leader's name without getting bleeped all the way to Berlin. Now I can appreciate how this person is offensive to many people, but censoring won't do anybody any good. And is there really a rash of people running around calling each other Hltler?
7. AnaI
You can analyze, you can be banal, or you can be analytical. But if you want to be anaI you'd better learn where that capital i is located. News flash: the word anaI is a legitimate term, particularly in psychology.


So what kind of crap is this? I can excrete all kinds of verbal waste but I can't drop a load with the word anaI in it? Seems like the censors are just dumping on us in this case. I'd better stop ranting. I'm getting flushed.
Of course, this list wouldn't be complete without a few of the things we can say.
-Dick Trickle is relieved to tell that his name in all of its various and insulting forms is apparently perfectly acceptable. So next time you want to be a dick and dick someone over, feel free. But for a laugh, trying pairing dick and in. See what happens.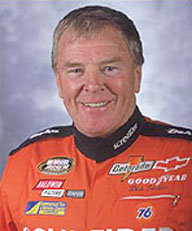 -Piss in all its forms is clean enough. I'm pissed. Don't piss me off. I guess I shouldn't be too surprised since urine is sterile. Would George be happy or sad to know that one of his original seven is no longer off limits?
-Suck...Always a classic. "You suck" is apparently not offensive at all.
-Hell. Hell is good to go. Along with its various accoutrements...Satan...devil...damned souls...all of that. No problem. Swear away.


By the way...hell is clearly where we're going after this particular blog...
In closing, if anyone is offended by this, we apologize. It is merely an apt tribute to Carlin. Have a great Monday!