11:56 PM ET 06.24 |
I don't know if it's my turn in the rotation, but the last one was done in 4 days and I don't remember doing on in a while. And I don't have much other things to do right now so I might as well do one now. Whatever. Here's 6 great rock vids
1. Free Me- Roger Daltrey
The music video is so cheesy and horrible that it's hilarious. It has "80's MTV" written all over it, but that's what makes it so memorable. It will give you a great laugh. Anyway, the song is great. A firework of a rocker with that thunderous beat and the blitzkrieg of horns that erupt out of nowhere (it reminds me of "Sledgehammer" which is another great thumper). I didn't know Daltrey did solo stuff until recently and his stuff is pretty good. I also don't know who plays guitar in this song, but he has a killer solo in the middle. This track sounds like something off "Quadrophenia". Without Daltrey's voice, this song is a by the numbers rocker. But Roger's year-long screams pack a punch here. Underrated foot-stomper.
2. Red Right Hand- Nick Cave & The Bad Seeds
One of the most disturbing songs I've ever heard on one of the most disturbing albums I've ever heard (Let Love In), I don't even know if you can consider it rock. But what else would you consider it? It's been used in countless movies like "Scream" (and strangely even "Dumb and Dumber"). But it's a freaky song, a song that sounds like a serial killer story. Cave's voice is so deep and crawly that it gets unnerving. This is the kind of song that gets under your skin because it does so little yet creates such a weird sound. I've been listening to it a lot lately, which tells me I've been thinking dark thoughts lately. The vid is a little shorter than the actual album version, but still. Very sinister stuff.
3. Jet City Woman- Queensryche
A great hard rock song that starts out with that simple little beat and then explodes. From the ambitious album "Empire", this is one of Queensryche's peaks right here. The huge chorus is like a battle cry and it goes a great job of switching between mellow rock ballad to cascading hard rock epic. A awesome song that shows this group's range very well.
4. Emotional Rescue- The Rolling Stones
This has always been my favorite Rolling Stones song. A lot of people don't like this song, but for some reason this is one of the only Rolling Stone songs to have longevity to me. Most of their songs wear off quickly for me. Anyway, this is classic Stones. Mick Jagger's classic rants always make me laugh. His line of dialogue in the end is gold. The way he says it is classic. And you gotta love the sax at the end. Again not as long as the album version.
5. Jet- Paul McCartney And The Wings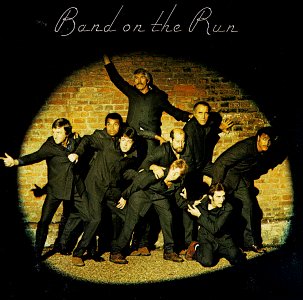 JET! Sir Paul's best solo song. Will always be one of my all time favorite songs. It's so damn good...
6. White Rabbit/Somebody To Love- Jefferson Airplane
2 songs in 1 video from this live performance. Unlike the first video, this one has "Summer Of Love" written all over it. I've been getting into Jefferson Airplane a lot lately and for good reason. One of the big bands of the underground drug movement (along with The Doors, The Jimi Hendrix Experience, The Byrds, The Grateful Dead, and others ), Jefferson Airplane was an influential group. Grace Slick is the best female vocalist in rock history IMO. Her voice is feminine yet it has that dark, haunting tone to it. Her voice in this video is powerful. White Rabbit is a surreal, haunting song (the screams of "FEED YOUR HEAD!" at the end are bone-chilling) and Somebody To Love has a bleak mood to it yet is still upbeat. Classic stuff.
Coletrain is finished.