01:45 PM ET 06.27 |
Atlanta Hawks:
Well, to start this off, I have to say, the Atlanta Hawks do consist of a young and talented core of players. You have Marvin Williams, Josh Smith, Joe Johnson, and Al Horford. But unfortunately for the Hawks, some key players are going to test the free agent market, including Josh Childress and Josh Smith. For the Hawks to be a successful team, they need to find a way to resign Josh Smith, their most versitale player. Coach Mike Woodson has a goal entering next season to make the playoffs, and that is what they are expected to do, ecspecially after almost upsetting the NBA champion Boston Celtics.
Don't Be Surprised If.....:
Josh Smith elects to leave and join a veteran team.
With all their players in tact, the Hawks go ahead and win a playoff series in the East.
Zaza Pachulia gets suspended a few games for starting a fight with Kevin Garnett.
Acie Law and Marvin Williams finally show the fans what their made of and post career best numbers.
Salim Stoudamire becomes the next Eddie House during the postseason.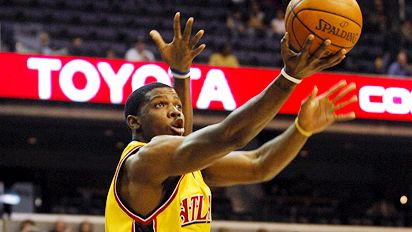 Boston Celtics:
The Celtics are coming into this season as champions, and they need to act like it in free agency. Just because they were the best squad last season doesn't mean other teams won't improve. Unlike the Hawks though, the Celtics had some picks in the draft. They selected J. R. Giddens, a international prospect in Semih Erden, and then they traded for Bill Walker, who was projected as a lottery pick before his knee injury a couple of years back. But what I think the No. 1 priority this offseason is resigning James Posey, who produced great play during their postseason run. If I were them, I make a run at Tony Allen, P.J. Brown, and Eddie House if I were them as well. Right now, they aren't my favorites to repeat, yet.....
Don't Be Surprised If.....:
Rajon Rondo puts up 15 and 8 numbers.
Brian Scalabrine and Scott Pollard play a combined 20 games this season.
Gabe Pruitt and Semih Erden become backups in the next 5 years.
Either Glen Davis, Kendrick Perkins, or Leon Powe won't play any significant minutes.
Doc Rivers is awarded the Coach of the Year, although the Celtics lose in the Finals.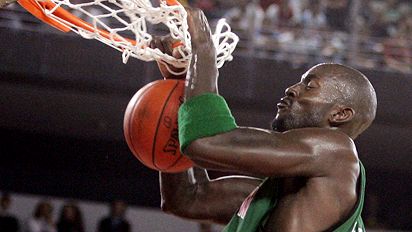 Charlotte Bobcats:
This is a franchise that hasn't made it to the postseason in their franchise's existance. They have a nice, young nucleous with Gerald Wallace, Jason Richardson, Emeka Okafor, and Raymond Felton. The main reason they've struggled is that their bench players have been injured the past couple of years. I've allways been a fan of the 'Cats, but they've never had a true leader. Now with coach Larry Brown on the bench, and rookies DJ Augustin and Kyle Weaver, who Larry Brown really liked entering the draft. Their only real players they need to keep in Charlotte are Earl Boykins and Emeka Okafor, who the Bobcats are having a difficult time deciding if he is a center or a power forward. Either way, he has loads of talent.
Don't Be Surprised If.....:
The Bobcats ship Raymond Felton, Nazr Mohammed, Adam Morrison, and their 1st round selection next season to Denver for Linas Kleiza and Marcus Camby (or something like that).
The Bobcats make the playoffs for the first time in franchise history.
The 'Cats go after Andris Biedrins or Nenad Krstic in free agency.
Alexis Ajinca becomes a total bust in the NBA.
The passing of Brook Lopez will come back to haunt the Bobcats.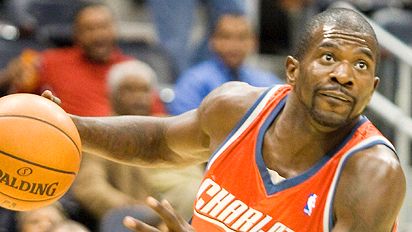 Chicago Bulls:
Never has there been a team with so much talent at the guard positions as the Bulls right now. How can you have Kirk Hinrich, Derrick Rose, Chris Duhon, Thabo Sefolosha, Ben Gordon, and Larry Hughes all on the same roster? They have the potential to be a good team, but they just need one more thing.....a star that can lead them to the playoffs. And if you want to win in the playoffs, you need to get a post pressence that you can throw teh ball to and just watch him take over. Right now, that would be Drew Gooden. That's not the leader the Bulls are looking for. With a new coach in Vinny Del Negro, the Bulls might not go far this year, but look out for them in the future with Derrick Rose at the point.
Don't Be Surprised If.....:
Kirk Hinrich is dealt, along with Ben Gordon or Thabo Sefalosha, possibly New York for Zach Randolph or Eddy Curry or the Los Angeles Clippers for Elton Brand.
The Bulls set an NBA record for the most guards on an NBA roster.
The Bulls go after Al Harrington or Rasheed Wallace.
Derrick Rose DOESN'T win ROY, with Greg Oden and Michael Beasley in the running.
Omer Asik is the better version of Andris Biedrins in the future.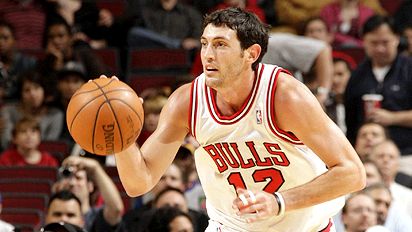 Cleveland Cavaliers:
The Cavs need to start building their team for the present, because there is no way LeBron James will still play in Ohio past 2010, where he becomes a free agent. One problem the Cavaliers have is that they have so many bad contracts given to players that don't contribute that much. They're planning to give Damon Jones, Sasha Pavlovic, Anderson Varejao, Joe Smith, Eric Snow, Wally Szczerbiak, and Ben Wallace a combined about of approximately $53 million next season. That's just crazy. Those are bench players right there too. They need to risk all their future this season and go out and have a "Boston Celtics offseason" to do anything now or later, but that is just my opinion.
Don't Be Surprised If.....:
The Cavs, even though they are quiet, will come out and make a huge blockbuster trade.
LeBron James can't carry the Cavs on his shoulders every season, which results in a first round loss for Cleveland, although they might not even make the postseason.
Mike Brown is fired after a below .500 start to the season.
Daniel Gibson becomes a immideate double-digit scorer for another team in the NBA.
Anderson Varejao and Ben Wallace both won't get a haircut for the rest of their life.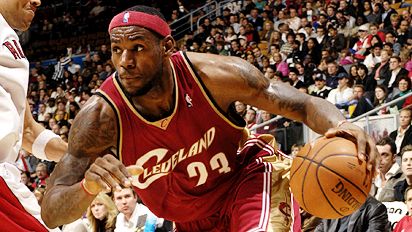 More to come on "What To Expect This Offseason".....