06:10 PM ET 07.02 |
Many of my fellow SIFS members may not realize this, but this is SIFS's 400th blog, so I'll try to make it a good one.
NBA:
As man of you have heard, Baron Davis has surprised the world and went up and agreed to a contract with the Clippers. There is some speculation that a duo with Baron Davis and Elton Brand, although he was offered a contract by the Golden State Warriors, could make the Los Angeles Clippers become serious playoff contenders. Of course, you won't see many celebrities favoring to visit Clippers games over Lakers games, but at least the Clippers are now on the same planet as the Lakers. Talk about aliens (Chris Kamen)!
Anyway, this signing would represent the biggest free-agent signing in LA Clippers history. Baron Davis would immidiately become the best point guard the team has ever had, despite the injuries. If you look at the overall talent on this team, along with it's depth, they are a smart selection as the team with the biggest record differential than last season. The Clippers would need to receive some experience playing with each other before we even discuss them being a favorite in the West alongside the Lakers, Hornets, Jazz, or Suns. In addition, the Clippers won't have enough cap space to keep Corey Maggette on the roster.
And I really hate people who say that Baron Davis only accepted the offer because he wants to play on a big market team. That's the only reason LeBron James is discussing being aquired by the Knicks or Nets. Baron Davis went to the Clippers because he believes he has a better chance to succeed on that team. The Warriors didn't have a star big man, and that really frustrated him.
Of course, now the Warriors are in desperate need of a point becuase they don't have single true point guard on that team (other than maybe C.J. Watson). In my opinion, they should try to make a run at Raymond Felton, but that's just me. But nothing compares to Baron Davis, who is one of only three point guards who averaged 20 points and 8 assists over the past three seasons.
As I mentioned above, Corey Maggette now can't stay put in Los Angeles, so now many teams are interested in him. The Celtics already offered Corey Maggette a contract offer, and now it seems that the Spurs are another possible destination for Maggette. There have been rumors that Orlando has serious interest for Maggette, along with the Philadelphia 76ers, but it doesn't seem like Orlando would be willing to give up Hedo Turkoglu for him. But remember, there is still plenty more to come in free agency.
Official Transactions That Have Been Finalized:
Center DeSagana Diop to return to the Dallas Mavericks after being traded to New Jersey at the trade deadline.
The Sacramento Kings hold on the point guard Beno Udrih after competition from other clubs.
Point guard Jose Calderon decides to stay with his team, the Toronto Raptors.
The Portland Trailblazers come to agreements with Spanish league star guard Rudy Fernandez.
The Washington Wizards hold on to star power forward Antwan Jamison.
NFL:
We all saw this coming, and we know this was going to happen. Brett Favre still wants to play for the Packers organization, as rumored. I was just asking myself, "Why doesn't Brett Favre just retire?" Well, it's simple. He hasn't made up his minde. He is still young enough to play the game of football productively. He's healthy, and you know what, he can still possibly be a Top 10 quarterback in the NFL.
I don't fully believe this though. Favre contacted coach Mike McCarthy by a text message. Come on! At least meet face-to-face to discuss this topic. And if I was Mike McCarthy and the Packers organization, I would be very cautios about deciding to bring back Brett Favre. They have already prepared Aaron Rodgers to play quarterback for the team to the point where the coaches and front office has created a totally different offensive scheme.
Another situation that could possibly evolve would be that the Packers would somehow determine to release quarterback Brett Favre so he could persue another quarterback job in the NFL. Somehow, I believe that he won't attend Packers training camp, just because I believe the Packers will tell him that he won't be a starter on team.
Man, I feel extremely bad for Aaron Rodgers. I bet the poor kid feels really frustrated all the time with all the "Brett Favre coming out of retirement" rumors. Overall, I'm sick of the Brett Favre rumors all the time. He's probably aging by the minute.
Another issue I want to discuss is the rookie salary cap. I think commissioner Roger Goodell has been doing the right think in seeing that making a rookie salary cap would be a good idea for the outlook of the league. Without a rookie salary cap, NFL draft picks to receive massive contracts.
For example, why would Matt Ryan, the #3 selection in the 2008 NFL Draft, recieve $34.75 million guarenteed when he hasn't even stepped a foot on the field yet. That's means if Matt Ryan doesn't play a single snap this season, he would recieve $34.75 million. That's just ridiculous.
The concern for Roger Goodell is that veterans who have been in the league for 10 or 12 years and proven themselves have not seen the money that they deserve. I hope something changes sooner or later.
MLB:
After many different reasonings, Barry Bond's 756th home run ball was accepted into the Baseball Hall of Fame, located in Cooperstown, N.Y., along with the asterisk labeled on the surface of the baseball. Bonds broke Hank Aaron's career homer record on Aug. 7, 2007. The ball's owner, Marc Ecko, handed the ball over today, which I think was a smart thing to do. This is of course great history for the game of baseball.
Remember when Boston Red Sox first baseman Doug Mientkiewicz caught the last out of the 2004 World Series, and after he kep the ball, there was so much commotion over weather Mientkiewicz would send the ball to the Hall of Fame.
Ecko paid $752,467 for the prize in an online auction in September, approximately one month after the home run. Soon after Ecko bought the ball, he asked fans to vote in an Internet poll on what he should do with the ball, which I believe a member here on FanNation shared the link with us. The option with the most votes was to brand the ball with an asterick to reflect Barry's steroid allegations.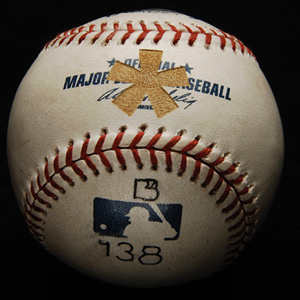 Barry Bonds called Ecko an idiot and later mentioned that he would boycott the HOF if it displayed the ball with an asterisk. The Baseball HOF and Ecko have gone back-and-forth ever since, and have finally decided that they would accept it. But the funny thing is, Bonds acctually donated the batting helmets he wore during the span where he hit his 755th and 756th home runs. Eventually, Bonds finished with 762 home runs and has never played the game since.
Another contraversial decision has been Alex Rodriguez passing on the Home Run Derby. A-Rod is the leading vote-getter in the AL, plus, he is the leading candidate to start at third base in his home ballpark. But for some reason, A-Rod has passed up the Home Run Derby. And like many other MLB sluggers, they are concered that the Home Run Derby will somehow disrupt their swing.
He has said clearly that his responsibilty is for the Yankee organization, but at this point, the state of the game has shown that there are less fans then before. This would be a great way to increase attendance and fan bases. And although A-Rod is known as the best slugger in the league, every time he has attended the Home Run Derby (3 times), he has never finished higher than 6th, which is quite pathetic. Manager Joe Girardi isn't holding back A-Rod either. And some say that when THE best sluggers in this league acctually improve their swing when they participate in the Derby.
Thanks for reading!