01:36 PM ET 07.08 |
Ah yes, Eugene, OR (aka the Eug, aka Tracktown USA). The trials, after a short 28 year absence, returned to Eugene, making it near-impossible for me to pass up. Hayward Field, which is still probably the most famous track stadium in the country, got a complete makeover and was perfect for the event. I got into Eugene on the 2nd, so I missed the first few days, but enough happened while I was there to make it a really good time, especially when the sun went down.
The setup was pretty basic - stadium with two surrounding streets covered with schwag tents and food concessions. People pretty much milled about eating, buying, letting their kids run around, and generally having a good time. Unfortunately for me, I'm used to wandering around tailgates and hanging out with stationary people, which is far easier than interrupting people trying to get somewhere to talk to me for three minutes. Oh well, can't complain - I was at the Olympic Trials. Anyway, I took some shots and will most likely put some sort of snarky comment beneath them, like I've done 19 times in a row with these things. Enjoy: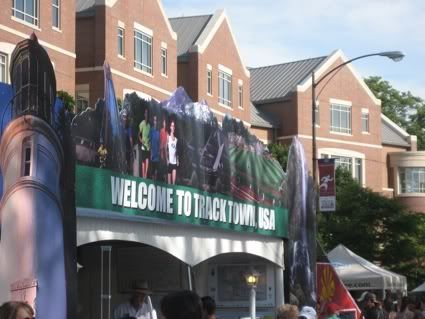 Just in case anyone forgot, Eugene is Tracktown USA. If you still need help, the fine people running the tents had plenty of shirts, hats, and other items to slam the message home. Woo!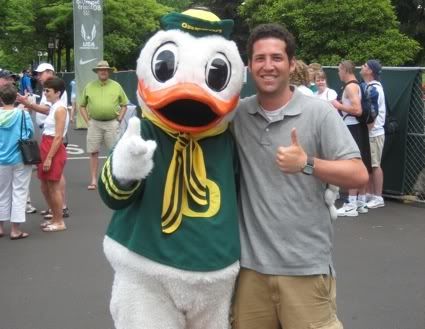 Me with Donald. Luckily, I didn't try to jump him like the Houston Cougar tried to do. We all know how that turned out.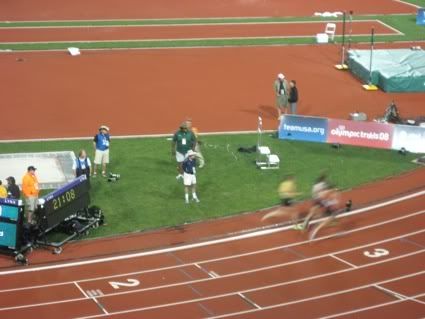 Not sure what event this was, but they seemed to pretty fast. Also impressed: the guy with the cowboy hat.
Another shot. This is a good time to note that Camera Guy Kevin accurately guessed one of the split times and wouldn't stop talking about it for the rest of the trip. This is what happens when you spend extended periods of time with a cocky track junkie who sometimes shoots short form comedic sports video episodes for major online sports sites. We all know "that guy."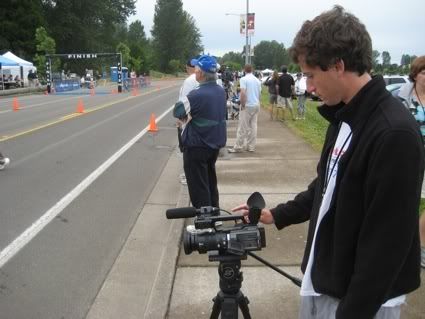 "That Guy" shooting racewalking at 7 AM. When you put racewalking and the crack of dawn together, you really do get one of the worst conceivable mornings ever. Ever.
Quite possibly the worst way to pump up athletes is to have an amateur drumming triad play little bursts when the racers (walkers?) pass. The one on the far left was particularly awful, to be sure.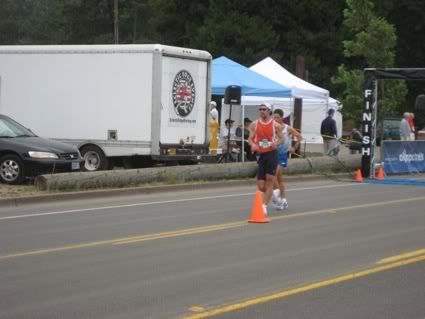 The guy in orange was my favorite, if for no other reason than he was particularly swishy and over-the-top in his style. Just ridiculous.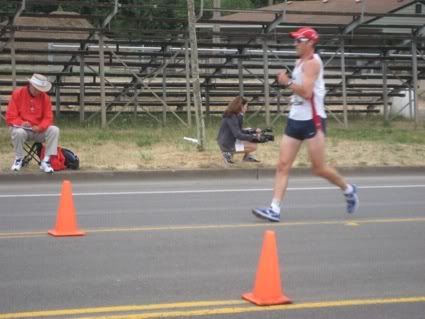 This cowboy hat guy doesn't seem as interested as the last one. Shocker.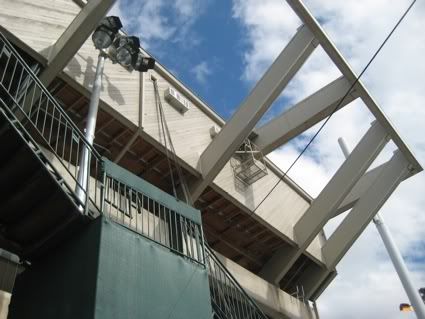 Another nice day outside of Hayward. These terrible temporary staircases were quite possibly made of triscuits. I'm still surprised that media food + sportswriters didn't end in disaster on these things.
The infield, which was home of all the field events, save for the hammer throw, which was relegated to an outside field. Needless to say, the HTers weren't thrilled.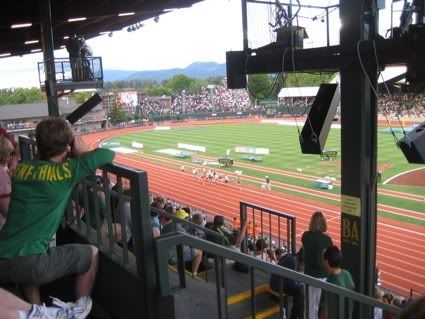 I will admit, the crowd at the Trials was particularly tuned in - synchronized clapping, everybody knew when to cheer and when to be quiet - you could say the exact of opposite of a USC football crowd.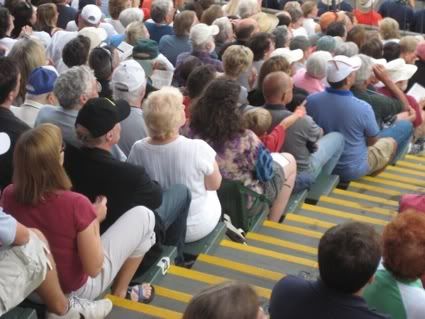 One of those in the crowd (to nobody's surprise) - Uncle Phil (black hat). Yep, Phil Knight sat with the regular folk. I'd make a joke here, but I'm still angling for the whole "Nike presents The SI Tour Guy" thing.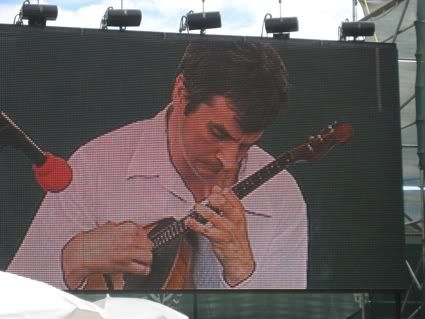 There were daily performers outside of the stadium. This shot is pure intensity.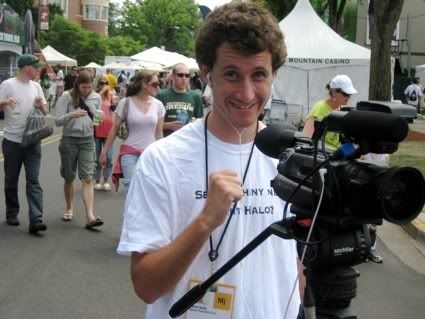 This shot is not.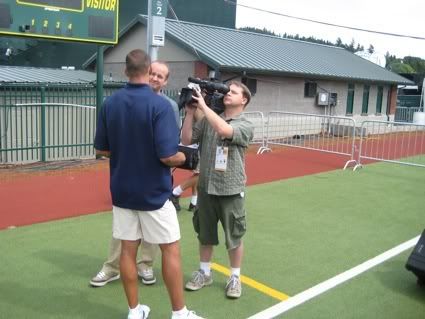 Dan O'Brien from those Dan/Dave ads. I wonder if there are ever any pick-up decathalons.
USA Track: Where Amazing Awaits. As opposed to "Where Amazing Happens." The sports tagline guy is getting super-lazy.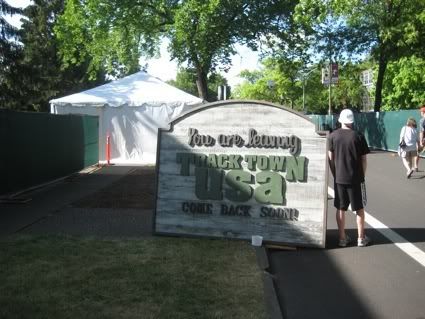 Fîn.
Bottom line, if you're at all into or curious about track, go to the Eug in 2012, it's pretty ridiculous. Book it early, don't buy $40 shirts, and you'll be fine.
--
Back for football in September...
--

Email:
Links:
Tour Guy Road Notes (permanent link)
The SI Tour Guy (archive of all videos, including from 2006 and the Pac-10)
SI College Football channel on Veoh
Windows Media Player 9 (for Mac)
Flip4Mac (to watch SI Video on a Mac)