02:23 PM ET 07.10 |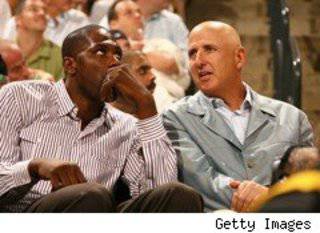 Elton Brand became a Philadelphia 76er yesterday, the first day teams were allowed to sign free agents. Since that time I've heard Brand called some of everything. A thief, a liar, a snake, and a few other things that would not be appropriate for family entertainment. When Brand opted out of the final year of his contract with the LA Clippers, he made it quite clear that he was doing so in an effort to force the Clippers to bring in another star--and allowing them salary cap space to do so. He was looking for a committment to win from the team. He also stated publicly that he would be willing to take less money to make that happen. And that he had every intention of re-signing with the team. The Clippers responded the very next day by obtaining a verbal committment from Baron Davis of the Golden State Warriors. Brand was said to be instrumental in making that happen. Suddenly the Clippers became the story in LA. Their fans, as well as a new generation of "bandwagoners" began spouting the "P" word--but it's the Clippers, remember.
On Monday June 30, Clippers coach and quasi-GM Mike Dunleavy contacted Brands agent David Falk. Dunleavy explained that he had "gone to the mat" on Elton's behalf, and had obtained a committment. He also said that Clippers owner Donald Sterling was not comfortable with the sum, that the owner was not available to discuss the matter any further, and that if Brand turned it down he (Sterling) would be as happy as if he'd accepted it. What an absolute moronic thing to say. This angered Falk-- to think that management would be just as happy if you turned down their contract offer, as they would be if you accept it. Brand had been with the Clippers 7 years, he is unquestionably a franchise player, and Falk felt his client was being disrespected by being offered a take-it-or-leave-it ultimatum. This set in motion the events that brought us to this point. There had been no contact with any other team before this time. The contract in question was said to be $70 million. At some point, my guess would be after the Clippers were made aware of higher offers, they were willing to release 2 players and raise their offer to $81 million, but the wheels were already in motion. This would have almost equaled the 76ers offer, but the Clippers now say that when they attempted to contact Falk, their calls were not returned.
Elton Brand has been a class act on and off the court his entire time in the league. In an interview yesterday on ESPN, Brand said that he was in constant contact with Baron Davis. Davis response was "go get your money man." David Falk is a commissioned sales man. It only makes sense for him to obtain the best possible deal for a client. It appears that the only loser in this whole deal is the Clippers. They apparently had no intentions of re-signing Corey Maggette, so before they hand the opportunity to reevaluate their situation, he has moved on as well. He signed with Golden State. Replacing the 40 points that Brand and Maggette put up every night won't be easy, but if things went according to plan, they wouldn't be the Clippers.