11:25 AM ET 07.12 |
Ok,as many may know I'm more a classical music guy,I don't know a lot of newer stuff,or the style many in Karma Police listen to.Heck a couple of the songs here I didn't know who they were by a few days ago.But I'd like to share with you some more modern stuff,a little grunge and popular bands to this group so enjoy,and hold off on your bashing if you may.And mac tried to tell me how,but I still don't understand exactly how to link words by the songs name.
Hier kommt Alex-Die Toten Hosen
http://www.youtube.com/watch?v=5X-yqPhItr8
First heard it on Guitar Hero and instantly loved it.I really couldn't tell you what in the world they're saying but I like it anyway.Can't sing along,but you can still play the air guitar and mumble the words,lol.
Plush-Stone Temple Pilots
http://www.youtube.com/watch?v=y2xNyxc5VWs
Stone Temple Pilots was yet another one of those groups I heard a few years ago,yet didn't know who they were.I looked through some of their songs,and realized that I liked quite a few of their songs.
Lithium-Nirvana
http://www.youtube.com/watch?v=bGPqgJDYI6M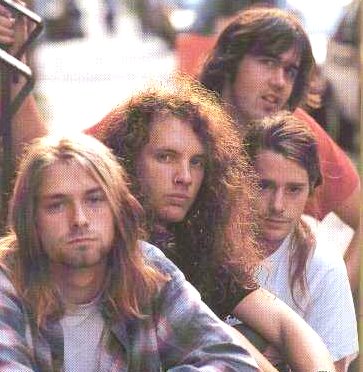 "I'm so happy,I'm so lonely".If you don't know,Lithium was a drug that caused some mood swings and changes in the mind.Obviously Kurt was a druggie,and he had some serious issues.Proves it right here as he sings this song,but it doesn't take this to know.I think Nirvana could have attained much greater heights if he hadn't died.Nirvana may be my favorite band of the 90's.
Creep-Radiohead
http://www.youtube.com/watch?v=nxpblnsJEWM
"I wish I was special,you're so very special,"this part makes me think it's gonna be a very sad,song.But when I heard this song the first time,I was seriously busting out laughing at the lyrics.I mean,the guy is talking about what a "creep" he is and all that's wrong with him.The more I listen,the more I take it seriously and realize it's a great song.
Ocean Avenue-Yellowcard
http://www.youtube.com/watch?v=nxpblnsJEWM
Let's end on a lighter note with this hit,Ocean Avenue.I love this song,ever since I heard it I find myslef singing the entire song.
"I remember the look in your eyes,when I told you that this was goodbye,You were begging me not tonight,not here,not now.
We're looking up at the same night sky,we keep pretending the sun will not rise,we'll be together for one more night,somewhere,somehow,"I love this part.
Well,now I've shared some songs I like with you guys,what do you think?