01:01 AM ET 07.13 |
So before we get started, I dont want anyone to think i'm stealin the guy who made the Lee or Hatch post. I just thought it was a good idea and decided that I should do one over Alabama's RB situation. And I know Saban likes to run a 2 man Running Back system, but who should be the starter, the "Go to guy". And please leave your comments.
Terry Grant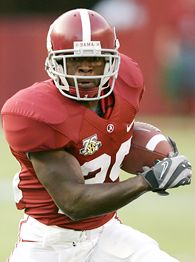 Terry Grant is a 5'10, 188 pound speedster at Tailback. He got SEC Freshman of the week 3 times in a row last year. He is very good at reading the holes and making people miss, but is he big enough to be a starter in the SEC?
Glen Coffee
Glen Coffee is a 6'2, 197 pound Running Back who is more explosive off the line and can not only make people miss but can run someone over. But as we all know, Coffee and 4 other teamates were suspened for last years game against Tennessee for the textbook vilations, so is Coffee going to be able to stay out of trouble?